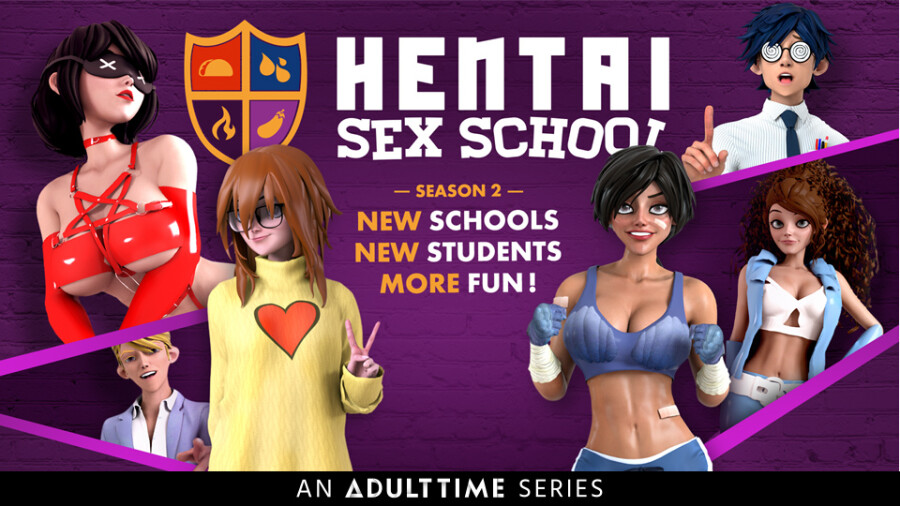 Adult Time Drops Season 2 of 'Hentai Sex School'
MONTREAL — Adult Time and AnimeshinClub have debuted the eight-episode second season of "Hentai Sex School," titled "2nd Semester."
"After kicking off its first season in February 2020 to enthusiastic acclaim, the gang at the Hentai Sex School for the Erotically Gifted — Nathan (Jake Adams), Penny (April O'Neil), Misty (Kira Noir), Principal Coldsnatch (Dee Williams), Cyanide (Whitney Wright), Ms. Nasty (Chanel Preston) and Blitz (Wolf Hudson) — is back with an exciting new curriculum," teased a rep.
Episode One, titled "Philosophy," introduces a new character — "international sex icon Allura Karma, voiced by Serene Siren," the rep said, "who announces that she's organizing the highly-competitive '4Play Games,' with Nathan as the capable team captain. But who will he choose to compete?"
Adult Time Marketing Director Franky Stacy praised the concept of the 4Play Games, which allows the second season to introduce rival schools, new characters and new pairings.
"We already have plans for our first bisexual episode in the next year," he said.
Stacy added that AnimeshinClub "really outdid themselves when it came to the quality of animation this time around. This is a much more ambitious project than the first six episodes, and I'm sure that fans of the series will be impressed with the upcoming episodes."
The season is dedicated to the memory of Adams, who passed earlier this year.
Visit HentaiSexSchool.com and follow Adult Time on Twitter for additional information.