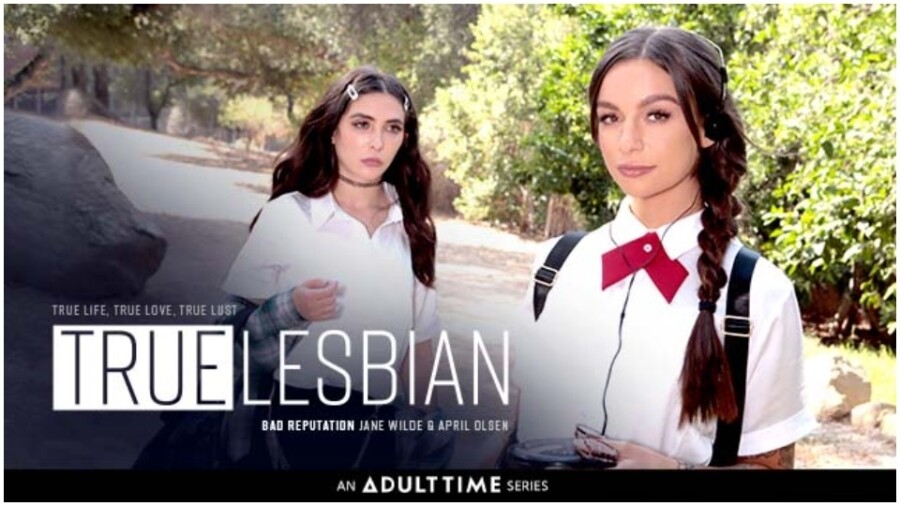 Adult Time's 'True Lesbian' Series Returns with 'Bad Reputation'
MONTREAL — Adult Time's "True Lesbian" series is back in production with the release of "Bad Reputation" starring April Olsen and Jane Wilde.
The series is focused on "realistic sex between women and stories inspired by real experiences," noted a rep.
Written and directed by Bree Mills, the featurette casts Olsen as Sarah, "a high-achieving student who opens her eyes to a sexual awakening under the guidance of rebellious new friend Andy (Wilde)," the rep said.
Olsen enthused about her experience filming "Bad Reputation."
"Every time I walk off a Bree Mills set, I feel so proud of the work I'm doing and grateful that I have found myself under her direction," Olsen said. "This episode of 'True Lesbian' was no different — she takes time with the actors to see her vision, and to create a script that feels natural to everyone. That leadership paired with the red-hot performance of Jane is going to make for an exceptional scene."
Wilde added that she "absolutely loved shooting this scene with April."
"I'm so excited for everyone to see it. This was my first time back working with Bree in quite a while, and it was a great reunion," she added. "I really enjoy Bree's attention to detail, and I think it's going to pay off heavily when everyone watches 'Bad Reputation.' If you like lots of passion and truth in your porn, then you will love this scene."
Mills, who also serves as the CCO of Adult Time, echoed the enthusiasm of her leading ladies.
"Jane is one of my all-time favorite actresses to work with, so being able to reunite with her was fantastic and marked the beginning of several projects we've collaborated on this fall," the director said. "She was the one to recommend bringing in April as a costar and I am so grateful she did. Since getting to meet April on this shoot, we have also worked together for a handful of other Adult Time projects and I think she is going to be a true force in our industry. Very happy to help both of these talented, amazing women shine in projects they feel passionate about."
Find "Bad Reputation" on TrueLesbian.com and Adult Time and follow the streaming network on Twitter.