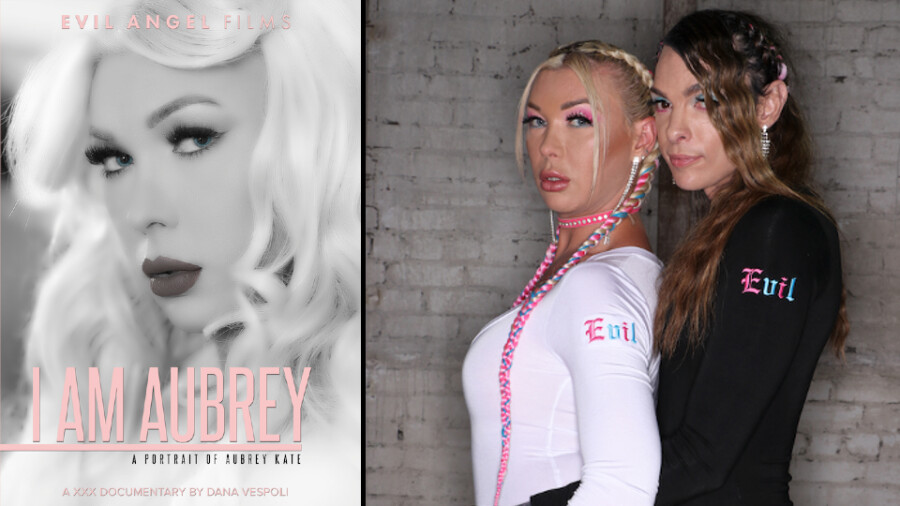 Aubrey Kate Anchors Climax of Evil Angel Showcase
LOS ANGELES — Aubrey Kate anchors the climax of her Evil Angel showcase "I Am Aubrey" with the online debut of "Hard Times/Squirt Gun Sex" and "Conclusion," when the star confronts an "existential quandary" about whether to have surgery to complete her transition.
"I Am Aubrey" is the first edition of the lauded "I Am…" series to center on a trans performer and marks another milestone for Kate's working relationship with Evil Angel, as she was the studio's first trans contract star in 2018.
"Hard Times/Squirt Gun Sex" and "Conclusion" follow the debut of "Pig-Tailed Dolls" from John Stagliano, "Home in New York/Blowbang" directed by Jonni Darkko and "Hollywood Glam" from project director Dana Vespoli.
Before "Conclusion" wrap up the showcase, "Hard Times/Squirt Gun Sex" delivers "Aubrey's intimate reflections on the joys and difficulties of her career, along with a Trans Pride-themed threesome directed by project producer Aiden Starr."
"The whole crew really outdid themselves on this one," Starr observed. "Directors and performers really came together to deliver an intimate portrait of a stunning performer."
A rep noted how "gorgeous, platinum blonde Aubrey appears to be a diva in control, but in the 'Hard Times/Squirt Gun Sex' segment, she speaks forthrightly about troubles and pain inherent to adult entertainment: stigmatization of performers, finding true friends and dating — she describes the pitfalls of romance both within and outside of the porn industry."
"Aubrey recounts serious depression and recalls her worst experiences in unflinching language. But she says it's mostly good times on the set, and her humor comes through as she talks about learning to display her lust on camera after trying to hide it while growing up in a household crowded with grandparents and aunts," the rep continued. "She provides graphic detail about erections, taking cock up the ass, the arousing thrill of strangers and how she gets off."
The segment also "examines the state of transsexuality in porn and culture."
As sales of trans porn have increased, Stagliano states, the "freedom of not judging people and not expecting them to fit in little boxes was evolving in society. Being free to express what you get off on is a big deal for people, and it's a big deal for porn."
"Hard Times/Squirt Gun Sex" costars Chelsea Marie and Pierce Paris with the pink and blue colors of the Trans Pride flag prominent.
"The busty T-girls spritz their skin with cock-and-balls-shaped squirt guns," noted the rep. "Action includes a double-anal reaming as Aubrey impales herself on Pierce and Chelsea's boners at the same time. It's Pierce's dick in her mouth as Aubrey masturbates to orgasm."
All segments of "I Am Aubrey" are now available to members of EvilAngel.com. 
Follow the studio and Aubrey Kate on Twitter.
For domestic sales, contact Rick Porras at [email protected]; for international sales and licensing, email Alexandra Kelley at [email protected].