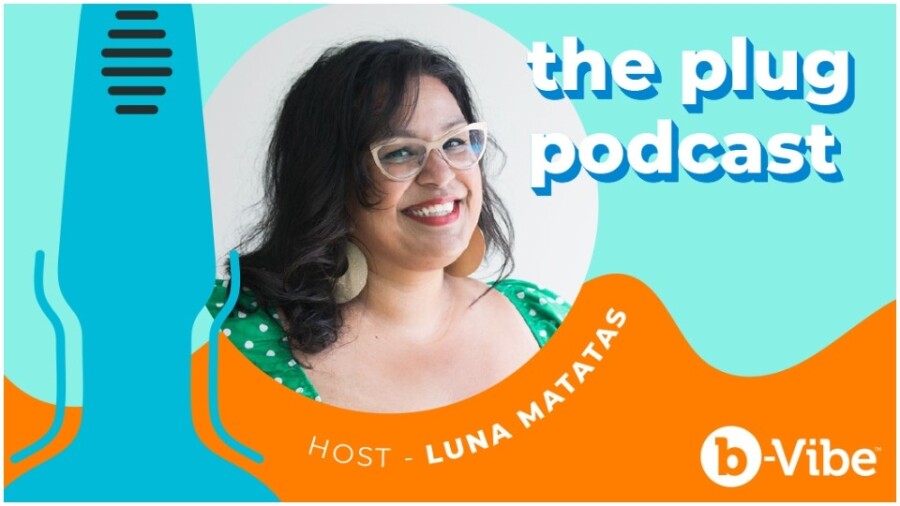 b-Vibe Debuts New Season of 'The Plug' Podcast With Luna Matatas
LOS ANGELES — b-Vibe's official podcast "The Plug," hosted by sexpert Luna Matatas, premieres today with three new episodes devoted to anal pleasure.
The new installments feature burlesque artist and actor Bishop Black in an episode titled, "What can we learn about anal sex from porn?" as well as Dr. Uchenna 'UC' Ossai for "Anal sex and the pelvic floor" and pleasure and intimacy coach Ashley Manta for "Cannabis and anal sex."
"We're getting more intimate in Season Two by inviting our listeners to share their stories with us in their words," Matatas said. "Listeners now have a chance to leave us a voice message about their anal experiences, tips and questions. We're featuring select voices to help bring our audience's booty wisdom onto 'The Plug.' We're also having a lot of fun engaging anal enthusiasts and the anally curious on Instagram."
The first episodes of the podcast debuted last fall.
"Hosting 'The Plug' has been an incredible experience," Matatas said. "I get to facilitate conversations about anal pleasure that are relatable, fun and informative. No more trying to wing it from porn — hosting 'The Plug' lets me create a unique conversation space to talk about real-life anal experiences, awkwardness and pleasure. Sometimes I wake up and think, 'Wow, I get to host an anal pleasure podcast!' Being able to provide a different delivery of anal pleasure education means we get to help people have more pleasure and less shame about anal sex."
"I'm so touched by the DMs, emails and reviews that appreciate a non-judgmental, shame-free and pleasure-focused space to learn about anal sex," she said. "I'm loving the gratitude for anal conversations that go beyond penetration and stereotypes — there has been a lot of love for topics we've covered like rimming, prostate play and 'analgasms.' Our audience is eating up the realness of our conversations that include things like communication and sexual confidence."
"Stay tuned for conversations with guest experts about nutrition and anal sex, advanced anal techniques, sex-positive parenting and more," Matatas concluded.
COTR Founder and CEO Alicia Sinclair Rosen recognized that "spoken word is a great way to help butt-play fans dive deeper into meaningful conversations and questions about anal sex. We love supporting our customers through many different mediums."
"Season Two of 'The Plug' is double the number of episodes, double the number of experts and we're now inviting consumers to share their experiences and ask questions as well," she continued. "We're all incredibly excited to be able to launch the new season and so thankful to have Luna, an enthusiastic, knowledgeable, and all-around great human, as the show host."
Click here for additional details and to listen to the podcast; "The Plug" has also launched a dedicated Instagram profile here.
Follow Luna Matatas on Twitter; visit b-Vibe online and on Instagram.