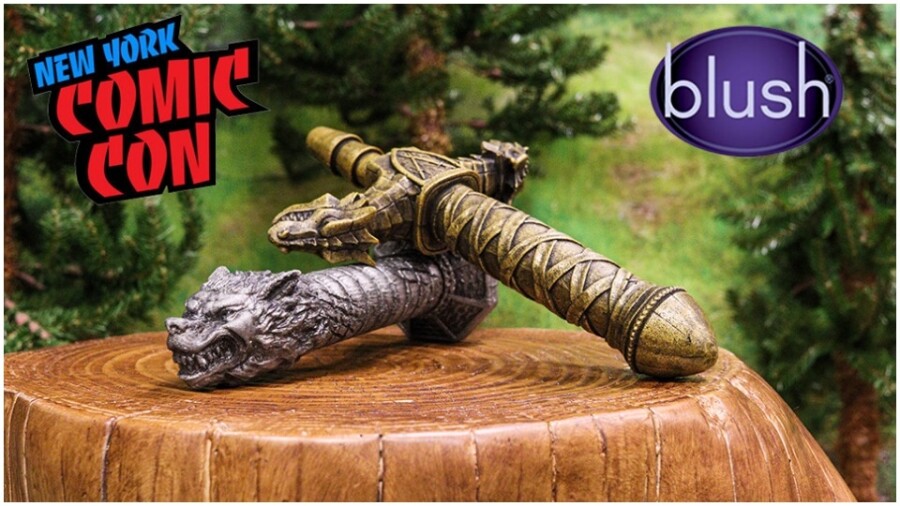 Blush Brings 'The Realm' Collection to New York Comic Con
GARDEN CITY, N.Y. — Blush Novelties brought The Realm, its collection of fantasy- and folklore-inspired pleasure toys, to the recent New York Comic Con earlier this month.
The appearance put the product line "in front of thousands of curious and excited fans poring over the latest and greatest comic art, anime and fandom gear," enthused a rep. "With an on-site presence and giveaways galore, Blush made an inspired impression on one of the biggest events in the country dedicated to embracing, celebrating and geeking out on our most imaginative fantasies."
The Realm line "offers retailers a one-of-a-kind series of dildos, vibrators and clever sword handles that transform top-selling shapes and styles into fantastical delights," the rep continued. "Matching quality construction, body-safe materials and some of the most popular themes in comic fandom, The Realm catches consumers' attention from store shelves and helps users embark on fun and creative sexual adventures."
Blush Sales Representative Benny Neff said The Realm has become "the talk of every conference we attend, thanks to its Instagram-friendly designs and truly unique products — especially our handles that turn your favorite Lock On dildo into a powerful sword."
"It was a no-brainer to make a splash at New York Comic Con, one of the year's first in-person gatherings, with the only product line on the market dedicated to the fantasy realm," Neff continued. "The Realm has something for everyone, from werewolves and dragons, to knights in silver armor, and even Medusa herself, and we had so much fun watching fans' faces when they saw our cosplay interviews."
"The Realm embraces and celebrates the imagination and helps fans bring theirs to life," he added.
Notable products include the Lycan Lycan Lock On Werewolf dildo, described as "a beastly hand-poured silicone dildo with a two-inch width and a heavily textured surface"; the Rougarou Lock On Werewolf Sword Handle, with an ornate silver handle that pairs with any Lock On dildo; and the Silver Rechargeable Bullet, noted as "a powerful take on a classic piece of folklore, boasting 10 rumbly functions in a compact waterproof shape that can pair with any Lock On dildo."
Blush Novelties is promoting The Realm with the social media hashtag #TheRealmofFantasy.
Explore the collection online and follow the company on Twitter.