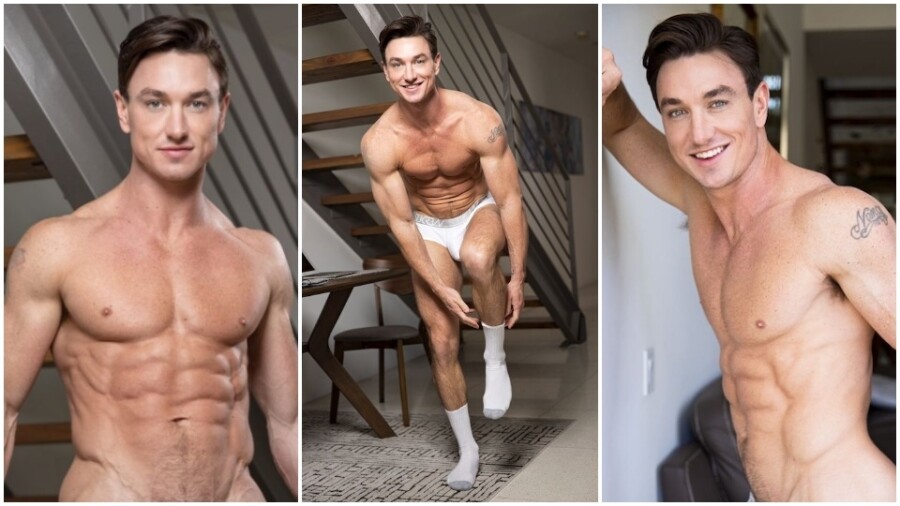 Cade Maddox Renews Exclusive Contract With Falcon/NakedSword
SAN FRANCISCO — Swordsman Cade Maddox has renewed his exclusive contract with Falcon/NakedSword for another year.
"Cade is a stunningly handsome man standing at 6'1 and weighing in at 200 pounds of solid muscle. Since his debut, fans have raved over his sculpted body, spectacular pecs, abs, legs and ass, and his massive, 9-inch, thick dick," a rep enthused. "Cade's got all the assets needed to be at the top of any hottest gay porn star list, but what really sets him apart is his endearing Southern charm, dynamic acting and powerfully energized sexual performances."
Maddox has earned numerous industry kudos, among them a pair of XBIZ Awards nominations earlier this year, including "Gay Performer of the Year," and wins from the Str8UpGayPorn Awards and Grabby Awards.
His latest release "Dear Johnny," opposite Tyler Cortez for NakedSword Originals, debuts online today for NakedSword; he is also currently seen in "Falcon Live: 4 the Fans," now streaming online for Falcon.
"Cade brings so much to the table. He's strikingly handsome, he's got a body that doesn't stop, he's an exceptional performer, and he represents Falcon/NakedSword with honor and enthusiasm," said company president Tim Valenti. "On top of all of that, Cade is a consummate professional and a charming and gracious superstar. We are proud to continue to call him an exclusive, and we're excited to show all the fans more of his spectacular work in the coming year."
Maddox observed that August 2 marked his four-year anniversary in adult, the last two with Falcon/NakedSword.
"I am overwhelmed with joy at the thought of re-signing for another year," he stated. "These two years have been, by far, the best two years of my career. I'm so honored to have the opportunity to be a part of such an amazing team again."
Maddox is available for personal appearances; direct booking inquiries to [email protected]. Visit Falcon and NakedSword on Twitter and follow Cade Maddox on Twitter and Instagram.