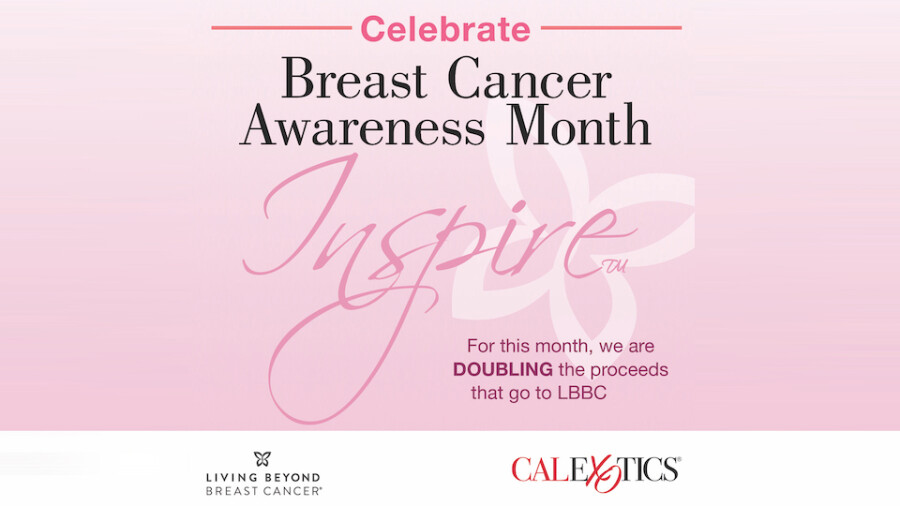 CalExotics Doubles October Donations for Breast Cancer Awareness Month
ONTARIO, Calif. — CalExotics has announced they are doubling donations during Breast Cancer Awareness Month to the nonprofit Living Beyond Breast Cancer (LBBC) with a portion of the proceeds from all Inspire products.
LBBC is a national organization whose mission is to connect people impacted by breast cancer with trusted information and a community of support.
The pleasure product company said they are "making a difference in the lives of those impacted by breast cancer with its collection of sexual health and wellness products."
"Not only do we help support LBBC with financial resources," said Susan Colvin, founder and CEO of CalExotics, "but we also help spread the message that sexual wellness is essential to your overall health and wellbeing, and this is even more true for those impacted by breast cancer."
In 2008, CalExotics partnered with LBBC to create the Papillion Massager, an adult toy designed to empower people's lives.
"This was just the beginning of their partnership," the rep explained. "In 2015, CalExotics wanted to create a more significant impact, and the Inspire line was born, created to make a difference in each user's life. Each product is designed to enhance sexual intimacy, restore vaginal strength and comfort, and provide a means for users to explore their bodies."
The collection includes wands, arousers, dilator sets and more.
"CalExotics and LBBC have been in partnership for over 13 years, and we're incredibly proud of the impact we've made," Colvin added.
In October, CalExotics encourages its partners to further support LBBC by purchasing Inspire products. 
Visit LBBC.org; find CalExotics online and on Twitter.