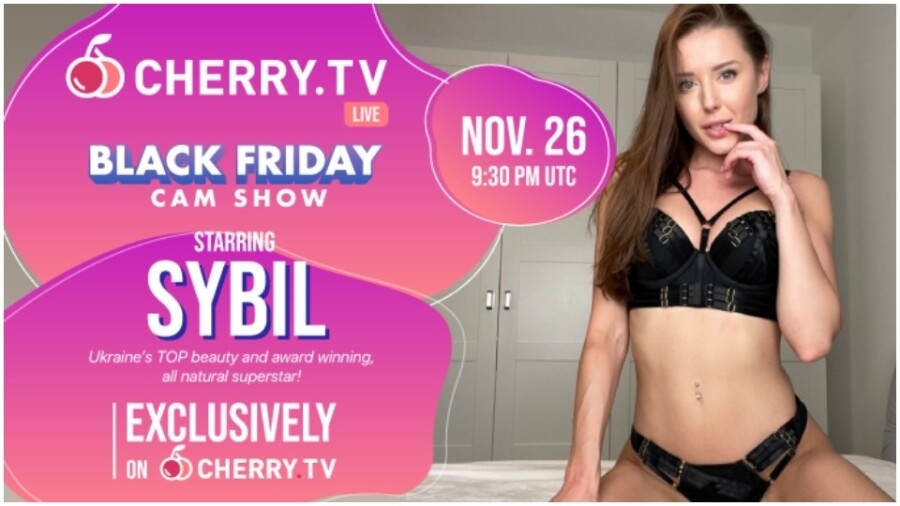 Cherry.tv Sets Black Friday Cam Show With Sybil
DELWARE — European star Sybil will headline a special cam show for Cherry.tv on Black Friday at 9:30 p.m. (UTC)/1:30 p.m. (PST).
"We wanted to usher in the holiday season with a hot little 'special' of our own—  and Sybil could not be more perfect," Business Development and Talent Manager Zuzana Kasinski said. "She's an exquisite visual representation of the Cherry.tv brand."
"It's going to be spectacular," Kasinski added. "I've had Sybil in mind since our launch. She's young, naturally beautiful and fans love her. I'm really excited to see how our millennial audience will react to her show."
Sybil has filmed for such prominent adult brands as Adult Source Media, Babes, Nubile Films and Vixen; she shared the 2020 XBIZ Europa Award for "Best Glamcore Sex Scene" with Lika Star and Christian Clay for Vixen's "Body Warmth."
"For the most part, I don't have much streaming experience, but I am so thrilled to work with Cherry.tv and I am really looking forward to talking with fans," the performer enthused.
"I can't wait to see what the conversation's gonna be like," she added.
Visit Cherry.tv and follow the platform and Sybil on Twitter.