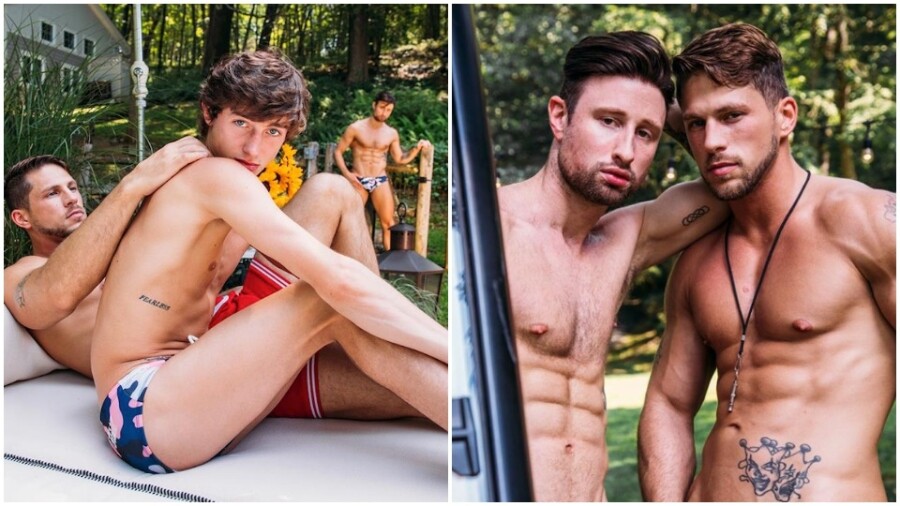 CockyBoys Debuts 1st Episode of 'Love Happens'
NEW YORK — CockyBoys has debuted the opening installment of its new comic feature "Love Happens" from director Jake Jaxson and featuring Drew Dixon, Dallas Preston and Roman Todd.
The title was written and directed by Jaxson, shot by photographer and co-director RJ Sebastian, edited by Rafa Rodriguez and produced by Jaxson, Sebastian and Hugo Harley with a cast that includes Max Adonis, Austin Avery, Brock Banks, Kane Fox, Adrian Hart, Avery Jones, Nico Leon and newcomer Ari Avanti.
Described as "a tongue-in-cheek, post-pandemic feature," noted a rep, "Love Happens" centers on a mindfulness coach and influencer who takes advantage of a post-COVID desire for a return to normalcy by organizing a sexual awakening retreat and ends up inadvertently hiring "two very unconventional stoner/radical fairies to run the weekend, blowing up his perfect little reality. Somehow he still ends up helping the sexy couples at the retreat, resulting in plenty of amazing gay sex."
The first pair to arrive at the retreat are "pretentious, seemingly platonic buds (Dixon, Preston), ill-prepared for the retreat and its rules. Roman is there to put them in their place," the rep said.
"Soon though, Dallas sets his sights on Roman and gets alone time to bond with the hunky lifeguard.  Envious, Drew can only watch from the side as Dallas goes down on Roman who makes Drew watch as he's deep-throated by Dallas.  When Dallas asks if Drew can join them, Roman agrees and as he sits on the edge of the pool, they take turns sucking him good. As inhibitions and feelings melt away, an increasingly emboldened Drew eats out Roman and he soon wants to fuck and Drew volunteers to go first."
Jaxon noted he is "super-excited, anxious and nervous as fuck" about the release of his first feature in two years.
"The pace and face of porn changes rapidly," he added, "so I'm curious how it will be received, but I wanted to make something that was playful, sexy, satirical and asks the question, 'Do we really want to go back to normal?'"
"Always an optimist, I believe good things are ahead. Y'all remember that bumper-sticker, 'Shit Happens'? Well, that was 2020; moving forward I'm gonna do my best to live, love and work in a 'Love Happens' state of mind," he continued. "Trust me, it's not always easy but by choosing love, joy, freedom and passion, I was able to make this film with an absolutely brilliant cast that inspired me beyond words, and who saved me with their own desire to not just survive, but thrive."