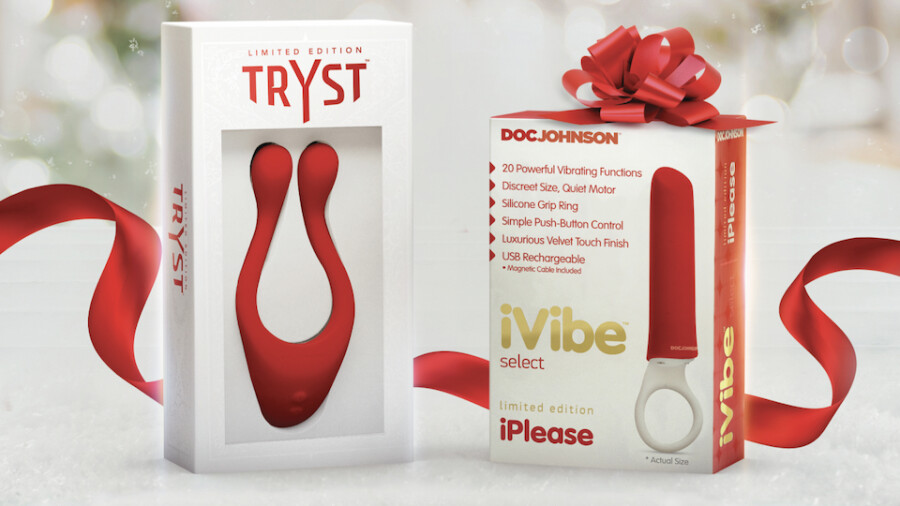 Doc Johnson Releases Holiday-Themed Versions of 'Tryst,' 'iVibe'
NORTH HOLLYWOOD, Calif. — Doc Johnson has announced holiday-themed editions of their Tryst and iVibe vibrators.
"These limited-edition holiday-themed vibes have all the features that have made the originals such successes, and now in a gorgeous red shade perfect for getting in the holiday spirit," said a rep.
The Tryst Multi Erogenous Zone Massager is designed with men, women and couples in mind.
"It is a versatile toy, comprised of two curved vibrating arms and a vibrating base, each powered by strong seven-function motors," the rep added. "The arms can flex to hug the clitoris, nipples or glans and users can position the base in a variety of stimulating ways."
iVibe Select iPlease is described as "a small, quiet and yet unbelievably powerful vibrator that keeps user's play discreet without sacrificing pleasure."
"Featuring 20 unique vibration patterns and a fun, feminine lipstick shape, iPlease is made to satisfy and is suitable for external and internal use," the rep said. "Simple push-button control, a strong silicone grip ring and convenient USB charging capability make this versatile vibrator a must-have.
Doc Johnson's Director of Product Development Cheryl Hanslip said, "We're really proud of these new versions of Tryst and iPlease. These new colors celebrate the feeling of the holiday seasons all the way from Thanksgiving to Valentine's Day."
For more information contact [email protected], visit B2BDocJohnson.com and follow the company on Twitter.