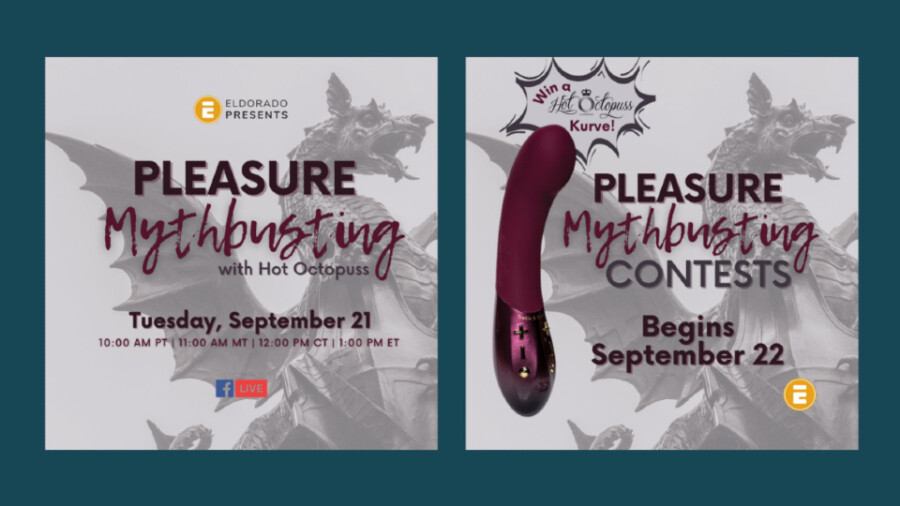 Eldorado Pairs With Hot Octopuss on Next Facebook Live Webinar
BROOMFIELD, Colo. — Eldorado Trading Company has scheduled the latest episode in their sexual health and wellness education series on Facebook Live, titled "Eldorado Presents: Pleasure Mythbusting," for Tuesday, September 21 at 10 a.m. (PDT), in partnership with Hot Octopuss.
A rep noted the one-hour product training, which is open to the public and suitable for both adult retailers and retail customers, will be hosted by Hot Octopuss Global Head of Sales April Lampert.
Audience members are encouraged to engage throughout the event for the chance to win a Krave pleasure device from Hot Octopuss.
"Since 2013, Hot Octopuss has been on a mission to break down stigma and change the way people perceive and experience sex toys," Lampert said.
"Even with the improved viewpoint on sex toys in the mainstream and the wealth of information on sexual health available to the masses, there are still so many sexual pleasure myths out there that need busting," she said. "Hot Octopuss is thrilled to partner with the folks at Eldorado to shine some light on these myths — some of which may shock even the most educated and experienced players in the market."
During the Facebook Live event, Lampert will announce the "Pleasure Mythbusting" contests, a two-part — retail store and public — social media giveaway centered on Hot Octopuss products. The public Contest kicks off on September 22; contestants should reply to the public contest post for a chance to win one of five Kurves.
The retailer contest will also begin on September 22 and run through October 5. Retailers who purchase $500 of Hot Octopuss products through Eldorado will qualify for a chance to win one of three prizes, including a grand prize worth an $850 retail value. Retail store winners will be announced October 7.
Visit Eldorado's Facebook Live page to watch Tuesday's event.
For more information, call (800) 525-0848 and visit Eldorado.net; follow both Hot Octopuss and Eldorado on Twitter.