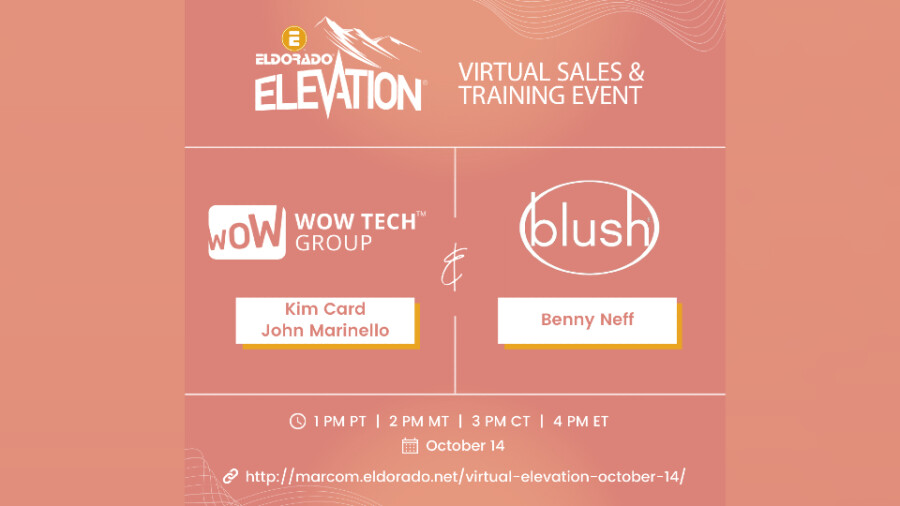 Eldorado Pairs With WOW Tech, Blush for Retailer Training Webinar
BROOMFIELD, Colo. — Eldorado Trading Company has scheduled a live digital training event, titled "Eldorado Elevation," for Thursday at 1 p.m. (PDT), in partnership with WOW Tech Group and Blush Novelties.
The two-hour webinar, to be hosted by Kim Card and John Marinello of WOW Tech and Blush Brand Manager Benny Neff, is a private event for adult retailers; event participants will be eligible for product promotions and giveaways.
"We are always grateful for the opportunity to connect with Eldorado customers and share all that Blush has to offer," Neff said. "Blush is committed to manufacturing top-quality products, and we are well-stocked to meet the demands of the upcoming season."
Simon Smith is WOW Tech's VP of Business Development Americas.
"Our continued partnership with Eldorado is one of the key reasons for the success of WOW Tech, and we thank them for their ongoing efforts," he said. "The Eldorado team is extremely knowledgeable and dedicated to bringing WOW Tech products to the marketplace through not only distribution efforts, but also through education and programs that benefit all retailers. We appreciate the efforts on the entire Eldorado staff and look forward to another great event."
Eldorado Director of Sales and Marketing Derek DalPiaz agreed that strong partnerships are key to the company's success.
"The pandemic has changed the way the world does business. Providing new opportunities to connect manufacturers and retailers through education is going to be critical to helping the industry move forward and continue to grow," he said.
Click here for additional details about the "Eldorado Elevation" event.
Visit Eldorado.net and follow the company on Twitter.