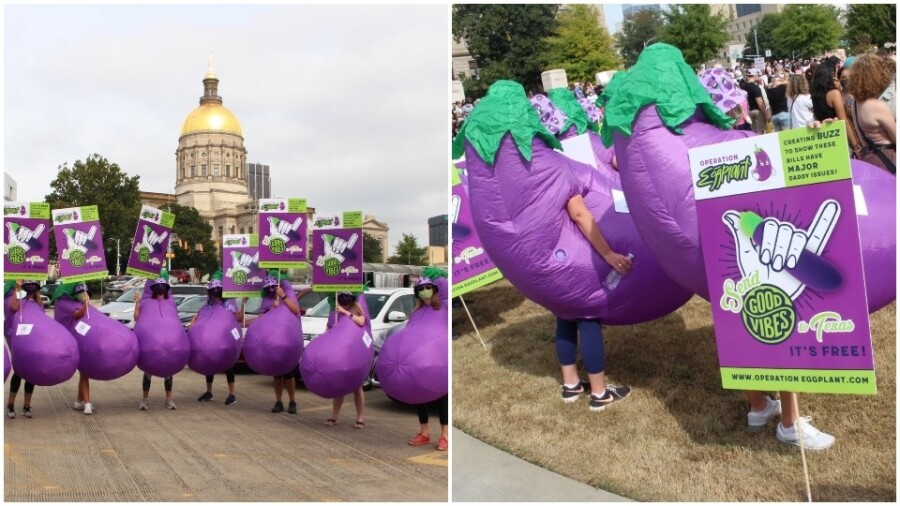 Emojibator Announces Support of 'Operation Eggplant,' Sends Vibrators to Texas
LOS ANGELES — Pleasure-tech brand Emojibator has announced its support of "Operation Eggplant," described as a new initiative to "fight abortion restrictions with pleasure positivity."
Operation Eggplant debuted October 2 in Atlanta at the Women's March for Reproductive Rights to help bring attention to "the blatant exclusion of fathers in the recent 'heartbeat' bills aimed at overturning Roe v. Wade," a rep explained. "The marchers were outfitted in inflatable eggplant suits holding signs that read, 'Send Good Vibes to Texas. It's Free!' and 'Operation Eggplant, Creating Buzz to Show These Bills Have Major Daddy Issues.'"
Sponsors backing the initiative purchased 1,000 Eggplant Emojibators as "a free giveaway to the people of Texas and other states with restrictive abortion laws," noted the rep.
Senders can visit OperationEggplant.com and specify a recipient to receive an Eggplant Emojibator.
"We know abstinence is not the answer, but neither is putting the burden of unwanted pregnancies solely on mothers and doctors," a rep explained. "Operation Eggplant seeks to create buzz — yes, pun intended — and point out that there is not one line in any of these bills that includes accountability of the father in unwanted pregnancies. If you are going to make abortion illegal, then is it also illegal for the father to abandon the mother after getting her pregnant? We hope our giveaway campaign raises awareness of this issue and will inspire legislation to include the fathers in these regulations."
Joe Vela, co-founder and CEO of Emojibator, noted the company "couldn't be more excited about the Operation Eggplant partnership launch and use of our Eggplant Emoji vibrator to spark conversation around such an important social cause."
"Emojibator stands with women and vulva-owners in Texas and other states with these horrifying heartbeat bills," added Vela. "These laws are not only unethical [and] unconstitutional — they violate a mother's human rights of autonomy, equality and bodily integrity."
Learn more about Operation Eggplant here and and follow the social media hashtag #OperationEggplant.
Find Emojibator online and on Twitter.