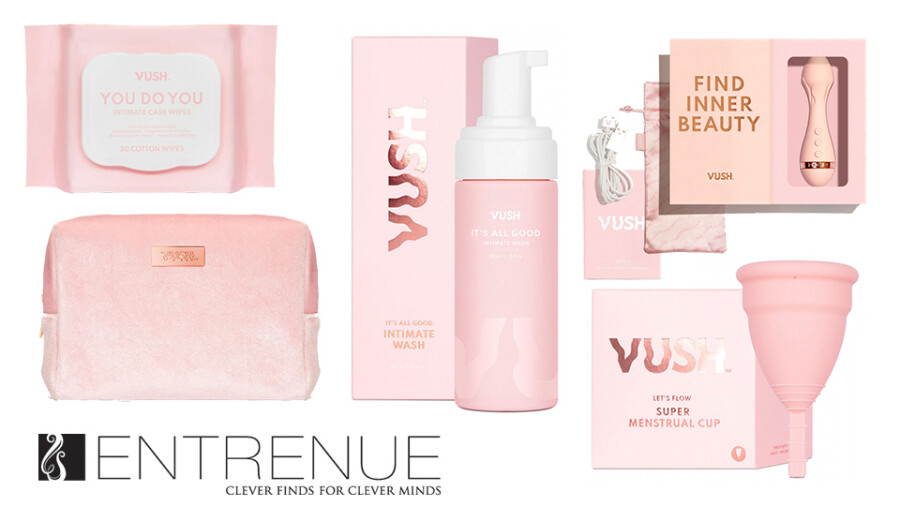 Entrenue Now Shipping Vush Products
PHOENIX — Entrenue is now shipping a range of sexual wellness products, including three vibes, from Australian brand Vush.
"This hot new Australian company's products are the toast of sexual health influencers online and have been making waves in and out of the adult retail industry, and now the must-have personal products are available to adults stores nationwide," said a rep.
Entrenue is shipping three Vush vibrators, the Rose 2, Majesty 2 and Myth.
Rose 2 is described as "a light pink waterproof, rechargeable silicone precision point bullet vibrator featuring five vibration levels as well as five patterns, and designed with delicate 'petals' for an extra sensory experience."
Majesty 2, the rep added, "has been on many shoppers' must-have list since appearing in Cardi B's music video 'Up.' A petite, peach-colored waterproof, rechargeable silicone wand vibrator, Majesty 2 features five varying levels and ten different patterns designed for maximum pleasure."
Myth, a light pink waterproof, rechargeable silicone G-spot vibrator that boasts five pattern options and five power levels, has "a body-happy curve and a specially textured head designed with the G-spot's anatomy in mind. Myth is made for anybody with a G-spot — or P-spot — and can be used solo or with a partner."
The distributor is also shipping five intimate care products from Vush: It's All Good intimate body wash, Feelin' Myself intimate gel, Clean Queen intimate accessory spray, Let's Flow menstrual cup and You Do You intimate care wipes.
Entrenue Senior Sales and Buyer Kim Maty said, "We have gotten so many requests for Vush products, and we're excited to have them in stock. They really have their finger on the pulse of first-time buyers and curious shoppers, and their sleek and sexy products help normalize the idea of sexual pleasure as a vital element of wellbeing and mental health."
"Their products are beautiful, accessible, and display perfectly in both adult retail establishments and bath and beauty supply stores," Maty added. "We're expecting big things from Vush."
For more information, visit Entrenue.com and follow the company on Twitter.