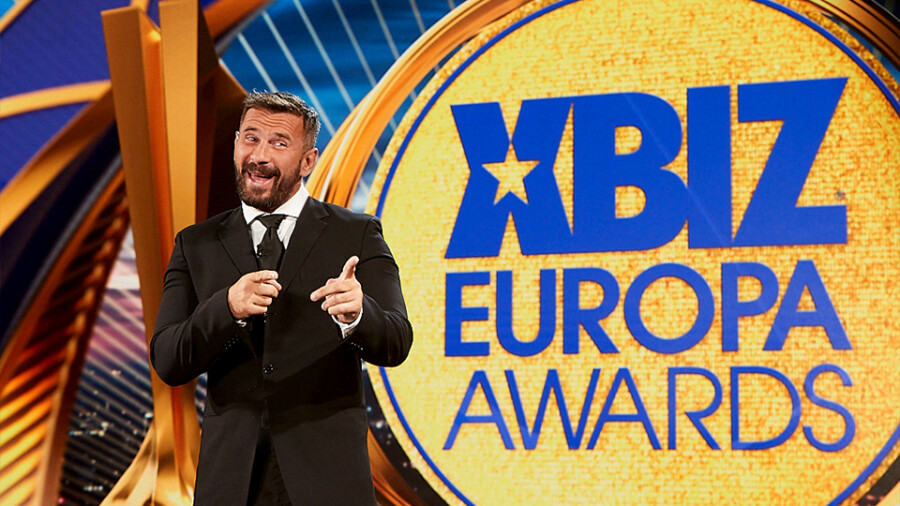 'Everything Is Sexier in French': 2021 XBIZ Europa Awards Dazzle
BERLIN — "Everything is sexier in French!" declared 2021 XBIZ Europa Awards host Manuel Ferrara Thursday night, setting a flirty, celebratory tone for adult entertainment's biggest night in Europe, presented by Satisfyer.
Ferrara followed on the distinguished heels of fellow transatlantic male talents — and his beloved colleagues — Keiran Lee and Rocco Siffredi, who served as "maîtres d'," both virtually in 2020 and in-person in 2019, of this now traditional event on the European adult industry calendar.
The debonair host — Los Angeles-based, but very much French-born and -behaving — took the stage shortly after 8 p.m. (CEST) in a tuxedo reminiscent of the luxury-loving characters he embodies for his wife Kayden Kross' Deeper.com franchises.
Beforehand, viewers of the live broadcast on XBIZ.tv were treated to a full hour of red carpet glitz and glamour, hosted by the irrepressible transatlantic talent Texas Patti.
The Germany MILF performer — whose moniker hails from an imaginary "Texas" of the mind, much like a Wim Wenders fantasia — earned her stripes as red carpet hostess with vim, verve and a substantial amount of pep, asking refreshing, charming, often unpredictable questions of a roster of Europe-based models and performers beaming in from the Old Continent.
Clad in a sparkling, midriff-baring dark ensemble, Frau Patti engaged in banter with everyone like a new friend one adopts after a quartet of piña coladas during a Central American vacation.
Replying to Patti's flirty prompts about special moments from the past year year, their favorite social media platforms and plans for the evening's celebration were a number of nominees beaming in from their homes or cam rooms. They included Purple Bitch, 23-year industry veteran Erik Everhard (now Czech Republic-based), Allen King (at home with his boyfriend), the two-toned (pink and black) tressed Angelika Rouge, AliceBong, and clip artist Evie Reese (always on-point with her elaborately coiffed pink bangs and a couture red gown).
Texas Patti marveled at Reese's ensemble, but also appreciated that she had dispensed with footwear, which are often the bane of a model's experience during long events.
"We don't need shoes, we see you and you look perfect," Patti reassured her.
Other "red carpeteers" including award show staples Callum & Cole, a majestic CruelAlice (leading two submissive leopard-women with pink leashes), married couple Pablo and Sebas (who offered a candid kiss that Patti confessed "melted her heart"), a stylish Casey Calvert (repping Barcelona-based Lust Cinema from Los Angeles), towering icon Rocco Siffredi (calling in from his "Porn Academy" — and being hit on by Texas Patti for a collab), the inimitable Estella Bathory (blessing the show with their legit punk energy, mellifluous tones and signature epic mullethood from swinging London), the always fully Versace-ed Thony Grey, and, finally, a radiant Cherry Kiss — in a bright yellow combo — escorted by the other half of her power couple, Vince Karter.
After the virtual red carpet, it was showtime — a moment made clear by the reassuring emergence of the multiple-award winning Franco-American stud Manuel Ferrara himself.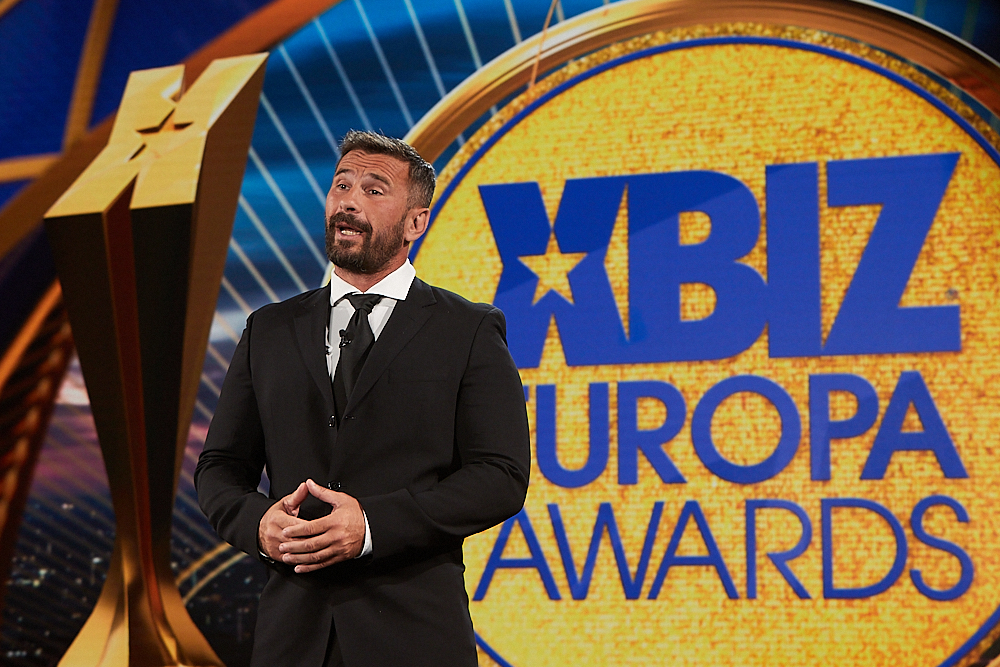 "Hello, my friends!" he told the worldwide audience watching him via XBIZ.tv — "urbi et orbi," so to speak. "Good evening to all of our European viewers. And good morning, America. Welcome to the 2021 XBIZ Europa Awards, presented by Satisfyer."
But then, Ferrara immediately switched to his mother tongue and repeated the very same introduction in the dulcet cadences of the language of Molière and Gainsbourg.
Cue Ferrara's signature "le bad boy" smirk: "Everything sounds sexier in French, yes?"
That motif would repeat throughout the evening, signifying the show's distinctive appeal to the luxury and savoir faire of the Old Continent.
And by the end of the evening, it was clear that the 2021 edition of the XBIZ Europa Awards, even under the beyond-our-control virtual circumstances, were not going to regrette rien.
"Last year," Ferrar continued, "when my good friend Keiran Lee hosted, we had made plans to meet up in Berlin this year as it's one of my favorite cities in the world. Well, you know how the saying goes: 'Life is what happens when you make other plans.'"
The bittersweet John Lennon paraphrase acknowledged the reality that, as Ferrara's people would say, quoting Freddy Mercury, le spectacle doit continuer — the show must go on.
"While it is still too early to come together in person," the host continued, "we are celebrating virtually once again tonight. From our studio here in Los Angeles, we are beaming across the globe — from Berlin to Budapest, Barcelona to Bucharest, and all points in-between. Tonight, we celebrate the filmmakers and indie content creators, the pleasure product designers and web gurus whose constant innovation powers a multi-billion-dollar industry."
In full toastmaster mode, Ferrara raised his glass "or a mug of coffee, depending on your timezone" to all the nominees for their outstanding achievements.
"Over the past 18 months," he added, "you faced unbelievable challenges. And yet you have continued to thrive and grow. You have continued to entertain and educate. You are incredible."
"Well done," he concluded, before switching again to French to repeat the worthy sentiment.
He introduced the first presenter, the always impeccable Valentina Nappi, adorned in a robe-like blue dress and giving the full Nappi deadpan in front of a dramatically lit modernist home. The award for "Best Glamcore Scene" went to Liya Silver and Alberto Blanco for Tushy's "Apres Ski."
"I'm so glad to be here, thanks so much," offered a tearful Silver.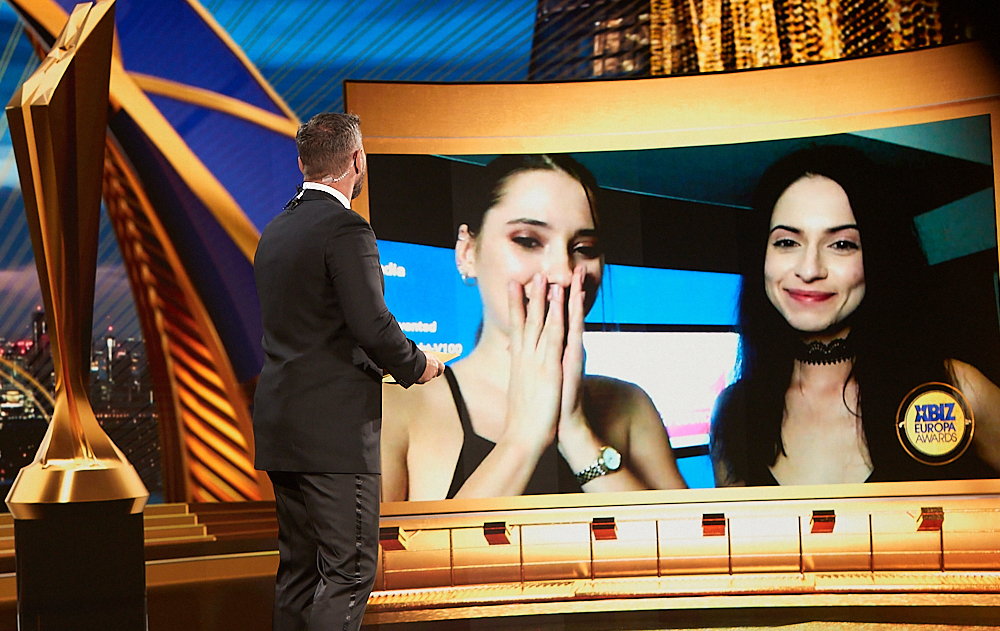 Nappi then presented the award for "Best Lesbian Scene," which went to Amirah Adara and Tiffany Tatum for Mixed X's "Catch Me If You Can." Both performers received the award together wearing party dresses and embracing each other in speechless abandon.
A mega-bubbly Lika Star was the next presenter and beamed in from a lit castle exterior — in fact, yellow lit castles at night were a trademark of the presenters' segments. Star presented the awards for "Performer Site of the Year" to LittleCaprice-Dreams.com, whose title star, in a dramatically skintight red party dress, celebrated with her ebullient partner.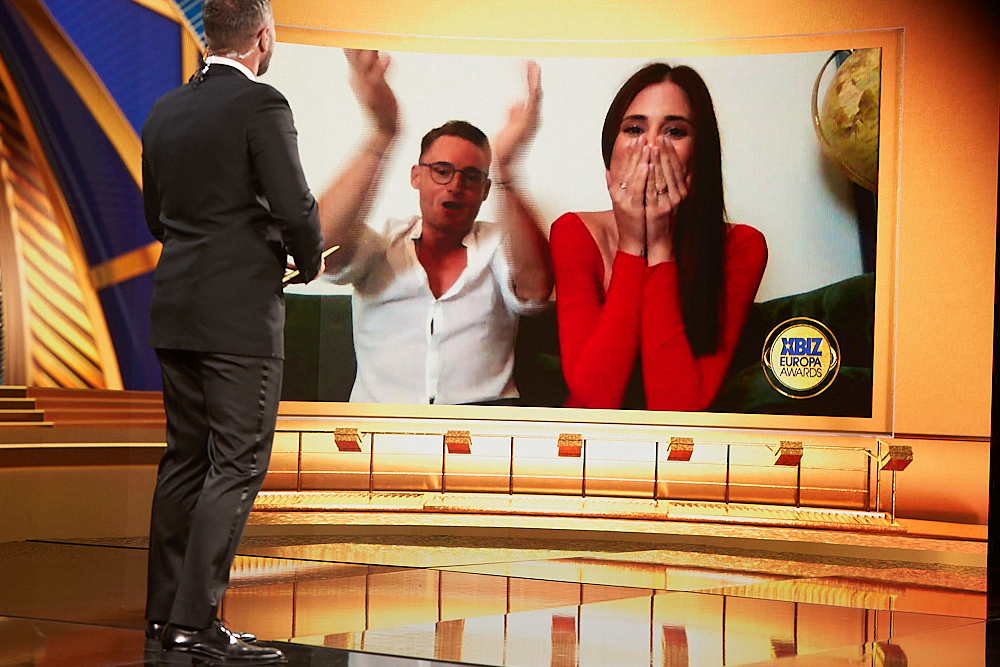 Star also announced the award for "Premium Social Media Star of the Year," which went to the one-and-only Purple Bitch, who accepted the honor with her chest covered in glitter and her long auburn tresses framing a floral shoulderless top that showcased her distinctive tattoos.
Next, presenter Caylin read her intros from a poshly becurtained parlor. She introduced the nominees for "Innovative Sex Toy of the Year," which went to MyHixel and was accepted by Patricia Lopez, ravishing in a stylish white dress and full makeup. "We are really happy, thanks for this opportunity," Lopez offered as a statement of gratitude.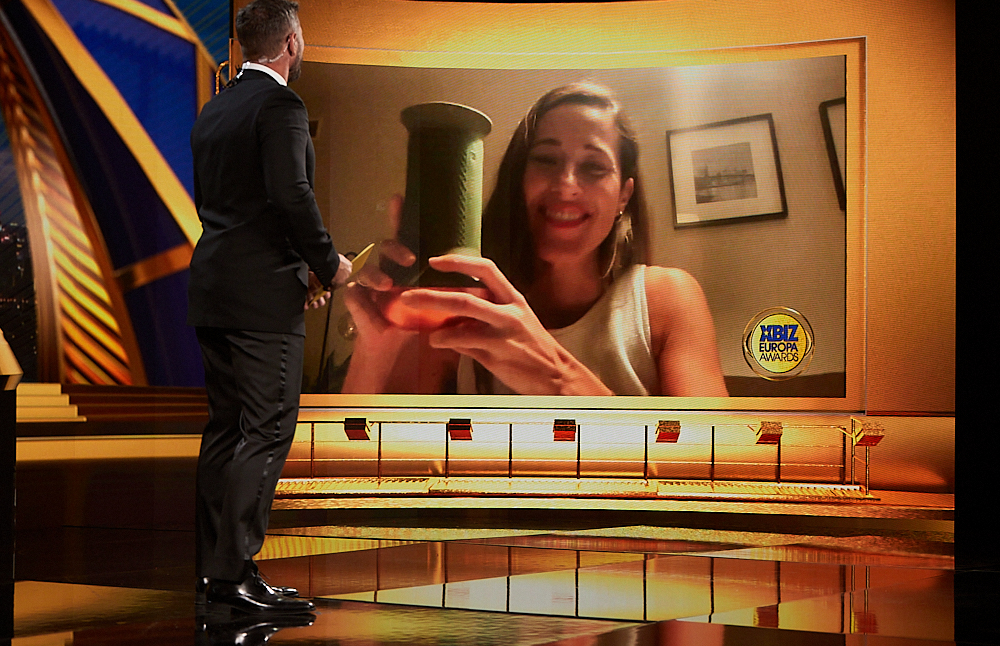 Caylin also introduced the award for "Luxury Pleasure Product of the Year," bestowed upon Kurve's Hot Octopuss and received by an effervescent April Lampert in an orange dress with turquoise nails.
"Thank you so much, we are so honored to receive this award," Lampert said. "Thank you to our distributor, our retailers. It's been a tough year, but we're gonna pull through," she enthused, stopping along the way to say "thank you" in several languages.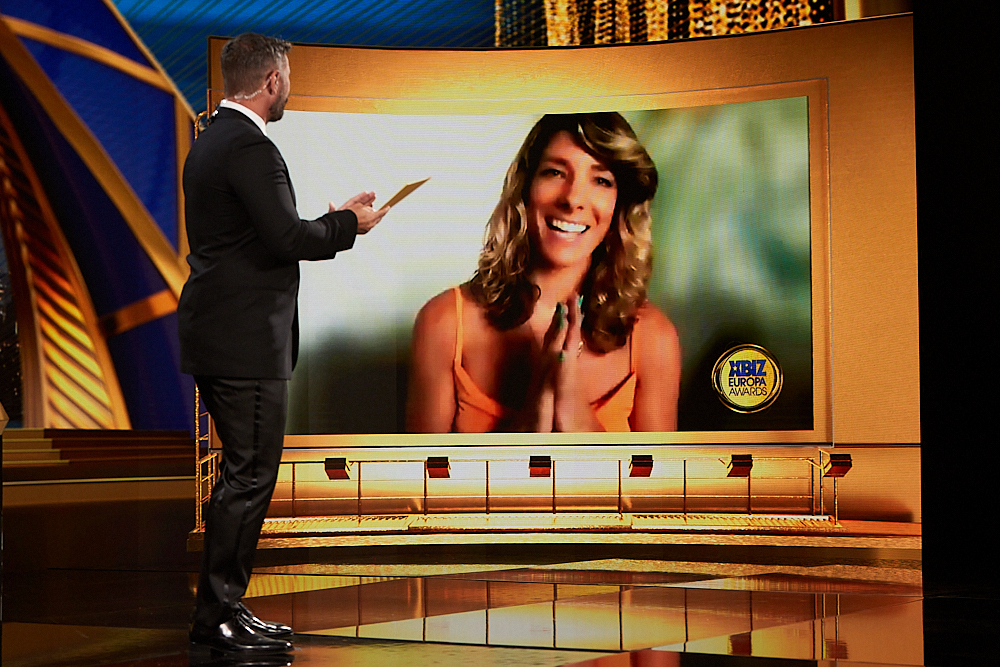 An ultraseductive Kitana Lure then materialized in front of an illuminated bridge, wearing a metallic dress with nothing-short-of-provocative décolletage. Deploying an old-school, vintage erotica delivery, Lure announced the nominees for "VOD Site of the Year" and "Global Web Brand of the Year," which went, respectively to Erotik.com and Adult Time.
Erotik.com's Sascha Eierdanz thanked "everyone who voted for us, our customers, and thank you for… my wife. See you in January in Los Angeles," he added.
Adult Time Marketing Director Frank Stacy, in a blue blazer and a colorful shirt, said he was "happy to accept the award on behalf of the team at Gamma Films and Adult Time. This means a lot to us. Thanks to all the employees who work hard every day to produce, package and promote adult content."
During the first of several breaks, a video package featured former XBIZ Europa winners Ella Hughes, Estella Bathory, Callum and Cole, Viktor Rom, Misha Cross and Bunny Marthy, all of them offering their insider experience about being so honored. The incredibly telegenic bunch offered a note of sincerity, authenticity and approachability that is wholly in tune with the general trend of content creation.
After the video, Ferrara returned to revisit the opener's thesis that "everything sounds sexier in French."
"Let's try an experiment," he invited the viewers with torrid innuendo.
"And please, if you speak French, don't reveal the punchline. Allow me to set the scene: A beautiful, ravishing woman is sitting alone on a bed in her hotel room. She is hungry. She is speaking to someone on the phone. Suddenly, there is a knock at the door. She opens it to find me standing there. This is what I say."
With a glint in his eyes, the darkly goateed Frenchman reverted to the language of Aznavour and Cyrano de Bergerac (translated for non-Francophones by helpful subtitles) to ask the would-be "femme fatale" if she perchance happened to "order a pizza, ma'am? With… extra meat?" or maybe call a plumber.
"Bonsoir, Madam," he continued, adding the French for "I am here to… pump your pipes. Where should I start?"
"Sounds good?" the now-puckish Ferrara continued. "I think so — everything sounds better in French."
This petit vaudeville routine was followed by the second half of the awards. The first presenter was an absolutely radiant Zaawaadi, wearing a white dress that made it obvious why, in two years, she has become one of the top stars of the European adult world.
The spectacular African-European beauty introduced the awards for "Glamcore Movie of the Year," which went to Dorcel's "Luxure: My Wife's Perversions" and for "Gonzo Movie of the Year," which went to Rocco Siffredi Films/Evil Angel's "Rocco's Sex Stepfamily."
Camille Clouvel received the accolade for Dorcel, thanking "XBIZ and the whole team, of course," and Siffredi offered his gratitude starting with star Kitana Lure. "You are fantastic and so is the rest of the team," the ultimate Italian stallion enthused. "My team, and everyone who supports me: when I break your balls, girls, which you don't have, but you have the biggest…" He then made a characteristic, metaphorically testicular Italian gesture.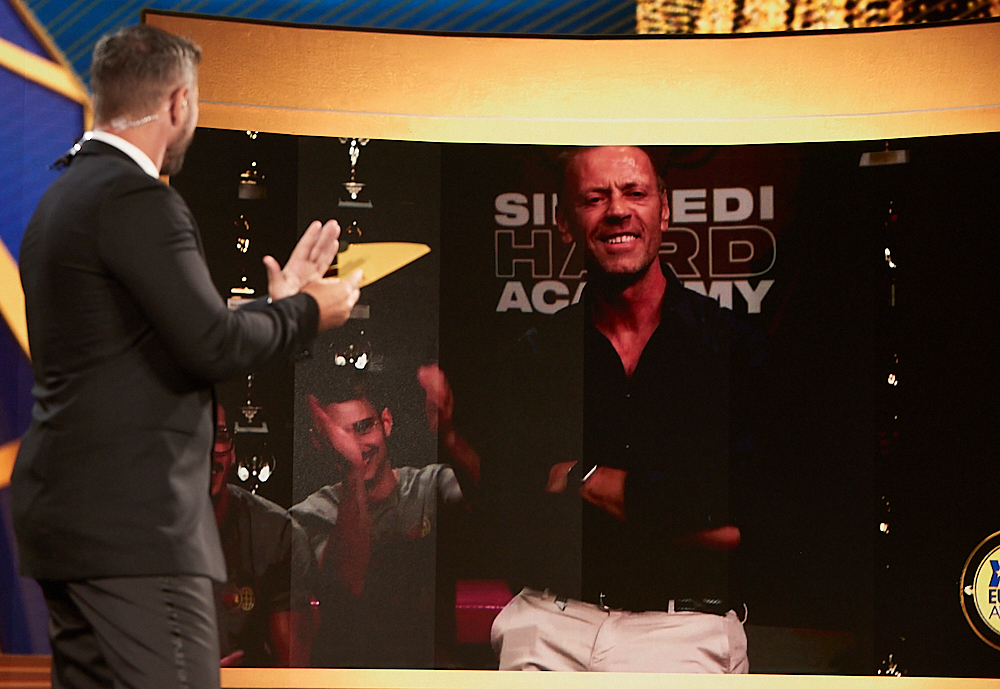 Purple Bitch returned to present two awards, with a costume change between them. Sporting a black spiked collar and her classic chest glitter, the cam star introduced the winner for "Sex Toy of the Year," Lovense's Ferri. A company rep thanked her team for "putting all the hard work that makes this possible." Following an outfit change, Purple Bitch announced the winner for "Fetish Pleasure Product Line of the Year," which went to ABS Holdings' Prowler RED. "Thank you so much for this award," ABS Holdings' head of global trade exclaimed. "It means a lot to us and everyone at Prowler RED."
Cherry Kiss and her yellow ensemble next appeared in front of a historic building serendipitously lit in the exact same tone of yellow as her outfit. The energetic star enthusiastically announced the nominees for "Best Gonzo Scene," an award that went to an ensamble which included her beau, Vince Karter.
Karter and Kitana Lure were on hand to receive the trophy for fellow scene partners David Perry and Erik Everhard for "Rocco's Insatiable MILFs" from Rocco Siffredi Films/Evil Angel.
"Thank you so much," Karter said, embracing Kitana. "I'm so happy for this award. This is just part of the gonzo; we're missing two guys!"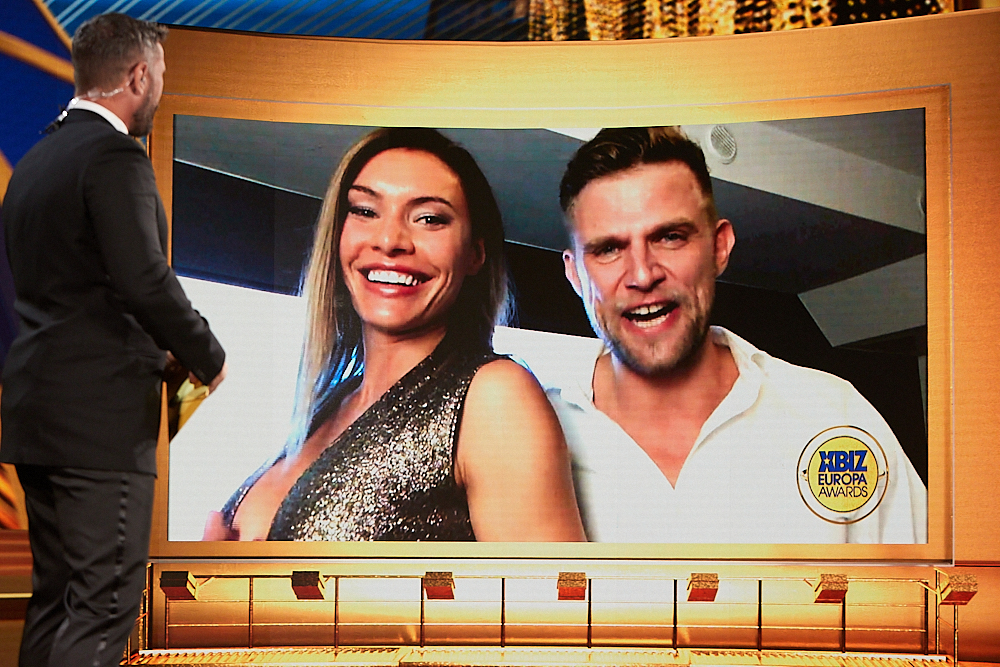 Kiss also introduced the award for "Best Feature Sex Scene," awarded to Lika Star, Lottie Magne, Darrell Deeps and Jesus Reyes for the Blacked showcase "Lottie." It's my first experience at the XBIZ awards," said Magne, "and I'm so grateful to our agency and everyone."
Clea Gaultier, in a sultry red dress, presented the next awards in front of a nighttime pool. "Global Pleasure Products Brand of the Year" went to Satisfyer and a rep thanked their European sales team. "I can't wait to see you all again next year," she said, holding up two handfuls of their distinctive pleasure products.
The award for "New Pleasure Products Company of the Year" went to MyHixel, with Patricia Lopez once again taking the virtual screen to accept the award. "I can't believe it!" she exclaimed with delight.
Christian Clay presented the nominees for "Gay Performer of the Year," an award that went to an exuberant Allen King, who effusively kissed his partner.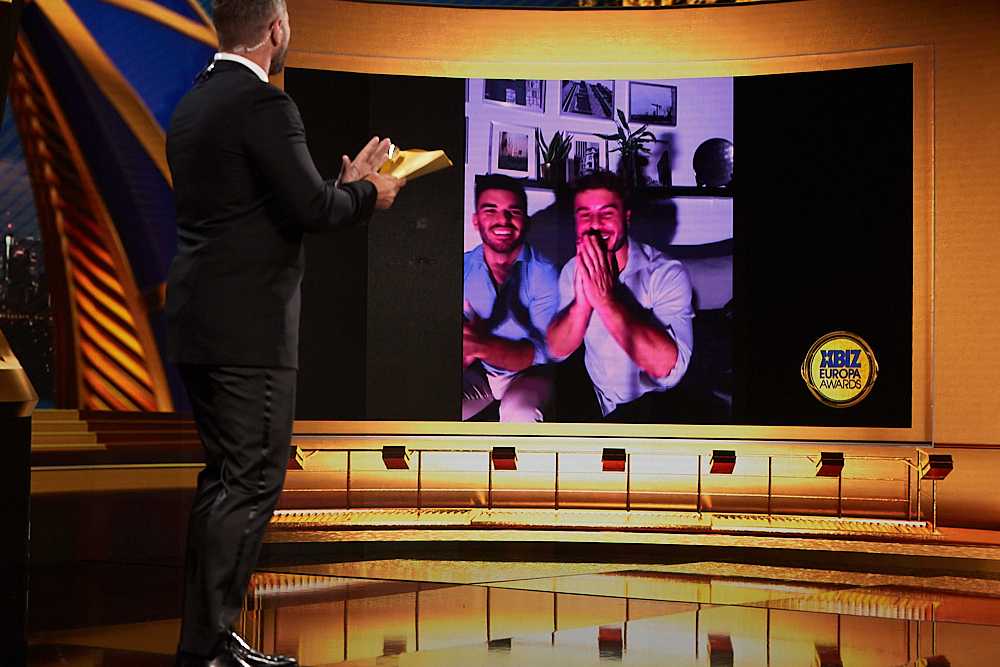 Clay also presented "Director of the Year" to Vixen's Julia Grandi. Described by Ferrara as "amazing," the director, producer and modeling agent, in a glamorous black dress, was visibly moved by the accolade.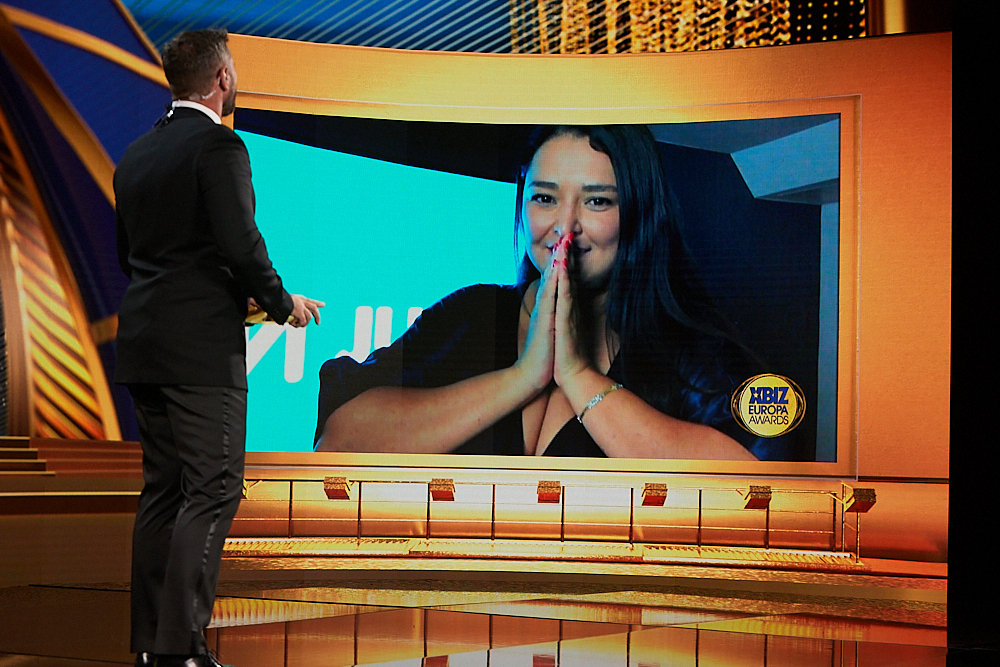 Before the final stretch of honors, Ferrara offered another message of gratitude to "the many thousands of fans who are watching around the world."
"Your passion and dedication to supporting your favorite performers and artists  — from social media to fan sites, merchandise to NFTs – is just incredible," he said. "You are there for us, no matter what. Know that we are eternally grateful to you for empowering us to succeed, doing what we love!"
A characteristically relaxed and flirty Jia Lissa, in a simple white shirt, announced the awards for "Clip Artist of the Year" and "Cam Model of the Year."
The clip artist winner, AliceBong, appeared from her cam room, with distinctive with long platinum hair decorated with metallic braids. "I'm surprised, and I wanna say thank you very much to my fans and my friends who voted for me and support me," she said. "Thank you so much guys, you win, too, with me."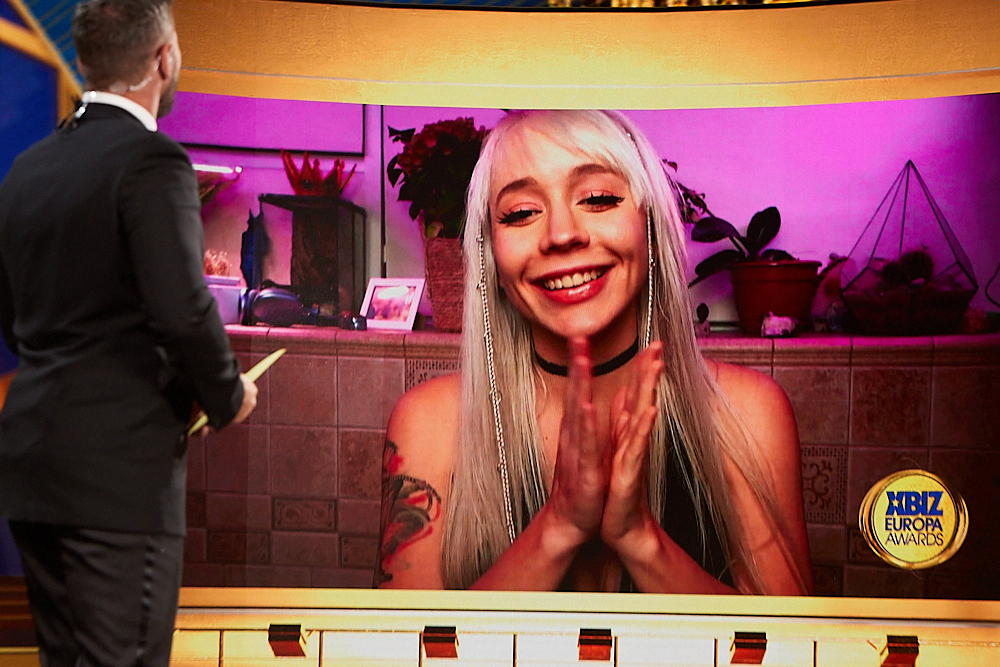 Best cam model Solar Kate, surprised and delighted, was lounging at home in an ultra short orange dress. She thanked "everyone, and XBIZ, for this opportunity."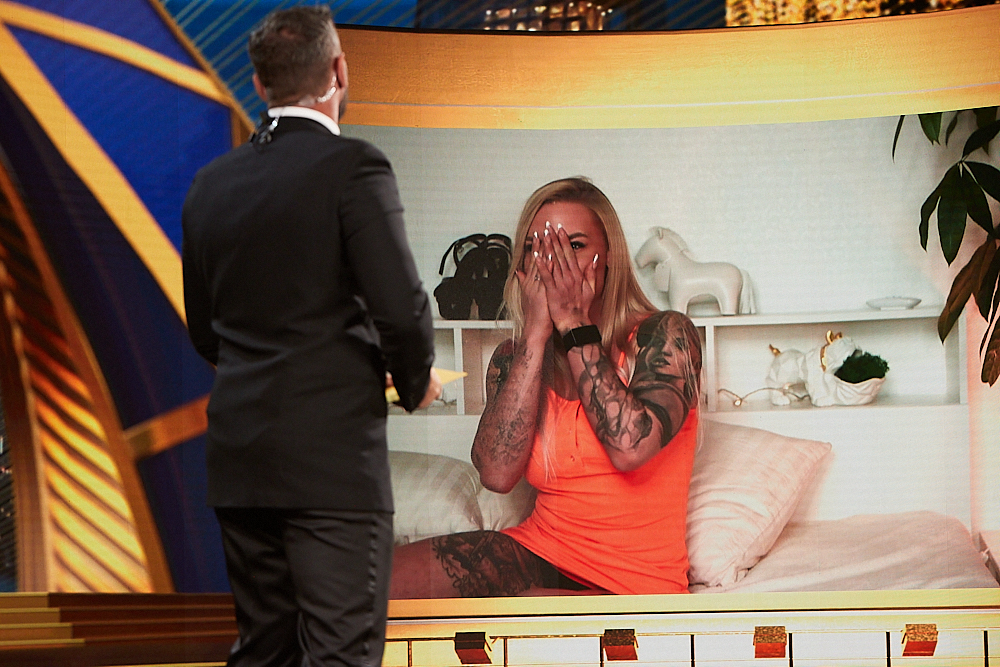 Icy Euro-American goth vision Anna De Ville chilled in front of a dramatically lit Prague building to announced the winners for "Best Acting" and "Feature Movie of the Year."
A fully Francophone Phil Hollyday received the gender-neutral acting award for "The Riders of the West" and thanked production company Jacquie & Michel Elite, with an enormous, and very French, gilded champagne bottle behind him.
Lust Cinema's innovative "Three" won "Feature Movie of the Year," an award received from Los Angeles by contract director Casey Calvert representing Erika Lust, who offered her gratitude and appreciation for the film's cast and crew.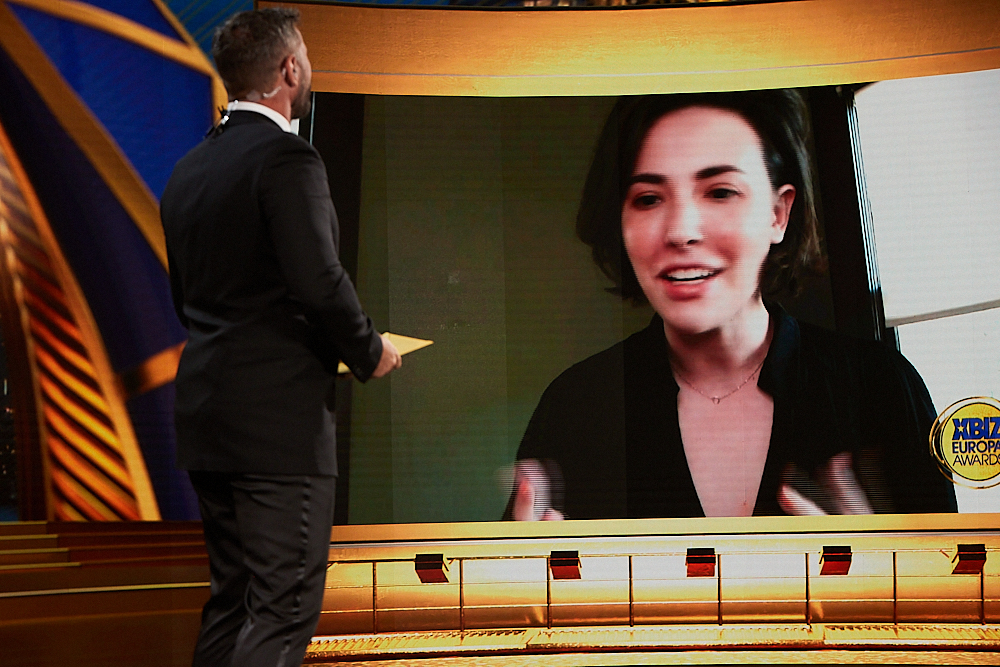 "Best New Performer" was presented by Vince Karter wearing, who was positioned in front of a modernist pool.
The winner was Agatha Vega. "Ah, she's amazing!" quipped extemporaneously Ferrara. An ultra-chill Vega, hugged by her friends and with her dog nearby, thanked everyone who voted for her.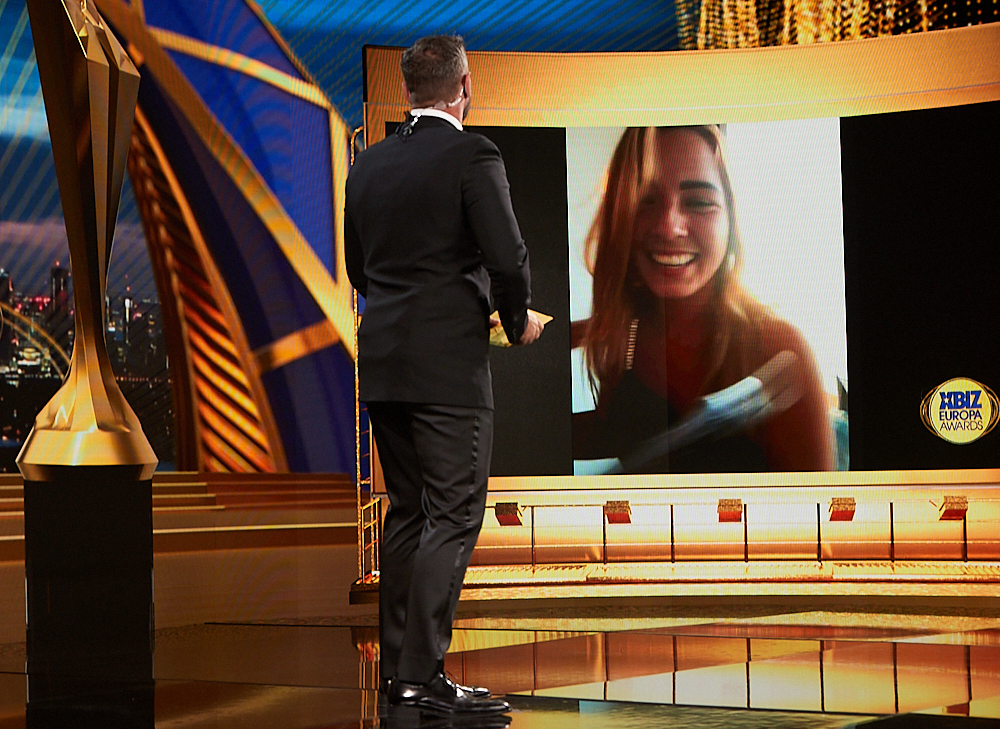 The last awards were presented by fan-favorite Euro star Amirah Adara in a red dress in front of another dramatically lit castle. "Male Performer of the Year" honors went Maximo Garcia, who was not present to accept. Garcia later revealed, in true Euro-hunk style, that he had stepped out of a celebratory agency party in Budapest at that moment "to have sex." 
"Female Performer of the Year" was awarded to a triumphant Cherry Kiss, clearly stunned as partygoers around her cheered in celebration. The exuberant star offered a simple moment of gratitude. "I don't know what to say," she said. "Thank you, everybody!"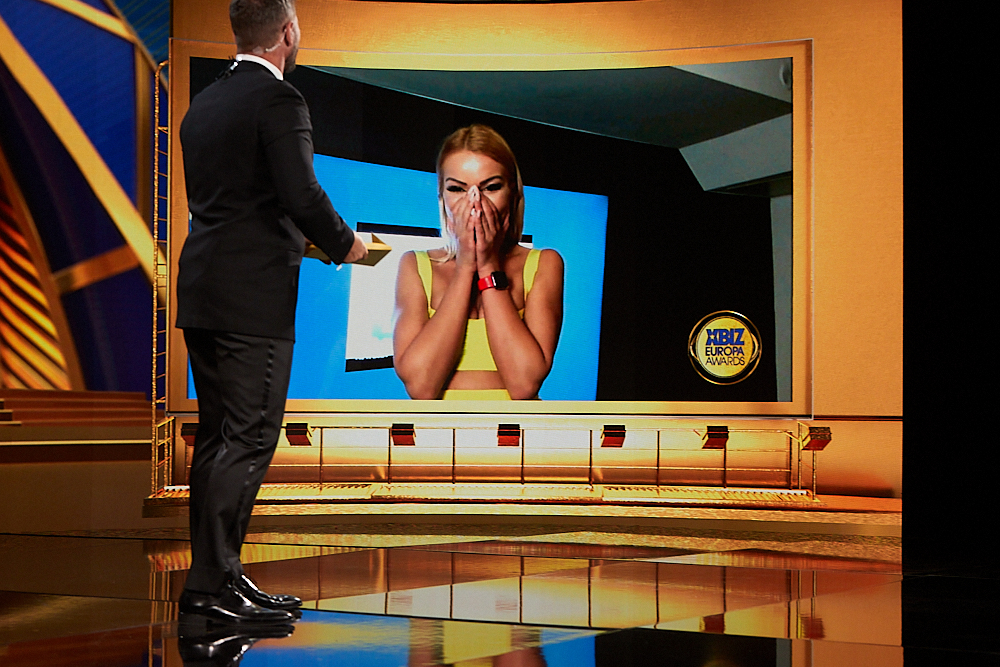 Ferrara closed the 2021 XBIZ Europa Awards in French, his native language du sexe, as he offered his sincere hope that viewers, nominees and winners enjoyed the night's ultimate celebration of the European adult industry.
The ceremony was presented by Satisfyer and also made possible by Diamond sponsors Chaturbate, Julmodels, Dorcel, Jacquie & Michel Elite and Erotik.com.
And so it's "until we meet again." Will the 2022 ceremony be live? Will it be virtual for a third consecutive year? Regardless, the show will go on.
Click here for a full list of 2021 XBIZ Europa Awards winners.