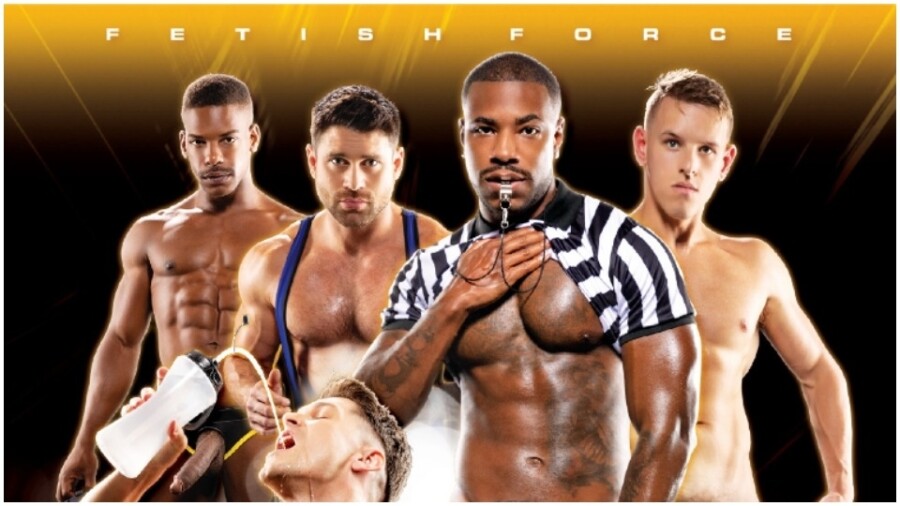 Fetish Force Gets 'Pinned' With New Gay Kink Title
AN FRANCISCO — All-male kink label Fetish Force is getting "Pinned" in its latest release from co-directors Trenton Ducati and Jasun Mark, featuring a quintet of hunks including Falcon/NakedSword exclusives Beau Butler, Devin Franco and Reign.
Shane Cook and Adrian Hart fill out the cast of "wrestling jocks who aren't afraid of asserting their physical dominance in front of anyone watching," teased a rep.
"If you're into wrestling mats, hot gear, hungry holes and hard cocks, brace yourself, because these stunning grapplers are about to manhandle you until you're 'Pinned' and begging for more," the rep declared. "After pinning down athletic stud Devin, hung muscleman Shane celebrates his victory by shoving his girthy cock into his opponent's open mouth. The rematch between the two wrestlers sees both men exposing their asses and hard dicks before Shane knocks Devin down yet again and dominates his juicy bubble butt."
"Beau just pinned down the ripped Adrian and referee Reign is looking to award the beefy athlete. As a reward for the win, the hairy victor gets both ends stuffed until Reign and Adrian Hart blow their warm loads," the rep continued. "After their rematch, it's Adrian's turn to get fucked by the ref's big dick. No matter the outcome of the match, these wrestling hunks are making sure everyone's getting manhandled, roughhoused and 'Pinned' until their balls are officially drained."
Ducati praised his experience shooting the action.
"I had so much fun returning to the mat with my right hand man and fellow director Jasun Mark," he said. "This cast of hunks had fun getting hot and sweaty while pinning and pounding each other down."
Fetish Force is a Falcon/NakedSword brand; visit the Falcon online store for additional details and direct wholesale inquiries to John Gunderson at [email protected].
Follow company's fetish labels on Twitter.