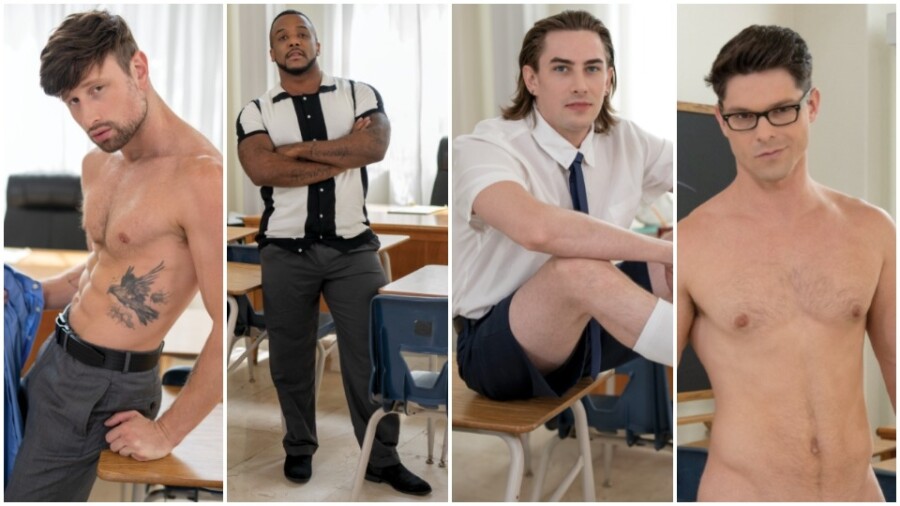 Fisting Central Releases Fetish Sexfest 'Teacher's Pet Fister'
SAN FRANCISCO — Hardcore all-male fetish brand Fisting Central and director Tom Moore have released the educationally themed "Teacher's Pet Fister."
"These four teachers and students know that they'll have to open up more than just their textbooks if they want a true hands-on — and hands-in — learning experience," teased a rep.
The cast includes exclusive Devin Franco with Drew Dixon, Jack Hunter and Micah Martinez.
"When the pressure of school life becomes too much to handle, you can always turn to the 'Teacher's Pet Fister' to relieve some serious stress. Drew has to meet with his student's parents in less than an hour and he isn't looking forward to it," teased a rep. "Lucky for him, colleague Micah is there to distract him from his tedious job with his raw cock, open hole and burly fists. Both teachers take turns using their hands to fill each other up until they're both covered in their own creamy loads."
"In the same perverted classroom, troublemaker Jack begins rifling through his teacher's personal belongings and immediately comes across an oversized dildo," the rep continued. "The rebel harasses the innocent Devin with it and the goody-two-shoes student quickly discovers he isn't able to swallow the enormous toy, but he is able to make Jack Hunter's entire fist disappear in his gaping asshole. After getting stretched out and exposing his bright red insides, Devin returns the favor by fisting and fucking Jack with their teacher's monster dildo until Jack sprays a thick load all over his naked body."
Moore praised the scholastic scenario.
"This isn't your average institution where you can just do any regular stuff for extra credit," he said. "These students and teachers really work their hands and holes to get the highest grades possible."
Visit FistingInferno.com and the Falcon online store for additional details and follow the company's fetish labels on Twitter.
Fisting Central is a property of Falcon/NakedSword; contact John Gunderson at john@falconstudios.com with wholesale/retail inquiries.