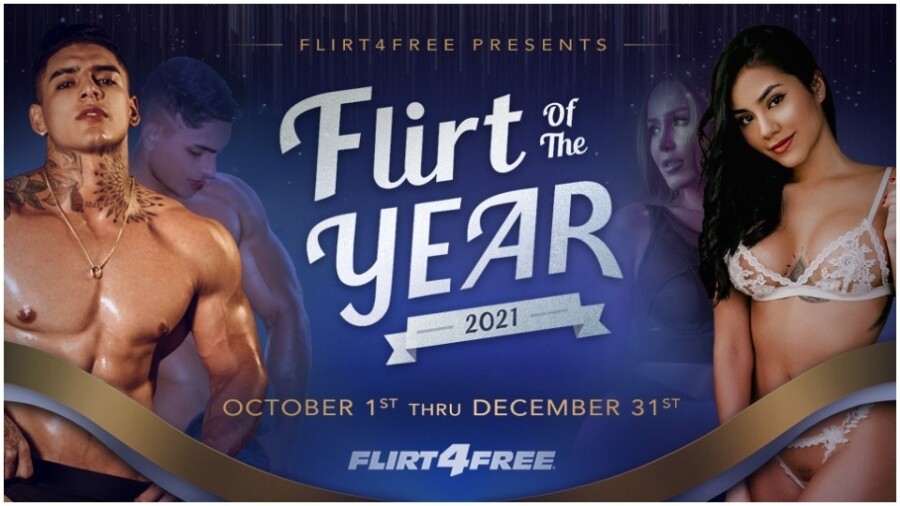 Flirt4Free Announces 'Flirt of the Year' Contest, $300K in Prizes
WESTLAKE VILLAGE, Calif. — The 2021 "Flirt of the Year" contest is set to kick off Friday with top Flirt4Free performers competing for their share of a $300,000 prize package.
The contest breaks down into a series of sub-contests, a rep explained, with a variety of rewards.
The "Category Contests" recognize the platform's top rookies, top duos/groups and those performers who excel in specific areas of camming, said the rep; five "Regional Contests" shine the spotlight on five of Flirt4Free's most popular broadcast regions: Europe, North America, Romania, Russia and South America.
Meanwhile, the "Credit Level Contest" groups camguys and camgirls together based on career-long earnings and rewards the top performer in each bracket, noted the rep, while the "Overall Contest" recognizes the "absolute best performances of 2021" with the outright winners being named "Mister Flirt of the Year" and "Miss Flirt of the Year."
However, teased the rep, "the biggest prizes and the most intense competition of all is reserved for the event's crown jewel: the 'Viewer's Choice Royal Tournament.'"
"Fans cast free votes and purchase 'Super Votes' for their favorite models. In seven two-week rounds, top vote collectors win larger and larger cash prizes while the winner's circle shrinks," the rep said. "Round One pays 20 guys and 20 girls cash prizes ranging from $50 to $1,000. Round Four awards between $200 and $4,000 to the Top 8 models of each gender. The final round — slated for December 21-31 — narrows the field to the Top 5, and winners receive between $2,000 and $10,000."
Each tournament round counts "only the votes earned in that round," noted the rep, "so Flirts need not compete in every round to win. But for those that do, more fortune and glory awaits."
The Top 20 in total 'Viewer's Choice' voting as of December 31 earn more cash prizes, and are declared "Flirt Royalty" for the entirety of 2022; in addition, titles like the "Duke" and "Duchess of Flirts" and the "Prince" and "Princess of Flirts" are on the line, while first-place winners get $5,000 each and are crowned the "King" and "Queen of Flirts."
"'Flirt of the Year' is the ultimate culmination of the massive effort our models have poured into their performances after millions of online hours ," Flirt4Free President David Aguilar said.
"Our established models are rewarded for their valiant year-long showing, while the 'Viewer's Choice Tournament' levels the playing field some and gives rising stars the chance to mix it up with webcam legends," Aguilar added. "Every performer can aim for some big money and show our fervent fans what they can do. It's a truly exciting way to cap off the year."
Visit Flirt4Free.com; follow the platform on Twitter for updates.
Click here for affiliate promotion details; performers who wish to join the network can find details here.