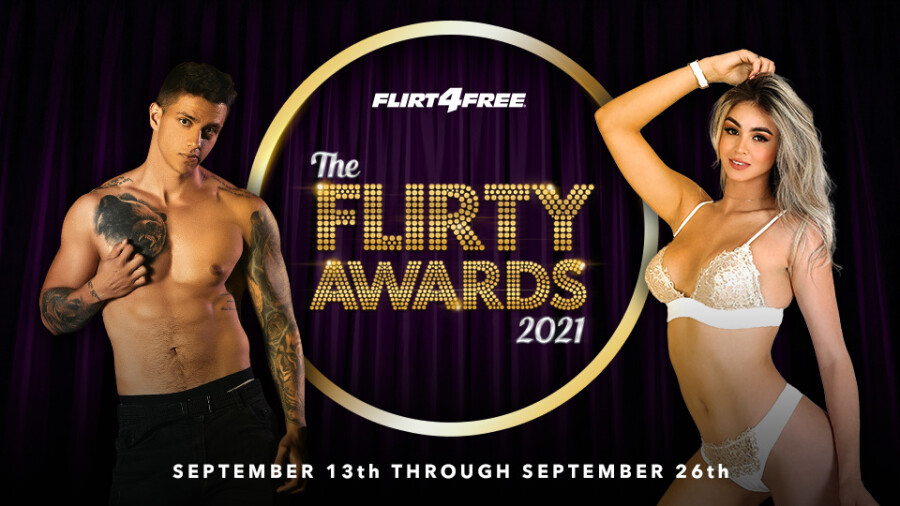 Flirt4Free Announces Return of 'Flirty Awards' Competition
WESTLAKE VILLAGE, Calif. — Flirt4Free has announced the return of the Flirty Awards, a two-week camming marathon that kicks off Monday, September 13, as "the network's ultimate measure of an individual cam star's ability to capture the attention of their customers."
Beginning at 12 midnight (EDT) on Monday, fans are invited to take on the role of "pageant judge" and cast free daily votes in 12 categories.
"Categories like 'Best Flirt Ass,' 'Best Flirt Curves' and 'Best Flirt Muscles' recognize physical perfection, while the titles of 'Best Flirt Dancer' and 'Most Creative Flirt' will go to the camgirls and camguys who consistently show fans their irresistible seductive skills," a rep explained.
"The Top Three vote-collectors in each category as of midnight on Sunday, September 26, win cash prizes ranging up to $500, bonus multiplier days in the site's upcoming 'Flirt of the Year' competition and all the bragging rights that come with their best-in-show camming assets," noted the rep.
"Models must be online to receive 'Flirty' votes, as ballots are available live and in-chat only. Votes will not be available for purchase. Instead, members can vote for as many models as they wish for free in up to three categories, but can only nominate the same model once per contest day," the rep continued. "Flirt4Free notes one rule change for the 2021 contest: while voting is open to all members, every vote cast by a Premium or VIP member will count 10 times in the standings."
Flirt4Free President David Aguilar described the Flirty Awards as a competition "like no other."
"The only way to win is to engage," he said. "This is the time when fans really rally around their favorite models and show how passionate they can be. That passion inspires some outrageous performances from our most competitive Flirts."
Visit Flirt4Free.com; fans are invited to follow the platform on Twitter for "breaking news and swag giveaways."
Click here for affiliate promotion details; performers who wish to join the network can find details here.