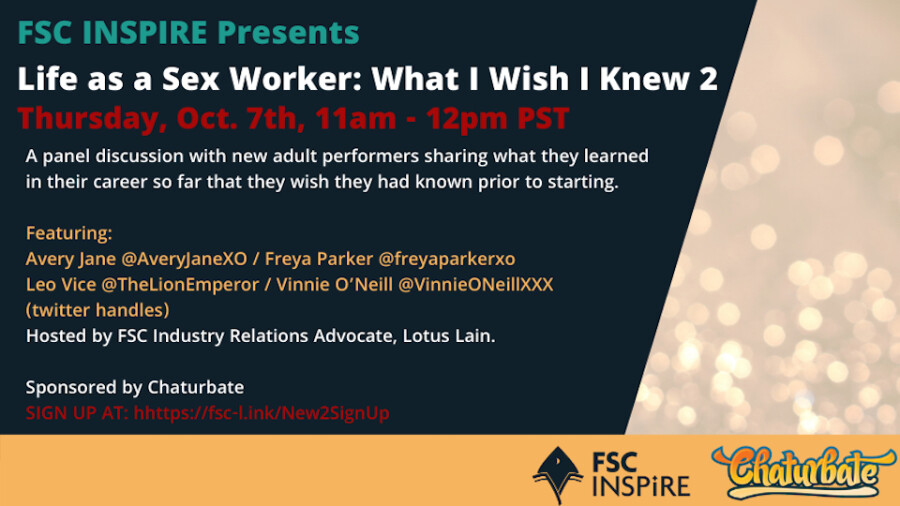 FSC INSPIRE, Chaturbate to Host 2nd 'What I Wish I Knew' Panel
LOS ANGELES — Free Speech Coalition (FSC) will host the follow-up to the "What I Wish I Knew" discussion panel on October 7 at 11 a.m. (PDT), the fourth in FSC INSPIRE's five-part "Life as a Sex Worker" series sponsored by Chaturbate.
The panel, moderated by FSC Industry Relations Advocate Lotus Lain, will feature newcomer performers sharing what they wish they had known prior to embarking on their adult industry careers.
Avery Jane, Freya Parker, Leo Vice and Vinnie O'Neill will join Lain to share their experiences as new talent who started during the unpredictable times of the COVID pandemic. 
"New performers are often left to learn the ins-and-outs of the industry on their own with many new opportunities coming at them from lots of new faces," said Lain. "The 'Life as a Sex Worker' series is designed to help our community cope with life issues off the set that aren't always talked about."
The first two "Life As a Sex Worker" panels are available on the FSC YouTube channel. The third panel, "Life as a Sex Worker: Career Longevity," will be uploaded soon.
The fifth and final panel this year, set to be held before the holiday break, will address coming out as a sex worker to loved ones.
To RSVP for "Life as a Sex Worker: What I Wish I Knew 2," sponsored by Chaturbate, click here.