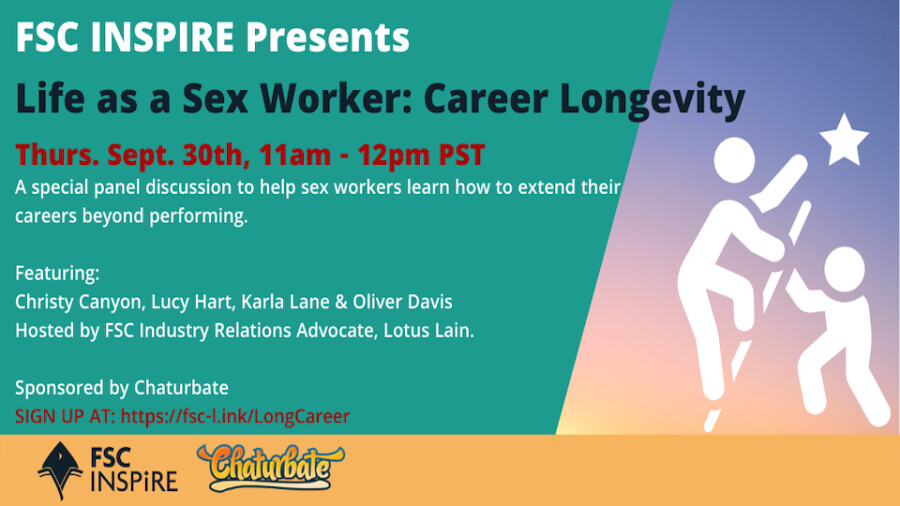 FSC INSPIRE, Chaturbate to Host 'Career Longevity' Panel
LOS ANGELES — Free Speech Coalition will host a "Career Longevity" panel discussion on September 30 at 11 a.m. (PDT), the third in FSC INSPIRE's five-part Life as a Sex Worker series sponsored by Chaturbate.
The discussion aims to help sex workers learn how to extend their careers beyond performing.
FSC Industry Relations Advocate Lotus Lain will moderate "Life as a Sex Worker: Career Longevity," an hour-long panel featuring four adult performers who have branched out in other ways to extend their careers.
Christy Canyon, Lucy Hart, Karla Lane and Oliver Davis will join Lain to share their experiences and strategies for branching out from performing on screen to creating adjacent careers that complement their existing careers in adult.
"There are many ways to extend one's career in adult beyond the often restrictive world of performing," said Lain. "This panel hopes to shed light on other paths that exist for a thriving career in our ever-changing industry."
"The Life as a Sex Worker series is designed to help our community deal with life issues off set that aren't usually talked about," Lain added.
FSC INSPIRE's first panel, "Life As A Sex Worker: Parenting" and second panel "Online Dating without Losing Your Sanity" are available on the FSC's YouTube channel.
Future panels this year will address topics like coming out as a sex worker to loved ones, and things sex workers wished they'd known when they started in the industry.
To RSVP for FSC INSPIRE presents "Life as a Sex Worker: Career Longevity," sponsored by Chaturbate, click here.