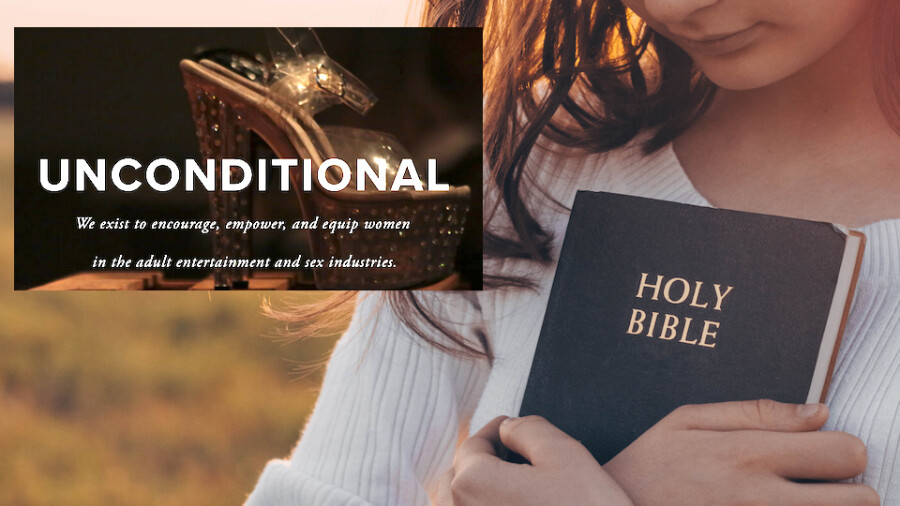 Indiana-Based Ministry Offers 'Friendship' to Adult Entertainers
INDIANAPOLIS — Indiana-based religious ministry Unconditional — which has targeted sex workers as potential converts since 2012 — is rebranding its messaging as an offer of "friendship" for "adult entertainers."
Interviewed by the Greenfield, Indiana Daily Reporter this week, Unconditional's CEO struck an inclusive, non-judgmental note about the group's proselytizing work among local sex workers.
"Once a month, Sarah Daniel and a group of volunteers visit local strip clubs with gift bags in hand," the Daily Reporter's writer began. "Each bag contains a card with contact information for finding additional support."
Describing her journey from self-described "self-righteous jerk" to recognizing sex workers as fellow human beings — if potentially in need of her help — Daniel told the paper that when she was in college, "God really started to work on [her]."
"I started to volunteer at The Boys and Girls Club," she added, "and I had several kids I worked with whose mothers worked in the industry. At first, I was very judgmental of them. And then God showed me, those moms are just these kids grown up. How am I going to sit here and judge them, but love their kids?"
'It's Complicated'
After a stint as a missionary in South Central Los Angeles, where she witnessed makeshift church services being conducted, Daniel said she "fell in love with the idea of showing people love right where they are. It also showed me the deep pain the church has caused to so many through judgment and harshness instead of compassion and love. It's hard to unlearn, but slowly God has shown me to see people how he does."
"I've never been a sex worker," Daniel admitted. "But I do know what it's like to mistrust Christians, to question God and to know pain," she added, noting that some of her closest friends are "women I've met in the clubs."
Having reached an ambivalence about sex walkers who earn a living by exotic dancing ("a strip club can save someone's life, while simultaneously ruin their life"), Daniel coined her organization's motto as "It's complicated," which doubles as the name of her podcast.
"Most of all, we offer unconditional friendship and support," Daniel emphasized. "Our mission is to encourage, empower and equip women in the adult entertainment and sex industries."
Pleasers, Workwear and Stilettos
Although Daniel is currently claiming that the organization does not aim to make sex workers quit, a 2019 report about her ministry by the local ABC station most definitely emphasized the "savior" angle.
"Leaving the sex trade industry can be extremely challenging, but a new partnership in the community is providing support to women who have decided to get out," said WRTV's Stephanie Wade, quoting "a woman — who we won't identify" as stating, "I felt like I was drowning and I didn't know how to get out."
At the time, Daniel was trying to convince converts to go from wearing stripper shoes — a sparkly pleaser is the main image on the group's outreach website — to becoming garment industry workers.
"Unconditional Ministries is partnering with Trace Fashion, a sustainable fashion company that creates comfortable workwear for women," WRTV's 2019 report continued. "The partnership will help provide more job opportunities for those who have decided to step away from the industry."
This week's Daily Reporter feature — headlined, "'Showing people love right where they are': Group offers friendship to adult entertainment workers" — was timed ahead of upcoming event, "Stiletto Stories," described as Unconditional's "annual vision night."
APAG President: 'Hard Not to Be Frustrated'
Alana Evans, President of the APAG (Adult Performance Artists Guild) union told XBIZ that religiously motivated people like Daniel should be "supporting existing sex worker organizations" instead of offering "friendship."
"Churches need to worry about their parishioners," Evans continued. "Roads like this all lead to donations for churches, instead of the organizations that really need it. These people are inserting themselves into peoples lives without being asked."
Evans, a sex worker and adult performer herself who has been organizing for years, finds it hard "not to be frustrated with people like this, because while they have good intentions, they are continuing the path of judgment suggesting that we live lives of pain and that sex work ruins our life in the same sentence."
The Daily Reporter story, Evans continued, "is so full of contradictions."
"What concerns me the most is the fact that they're placing themselves in these women's homes by offering domestic help," she added. "Cleaning and cooking is not something an organization that's working to help women in need should be doing. It is far too invasive. The church does not need to be in the homes of sex workers."
Evans criticized the strategy of ministries who "show up at strip clubs offering trinkets and goodies just to get their hands on the women working there, treating them all as if they're victims."
"You don't show up to a tax accountants office, offering her little trinkets and goodies, why assume sex workers need this?" she concluded.