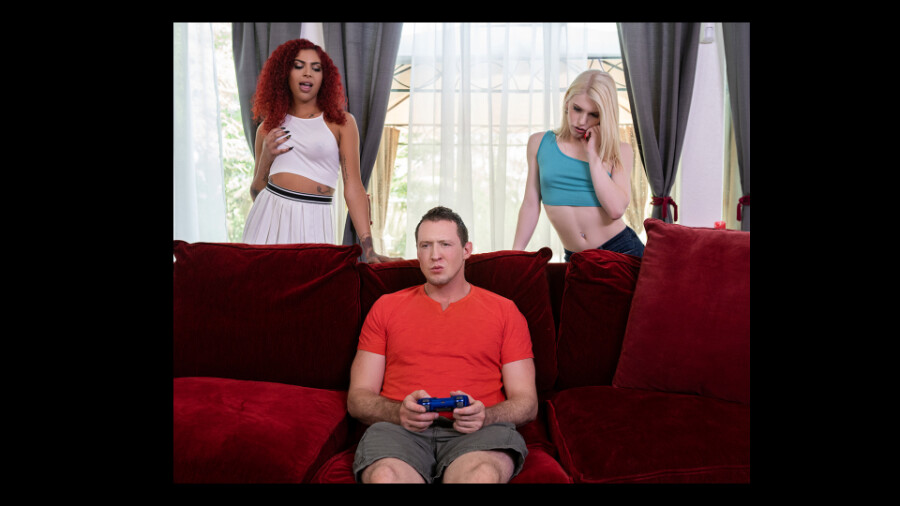 Izzy Wilde, Rubi Maxim Are 'Horny for the Gamer' for TransAngels
LOS ANGELES — Rubi Maxim and Izzy Wilde lust for Pierce Paris in "Horny for the Gamer Roommate," the latest two-part series from TransAngels.
The starlets play "two insatiable babes who will stop at nothing to lure away their gamer roommate (Paris) from his video games. The sexy trans girls are far too hungry for cock and since he won't play with them, they'll play with each other," the rep teased. "Will he finally give his horny roommates the hot threesome they've been begging for? You'll have to watch the series to find out."
Production Director Ryan Cash praised his cast.
"The chemistry between Rubi and Izzy was undeniable," he said. "This series is everything you want to see and more."
Find "Horny for the Gamer Roommate" will debut Friday, October 8, on TransAngels.com; follow the studio on Twitter and Instagram.
Find Rubi Maxim, Izzy Wilde and Pierce Paris on Twitter.
Recent TransAngels releases include "Rain on Her" starring Natassia Dreams and Dante Colle; "Raunchy on the Rails" with Daisy Taylor and Johnny B; and "Domme in Dork's Clothing" featuring Melanie Brooks and Janelle Fennec.