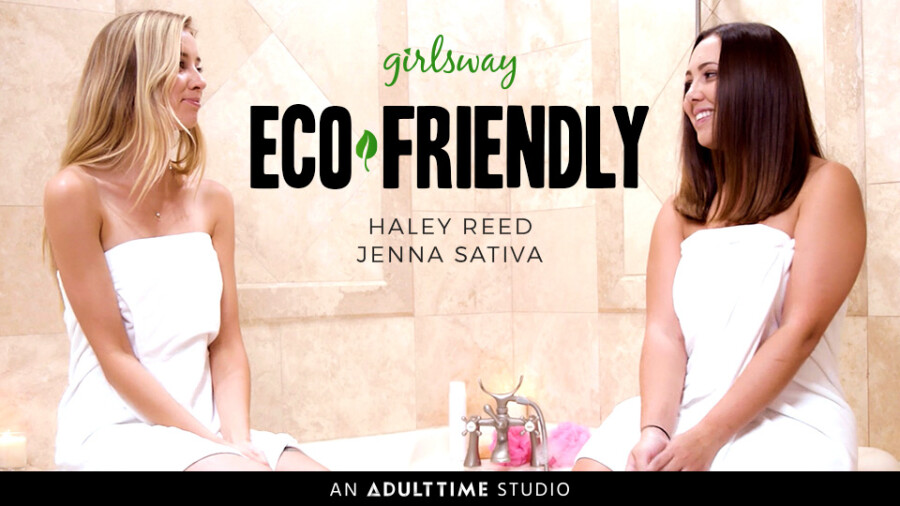 Jenna Sativa Is 'Eco-Friendly' in Return to Girlsway
MONTREAL — Jenna Sativa returns to Girlsway, opposite Haley Reed, in a comic romp about "the sexy benefits of saving the earth" titled "Eco-Friendly."
"Jenna gets worked-up after watching an environmental documentary and her roommate (Reed) wants to be supportive. How can they do their part to conserve resources and make the world a better place? How about soaping up together in the shower to save water?" asked a rep.
It is the first scene featuring Sativa — a longtime Girlsway fan-favorite, noted a rep for parent company Adult Time — in over 18 months.
"This year we have been putting a lot of work into our various studios to understand our customer expectations and find ways to exceed them," Adult Time Director of Marketing Frank Stacy said. "When it comes to Girlsway, a lot of our members were asking for a return of models they perceived as fan favorites."
"You can therefore expect the return of a lot of Girlsway 'Hall of Famers' in the next few months, and Jenna is one of them. We are thrilled to see her back on our platform, and know members will, too."
"Eco Friendly" is now streaming for Girlsway and Adult Time; follow the studio and the streaming service, respectively, on Twitter.