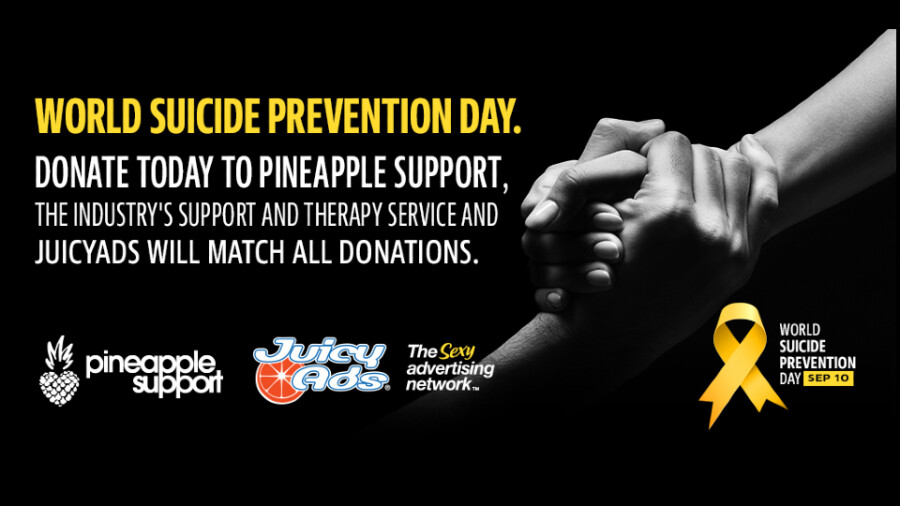 JuicyAds to Match Donations to Pineapple Support Today
VANCOUVER — JuicyAds is hosting a GiveLively fundraiser today, World Suicide Prevention Day, and will match all donations to bolster the efforts of Pineapple Support.
"Unfortunately, suicide is something we see far too often in our industry; thankfully, organizations like Pineapple Support exists to be that helping hand many need to get through," JuicyAds Head of Sales and Marketing Rainey Stricklin said. "We're happy to both bring awareness to this issue and help raise needed funds to support the services they offer."
Pineapple Support, a 501(c)(3) tax-exempt organization in the United States, was founded in 2018 and has so far connected over 5,000 adult performers to mental health services, including free and low-cost therapy, counseling and emotional support.
"I'm incredibly grateful to JuicyAds for their support, and for finding creative ways to raise funds for the work we do in the community," Pineapple Support Founder and CEO Leya Tanit said.
"The money raised [today] will be spent ensuring that no adult performer ever feels as though they have nowhere to turn," she continued. "Support like this helps us to continue connecting adult industry professionals to mental health support services, including individual therapy and group workshops, as well as aiding future outreach and awareness."
Donate through the GiveLively fundraising link here.
Find JuicyAds online and on Twitter.
Visit PineappleSupport.org and follow the group on Twitter.