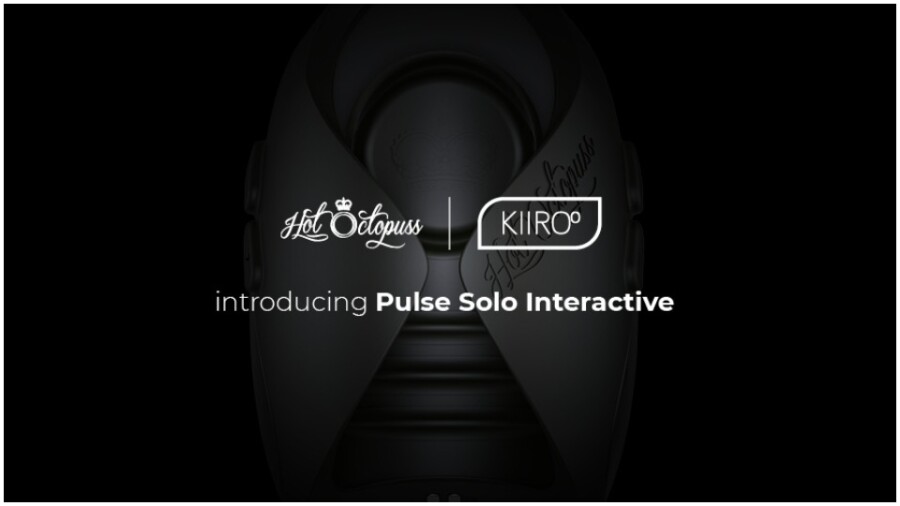 Kiiroo, Hot Octopuss Partner on 'Pulse Solo Interactive' Pleasure Toy
AMSTERDAM — Kiiroo and Hot Octopuss have partnered on the Pulse Solo Interactive "guybrator" utilizing "interactive oscillation" for solo and couples' play between penis-owners.
The pleasure device "marks the next phase in the evolution of Hot Octopuss' multi-award-winning, hands-free Pulse line. Thanks to Kiiroo's market-leading connected technology, Pulse users can now enter a vast world of interactive content and intimate connectivity," a rep explained.
The Pulse Solo Interactive is 100% waterproof and described as the most compact product to ever use the Kiiroo tech; it is designed to connect with all other Kiiroo products and to be compatible with 2D, VR and webcam content.
"We couldn't be happier than to have partnered with Kiiroo on Pulse Solo Interactive," Hot Octopuss Co-Founder and CEO Adam Lewis said. "Kiiroo is regarded as a world leader in interactive sex toys, and the integration of their technology into Pulse will be a real game changer."
"Our own focus groups have told us that our audience has been asking for a connected toy. Now we have one with tried-and-tested interactive functionality that will open up a world of online and couples' experiences for our customers," he continued.
"As longtime supporters of the gay market, we are also packaging up Pulse Solo Interactive as a world-first penis owners' Couples Pack," said Lewis. "This means that two penis owners can either order the product to be sent to multiple addresses or as a presentation box with two units inside, with specific instructions on how to use Pulse Solo Interactive for penis-to-penis couples play."
Kiiroo CEO Toon Timmermans noted the companies have been "working hard on this co-branded product and we are sure that our users are going to enjoy this entirely new sensation — interactive oscillation — when they play alone or connect with their partners or content."
The Pulse Solo Interactive is available now, at a retail price of $179, at Kiiroo.com and will be found at HotOctopuss.com starting on October 25.
Visit Kiiroo and Hot Octopuss on Twitter.