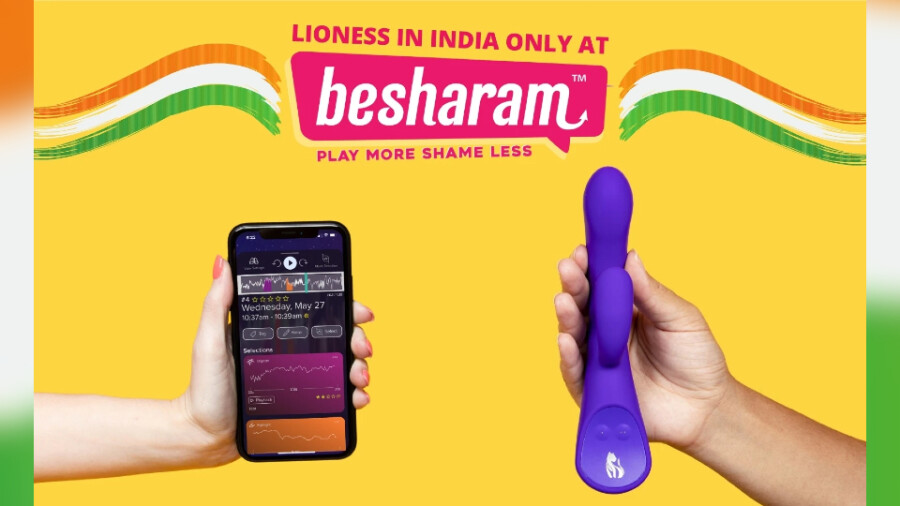 Lioness Partners With IMbesharam for Indian Market
LOS ANGELES — Lioness has announced a partnership with IMbesharam to bring its biofeedback vibrator to the Indian market.
Lioness has been distributing smart vibrators since 2017 and created "the first-of-its-kind biofeedback vibrator that uses precision sensors to track user arousal," explained a rep. "Since its inception, the company has released the second version of its smart vibrator and app, which boasts a proprietary AI hotspot algorithm to highlight peak moments of arousal and orgasm based on over 200,000 anonymized, aggregate sessions."
The smart vibe and app "also includes the latest Bluetooth 5 technology, a 'Live View' that enables users to see their response in real-time and will have long-distance wifi remote-controlled capabilities in the future," the rep added. "Additionally, Lioness has the largest dataset of real-world, physiological data of sexual response and orgasm in the world as well as a research platform that enables users to opt-in to studies led by academic and medical researchers."
Lioness began selling their vibes internationally just last year.
"The category of sex trackers and biofeedback/AI vibrators is still new, so we've had to be very selective with our international retail partners," CEO and Co-Founder Liz Klinger said.
"We've admired Besharam's leadership in India and, after seeing success partnering with Fermata in Japan and Singapore, we knew this was the next step to getting Lioness in a new region," she added. "We couldn't be more thrilled for this partnership."
Besharam COO and Co-Founder Raj Armani echoed Klinger's enthusiasm for the collaboration.
"Even before our formal introductions, we were in awe of the market positioning that Lioness has established for its brand and hero product," he said. "It was only to our delight we ended up having the opportunity to bring Lioness to India through a mutual partnership understanding."
Klinger and her team, he added, "run a tight ship. They know their audience, their product, the opportunity and customer behavior; all we had to do was showcase them on Besharam and bring them to India where the demand for vibrators has surged 244% in the last 12 months."
"We are confident the technology and craftsmanship that sets Lioness apart will be recognized by our audience and appreciated as well," Armani noted. "We look forward to being the new 'den' for the Lioness in India."
Visit ImBesharam.com for details and follow the retailer on Twitter; find Lioness online and on Twitter.