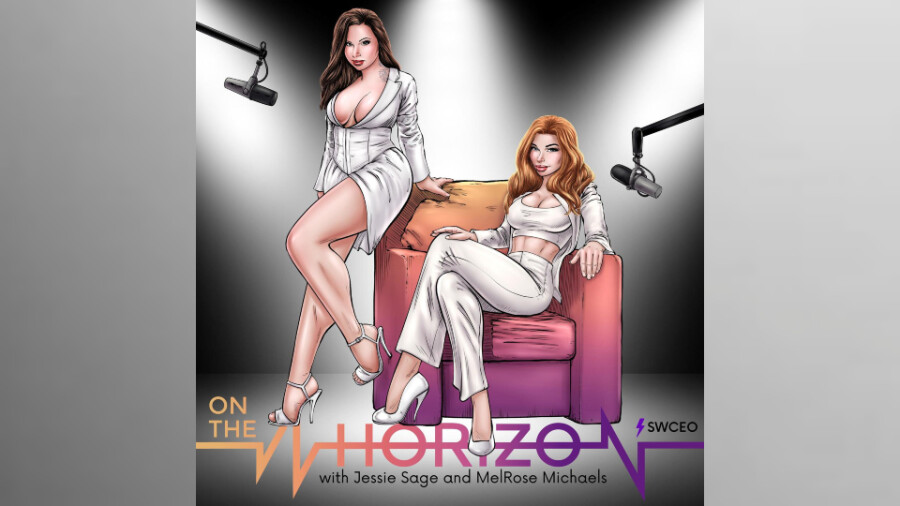 MelRose Michaels, Jessie Sage Release 'On the Whorizon' Podcast
LOS ANGELES — MelRose Michaels and Jessie Sage have announced the release of "On the Whorizon," a new podcast dedicated to "the future of sex work and how to navigate it."
The podcast, sponsored by sex work collective Assembly Four and available on YouTube and most major podcast platforms, aims to strengthen awareness around the political, societal and personal impacts on the sex work industry.
Initial guests on the podcast have included Carol Leigh, who coined the term "sex work" in the 1970s, undocumented sex work activist Maya Morena, comic and writer Kaitlyn Bailey, sex work theorist and "THOT scholar" Moses Moon, Free Speech Coalition Industry Relations Advocate Lotus Lain, journalist and photographer Adrie Rose and sex work and technology researcher Dr. PJ Patella-Rey.
Recent topics of discussion have included facial recognition software, banking discrimination, sex work history and the intersections of race, class, nationality and sex work.
"The most recent episode, which tackles crypto and payment processing issues, includes the sex workers and sex work activists like Siri Dahl, Rez Hoe and Maiia," the rep said. "'On The Whorizon' is powered by SexWorkCEO, an educational platform for sex workers, featuring courses, resources, informational blogs and influencer advocacy programs. Launched on International Sex Workers Day this past June, the free platform is driven by its mission to educate performers and help shape the future of sex work, to help content creators grow their business as independent entrepreneurs."
Sage explained the podcast works to "lay the foundation for the past and present 'War on Whores' with the aim to educate and help listeners understand the historical context that's lead sex workers to where we are today."
"In early next year, we focus more on the actual 'work of sex work' and what it means to work within the sex industry in a contemporary context," she added.
Michaels noted "we need to be sharing information within our community, as well as with those who ally with us."
"The issues we face are complex and rapidly changing, and I want the conversations we have to reflect that," Michaels said. "While we're the middle of a culture war, we're also at an inflection point in sex worker power. 'Whorizon' is first and foremost a podcast for sex workers, and I want to center sex worker experiences and insight."
The first four episodes are now available; now episodes are released on the 1st and 15th of every month; click here for additional details and to become a paid subscriber.