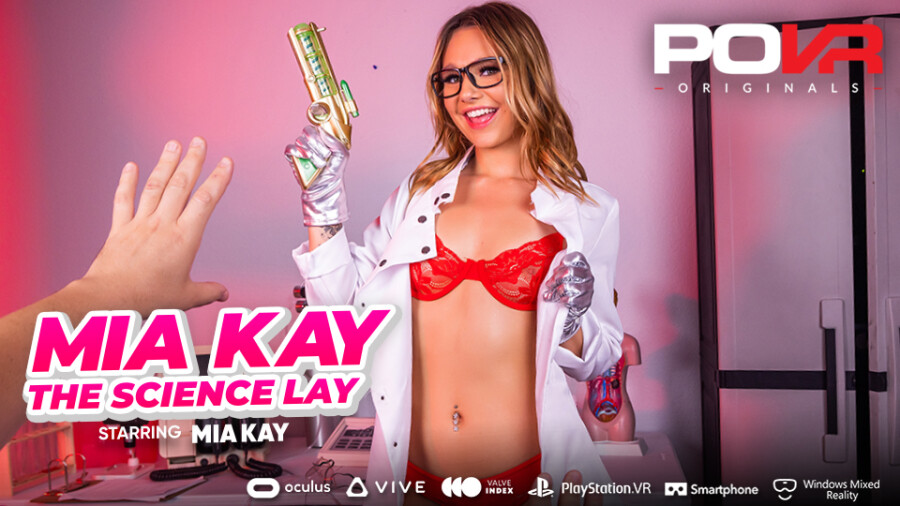 Mia Kay Embraces Learning in POVR's 'The Science Lay'
LOS ANGELES — The latest VR fantasy from POVR Originals finds Mia Kay as an inventor who embraces learning in "The Science Lay."
The action opens with Kay enlisting test subjects to "help her with her latest invention. She's built a hard-on ray she can use to zap any man and give them an instant rock-hard cock. Eureka!" a rep enthused. "Her hard-on ray worked but Mia will need to conduct some further tests."
A rep praised the creative use of props, set pieces and visual effects.
The 48-minute featurette includes the content tags "Blowjob," "Closeup Missionary," "Cosplay," "Doggy Style," "Reverse Cowgirl" and more.
"I actually felt like a sexy mad scientist. It was so fun," Kay said. "And I loved the 'Boner Blaster' so much I brought it home from set."
Managing Director Darrell Rosebush praised their leading lady's performance.
"She did a great job as our mad scientist and fans really responded to seeing her in and out of her lab coat," Rosebush shared. "Engaging visual and audio effects provided that creative twist our viewers have come to expect; to be honest, I was just looking for an excuse to zap them all in the dick with a laser beam. Mission accomplished."
For more about "Mia Kay: The Science Lay," click here.
Follow Kay and POVR on Twitter.