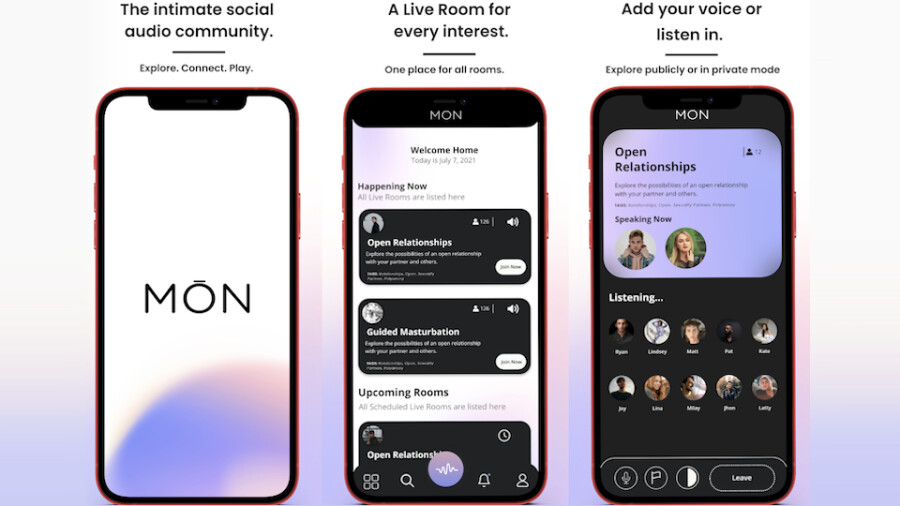 MON Launches New Live Social Audio App for Sex-Positive Communities
AUSTIN, Texas — MON has announced the launch of the beta version of its live social audio app targeted at sex-positive communities.
According to a rep, MON will be launching with "a host of featured users leading the conversation, as well as community-led discussions with app users."
The app, the rep continued, "prides itself on inclusivity with topics ranging from LGBTQ+ issues to polyamory, with discussion led by sexologists, doctors, cultural experts and everyday enthusiasts."
With a drop-in social audio component, MON, the rep explained, "facilitates opportunities for interactive dialogue between speakers and users, rather than pre-recorded, static content. Users are free to initiate conversations on sub interests and topics of personal importance around sex in a judgment-free, tolerant and anonymous forum."
Caleth Jones, founder and CEO of the MON app, said, "After working in both the entertainment and sextech industries, I couldn't help but notice the stigma and disconnect inherent to conversations around sex and sexuality. I created MON to democratize the conversation and remove the taboo from talking about sex. MON is a judgment-free and all-inclusive community where everyone is welcome."
The rep added that Jones, "as a proud member of the LGBTQ+ community, wanted fellow community members to have a safe place for self-discovery — something he wishes he had as he explored his own sexuality."
The app is available now for free download at the Apple App Store and is coming to Android in 2022.
For more information, visit TheMONapp.com and follow the company on Twitter.