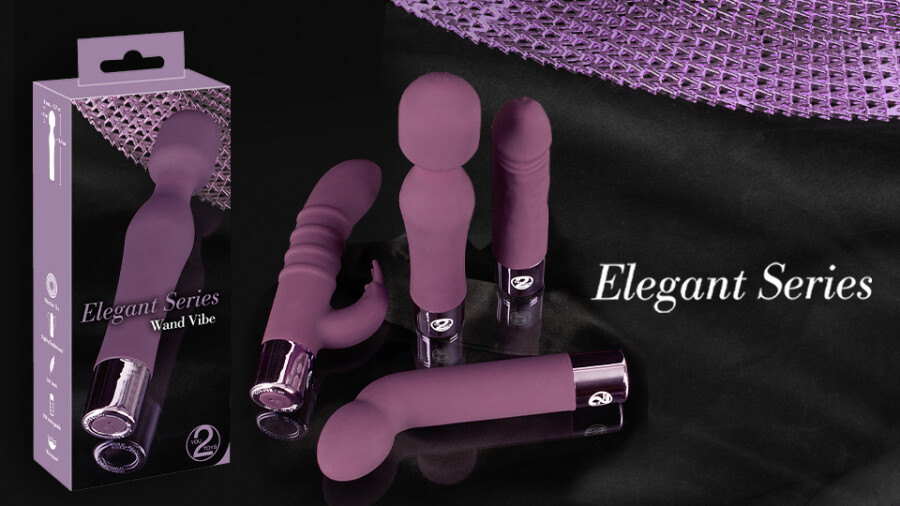 Orion Expands 'Elegant' Series With 4 New Vibes
FLENSBURG, Germany — Orion Wholesale has expanded its You2Toys' Elegant series with a series of four rechargeable vibrators.
The vibes boast "beautiful designs and are very powerful," explained a rep. "They are easy to use because the 15 vibration modes can be adjusted at the push of a button. They can also be used in the bath because they are waterproof. The handy vibrators are made out of skin-friendly purple silicone and have a pleasant soft-touch surface. Copper-colored parts on the shaft add the elegant finishing touch to the sex toys."
Each device includes a USB cable for recharging.
The Wand Vibe" includes various vibration modes for individual massaging pleasure, from "gentle stroking to throbbing pulsations," the rep said, while the "Rabbit Vibe" is easy-to-use with a clitoral stimulator for "simultaneous vaginal and clitoral stimulation" providing diverse pleasure.
The "G-Spot Vibe" is "a wonderfully curved vibrator with a large massage head for spot-on G-spot or the P-spot stimulation" and the "Realistic Vibe" is a mini vibrator in "a stimulating penis design with fully formed glans and pronounced veins. Its vibration modes feel great during vaginal and anal fun."
For retail support, the items are shipped in "beautiful packaging" with a description of the product inside in various languages; the packaging is designed to be stood up or hung with a hanger for display, freeing up additional sales space and to take up less space in storage.
The product can be seen in an environmentally-friendly cardboard tray once the front of the packaging has been opened with a magnetic fastener. "There is only a small plastic insert for hygiene and protection reasons but it is not glued to the box and this makes it easy to separate the cardboard from the plastic; plastic has not been used for the tray," the rep said.
Visit Orion online; direct inquiries to [email protected].