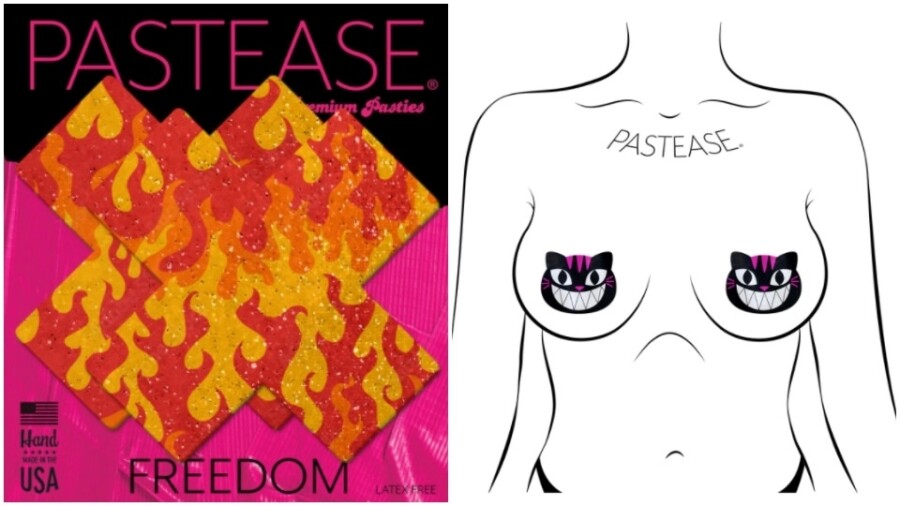 Pastease Debuts 'Halloween Haute' Premium Pasties
LOS ANGELES — Pastease has announced the arrival of its Halloween Haute collection of premium pasties.
"No tricks, all treats," quipped a rep. "The fall season you know and love is here at last. Get ready this season with new spooky styles in our Halloween Haute collection."
The new styles include Terrifying Jack O'Lantern, Black & Pink Cheshire Kitty Cat, Cute White Ghost, Cauldron: Black & Green Flaming Bubbling Witches Brew and Plus X: Flaming Sparkle Cross, among other seasonal designs.
The pasties are hand-made in the United States from "soft, form-fitting material that forms to curves and resists wrinkling over hardening nipples," the rep said. "Just peel-and-stick on clean, dry skin. All Pastease feature latex-free, medical-grade, waterproof adhesive that stay securely in place for as long as you like and until they are gently removed."
"'Conceal or reveal' with Pastease nipple pasties when worn with a sexy outfit, daring bikini, sheer top, revealing dress, Hefty bag, body lotion, crazy costume, party theme or nothing at all," added the rep.
Contact a preferred sales rep for additional details and visit Pastease.com; follow the company on Instagram.