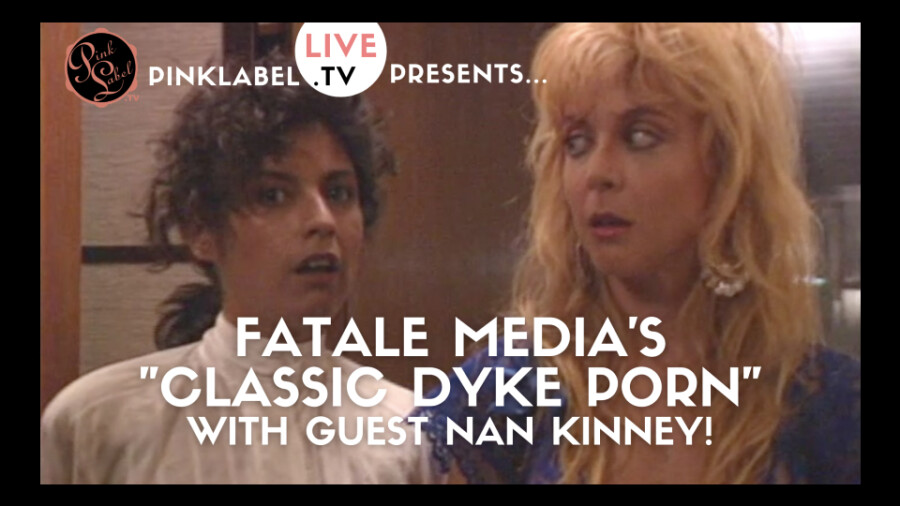 PinkLabel.tv to Present 'Fatale Media's Classic Dyke Porn' Virtual Screening
SAN FRANCISCO — The next event in the "PinkLabel.tv Live Presents" virtual screening series is "Fatale Media's Classic Dyke Porn" on Thursday, September 30, at 5 p.m. (PDT).
The event will be hosted by PinkLabel.tv creator and curator Shine Louise Houston with special guest Nan Kinney as they screen an array of films released by Fatale Media in the 1980s, '90s and early '00s.
"Founded in 1984, Fatale Media produced explicit, high-quality videos geared to lesbians and other sexually adventurous souls," a rep explained. "Their production of lesbian erotic videos provided a hitherto absent service for the lesbian community. The company's mission states: As women and homosexuals, lesbians deserve to have available to them quality sexual entertainment materials. These materials reflect the feminist right for control over our bodies, thereby promoting female sexual autonomy. These selections and excerpts showcase the excitement and importance of these now-classic dyke-produced adult films."
The virtual event's schedule, noted the rep, includes butch/femme BDSM film "Shadows" (1985) directed by Debi Sundahl and Kinney; popular lesbian porn "Suburban Dykes" (1990) starring Nina Hartley, Pepper and Sharon Mitchell; "Safe is Desire" (1993), a feature film directed by Debi Sundahl showcasing San Francisco's Safer Sex Sluts; and "Berlezk Live 2" (1993) directed by Kinney and Debbie Sundahl which documents "the first and longest-running lesbian striptease show, which played to women-only audiences in S.F. from 1984 to 1987 before expanding to twelve other cities in 1989."
Additional selections include "Take Her Down" (2003) directed by Barbara DeGenevieve, "presenting world-class champion oil wrestler Sondra Goodwin and the slippery depths of nude lesbian oil wrestling"; and "Full Load" (2003) directed by DeGenevieve depicting "transmasculine and lesbian sex scenes from the turn-of-the-century queer porn website ssspread.com, which were among some of the few available depictions of transmasculine sexuality."
The Outfest UCLA Legacy Project for LGBT Moving Image Preservation provided access to original masters from which new HD digital files for this screening were created.
The event is free to PinkLabel+ members; non-members may purchase a Film Pass for $7 (plus fees). The screenings are in English and open to those aged 18 and older.
Visit PinkLabel.tv for additional program details.
Follow Shine Louise Houston and PinkLabel.tv on Twitter for the latest updates.