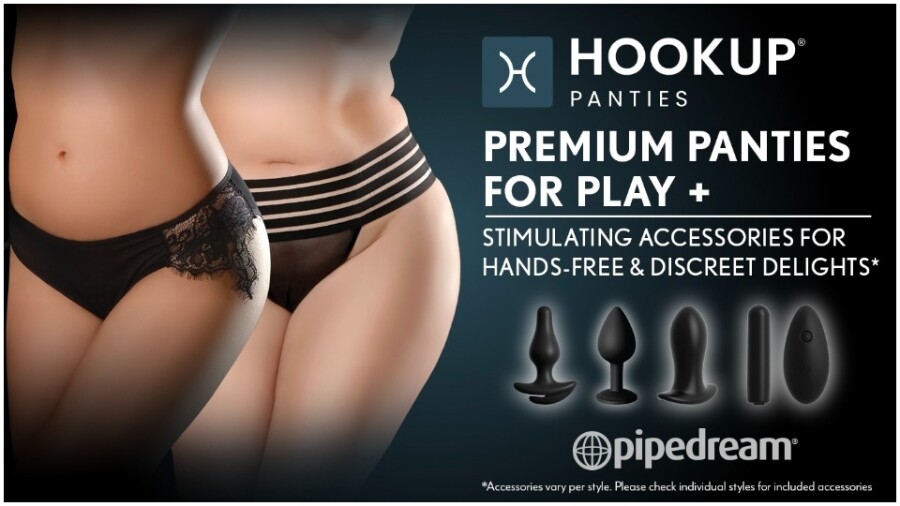 Pipedream Ships 'Hookup Panties' Debut Collection
WEST HILLS, Calif. — Pipedream Products is now shipping the debut collection of Hookup Panties, featuring 10 "stylish and stimulating designs" in two sizes.
"The cohesive 20-piece collection offers discerning panty-wearers exciting options for backdoor bliss, discreet delights and remote-control fun," noted a rep.
"Traditional vibrating panties focused primarily on clitoral stimulation. Pipedream has now reimagined the category and made it their mission to build a better pleasure panty," the rep enthused. "The anal-friendly panties connect to Pipedream's patented Hookup Plug, a petite silicone starter plug that features a tapered tip, flared base and silicone hook that connects to the loop of the panty itself. With the discreet Hookup Plug comfortably inserted, the user can enjoy all-day, wearable stimulation that looks fantastic, feels amazing, and most importantly, stays in place when the action heats up."
Each of the Hookup Panties are either crotchless or backless so "the wearer never has to take the panty off to enjoy penetrative intercourse with a partner or satisfying solo stimulation," described the rep. "They feel great, fit even better and function like no other panty on the market."
The collection includes eight styles in black and two styles in white with Tiffany-blue accents as well as accessories for honeymoons, bachelorettes parties and bridal showers.
"The product's fashion-friendly design underscores Hookup Panties' incredible versatility — these panties can be enjoyed solo during daily activities or in eager anticipation of hooking-up with a partner," the rep added. "The powerful 10-function bullet is whisper-quiet and can be controlled independently or with the included remote, taking role-playing scenarios and sexy date nights to a whole new level. The vibrating bullet and remote control are rechargeable via the same USB charging cord, so no more pesky watch cell batteries in either the remote or the bullet."
The rep also touted "a sexy little secret."
"Nine of the new styles feature a secret hidden panty-liner pocket to hold a vibrating bullet discreetly, and all Hookup boxes have a travel-friendly Hookup Pouch with sliding zipper and each component individually polybagged inside," the rep said.
All of the stimulating plugs are made from luxurious and silky-smooth Pipedream Elite Silicone with "zero drag" and are "seamless, easy to clean, and can be enjoyed in full confidence. From adorable boy shorts to classic low-rise bikinis adorned with bow ties, the entire collection features super-stretchy elastic waistbands for a comfortable fit and feel, with a style every body type can appreciate and enjoy.
Each item is backed by a limited 90-day warranty; download a U.S. sizing chart here.
For retail support, the rep noted, Pipedream offers "a beautifully merchandised 20-SKU planogram bundle complete with complimentary posters, signage, T-shirts and testers."
Product demonstration videos, digital catalogs and other digital and in-house marketing materials are available upon request. Contact a preferred sales rep, email [email protected] and visit the company online.