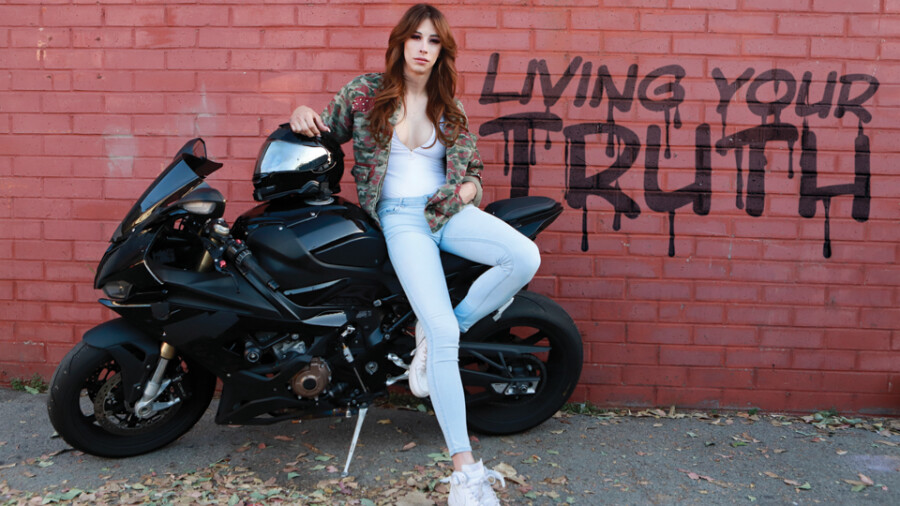 Q&A: Casey Kisses Puts Pedal to the Metal in Adult Time Biopic
Casey Kisses, the reigning XBIZ "Trans Performer of the Year," is at the top of her game.
The leggy beauty is the top-billed star of the Adult Time biopic "Casey: A True Story," directed with a sure hand by Joanna Angel, in which Kisses shares the lead role with the extraordinarily versatile XBIZ "Performer of the Year" Dante Colle.
The feature's highly cinematic production values should come as no surprise with such acclaimed filmmakers as Angel, Bree Mills and Mike Quasar behind the scenes, but "Casey: A True Story" pays off in unexpected and welcome ways that linger in the heart.
"The way that I viewed myself isn't the way that hundreds of thousands of others have related to me," she revealed. "I actually had a trans woman ask me one time, 'How can you even stand to cam and to do porn when you don't like your body?' And I said, 'Well, it's kind of hard not to like my body when there's so many people reinforcing the fact that I am beautiful.'"
Kisses has also earned back-to-back XBIZ Cam Awards wins as "Best Trans Cam Model" in recognition of her ascendant status as a Chaturbate superstar.
"The adult industry has made me look at myself in a different way," she explained. "It made me realize the beauty that I had. Apart from the money that I made from being on Chaturbate, I keep thinking, 'If there's this many people willing to pay to see me, I have to see my beauty the way that they're seeing it.'"
Between her camming stardom and the unique experience of having a painful chapter of her life story transformed into a high-profile film packed with A-list adult stars, Kisses has found herself evolving in profoundly emotional ways, particularly as it affects her own body dysmorphia as a trans person. All this and more, she unpacks in this exclusive interview.
ADAMS: I have to tell you, I found this movie unexpectedly moving. It's an entertaining film by itself, but seeing this kind of story being told at this level was moving.
Kisses: Thank you. Yeah, we all put a lot of hard work in. A lot of thought and sweat and tears have been poured into it. It's definitely been the highlight of my career.
ADAMS: So, from what I understand, Adult Time reached out to Joanna Angel for some ideas about a feature with a trans woman in the leading role. And Joanna happened to be filming at that moment with you. Is that how it came to be?
Kisses: Yes, actually. We were on set filming a threesome with my girlfriend, Kylie LeBeau. Joanna had an idea of what she wanted to do, and she was wondering if I could star in it and possibly ride a motorcycle.
Credit: Adult Time
ADAMS: Little did she know!
Kisses: She started asking about my experience in riding, and I was like, 'Oh, I got a lot of things to say about this.' I told her I've been racing and I was in a motorcycle club. And when I told Joanna that I actually transitioned as a member of a motorcycle club, it just kind of snowballed. We spent a good portion of our downtime talking about how I came to be and how I came to join the industry. There are so many aspects to the story. It's not just, 'I was in a motorcycle club.' I can't tell you that part of the story without also saying, 'The day they kicked me out [for being trans] was the day my dad got released from jail.' And it all led up to this success story today.
ADAMS: It is absolutely a success story.
Kisses: I see so many people trying to portray the adult industry in a negative way. They're saying, 'Oh, the industry ruined me. And once I started doing porn, it stopped all these opportunities from happening.' The adult industry has actually been one of the best things that ever happened to me. And I think that I'm not the only one that feels that way. And I think, just for the industry in general, this is a big success story. I'm sure there's a lot of things that happen that are negative to people. That's true with any industry.
ADAMS: That's exactly right.
Kisses: Yeah. But I think the adult industry has treated me wonderfully.
ADAMS: Look, you're having your life story told by a major company and you're the star, your name is in the title. Presumably you got paid.
Kisses: Yes. Yes, definitely.
ADAMS: We can't discount someone's own individual experience. But how are they defining "success"? That can be a hugely exacting standard. If they don't look at your story and consider it successful, they aren't really looking at you.
Kisses: There's this large group of people that weren't so understanding of who I was or what I was going through. When I joined the industry, I was embraced with open arms, but I lost a whole group of friends in the same turn. I just kind of kept on pushing through that short, negative period of my life until I got to the West Coast and made so many more friends that I feel are so much more valuable in an emotional way.
ADAMS: I wanted to ask you about the design of the movie. It's very cinematic and looks highend. But the production design, specifically, was very detailed.
Kisses: I mean, the way that we dressed the set to [become] where I was living prior to joining the adult industry — it was almost exactly what I grew up in. And it's kind of surreal to watch it — to even be on set and watch other people act it out! I was like, 'Oh my God, it looks like the kitchen of my grandmother's house.' It was definitely very emotional for me.
Credit: Adult Time
ADAMS: I was going to ask you what that must have been like, to not only relive conversations or experiences that you'd had, but to watch other people acting them. That had to be surreal.
Kisses: Not only other people; I had to get back into it, too. I really want to say a huge 'thank you' to everybody that was in the film, but there's one moment that has stuck with me. I was approached by Tommy Pistol on the set; it was my first time being on set with him and having an in-depth conversation. We had met at the XBIZ Awards, pre-pandemic, and I told him, 'Hey, you're one of my favorite actors and I just want to shake your hand.'
On the set, he came up to me and he was very emotional. He said that he wanted to take [his role] very seriously and that the script meant a lot to him because of some of the things that he was going through. He didn't want to portray the story in any way other than what was true to what really happened. It really meant the world to me.
And then also Dante Colle! He actually went out of his way to study my mannerisms and how I talk. I mean, I was hanging out with him fairly frequently, and we were going to race tracks and having all these wonderful experiences together. We were going riding in both Las Vegas and Los Angeles and he really took it seriously about how he wanted to portray me. And I fucking think he nailed it.
It was really kind of weird watching him play me. You know, he looks different than I did, but we have a lot of similarities. But he fucking nailed it. And Charles Dera, Derrick Pierce, they were all amazing actors.
ADAMS: About Dante, I don't think I've ever seen a role like that in adult in that it's shared by two people. The industry doesn't have the best track record in dealing with trans issues, so I can understand why people would be reticent upon first hearing about it. But it really works.
Kisses: Yeah, absolutely. In the film, there is some terminology and stuff that is not absolutely PC, but this was about capturing that moment of my life, capturing that feeling. And it's telling a story. It's telling the truth and it's telling a story that needs to be told.
ADAMS: I'm speaking as a cisgender person, but it comes down to context.
Kisses: Absolutely.
Credit: Adult Time
ADAMS: This movie is a really big swing. When Joanna asked if you could ride a motorcycle, how did you land on this particular experience as the story you wanted to tell?
Kisses: When I came out to the West Coast, I actually sold my motorcycle. It was only after about four years of being out here before I actually started riding again. And as a trans woman, being in the adult industry and being surrounded by other trans women, I know that we don't start in the same place. I've had people talk to me, when I'm just meeting somebody and they're like, 'Oh, you're trans? My friend is a drag queen.' I don't come from that background. And I know that there's a host of other trans women who don't.
And when Joanna asked me about [the movie], those experiences were still fresh in my mind. And even though it's a really personal story, I felt like it could be something that could inspire others, especially younger trans women who are even considering transitioning. We don't start out as the same thing and we all come from different walks of life. And even though it is really personal to me, I thought about it and I really wanted this story to be told because I figured it could help everybody else out.
ADAMS: I appreciate you saying that. I remember something Natassia Dreams said, pre-pandemic, in an XBIZ Town Hall. She said, "We want to be seen as female performers. We want to be seen in other ways. Please cast us in roles as a dominant top, not just as a submissive."
Kisses: Yeah!
ADAMS: This movie is such a big swing, I hope it does inspire other studios, especially with the talent we have.
Kisses: Yeah, I don't think there's anything more badass than confronting an entire motorcycle club. That could have been portrayed as submissive. But I said, 'You know what? I'm going to do what's best for me and for my mental health.' And I approached that [situation] with a clenched fist and a strong backbone. It's what I had to do. And I would really love that [lesson] for other people, too. I mean, maybe they don't have to go up against a whole motorcycle club. But coming out to your parents or to your friends, I know it can be hard at first. But I've become such a happier person. I'm living my truth. This is my own path and the road I wanted to take.
ADAMS: Did the experience of making this film give you a sense of closure or had you already moved on?
Kisses: I did kind of put it all in the past, you know? I'm still amicable with anybody that wants to reach out. I'm a person of change, so I like to be optimistic about others in that way. Maybe they've changed as well. And I always have a space in my life and time, for people that want to be, you know, a positive influence on me.
ADAMS: That's very generous of you.
Kisses: Yeah, well, I think it's human. It's what we should be. We should all be empathetic of other people and their situations. But to answer your question, it was something that I put in the past. And when the movie was first announced and I put stuff on my socials about it, the bike club reached out to me. They were like, "Hey, you're making a movie about us?" And I said, "Well, yeah. I want you to know we're portraying what happened. But I also want to let you guys know that you did save me, too."
ADAMS: Casey, that's such a great story. How does it feel to have that, that accomplishment? Do you feel like you put a button on that period of your life?
Kisses: To be honest, I feel like once I became an adult performer, I put the button on it. Becoming successful did put the button on it. But I feel like it's inspired me so much, and it's just so surreal to see it portrayed in such a professional manner. When I first saw the trailer, I was so impressed. This looks like something that could be on Netflix. It gave me chills watching the trailer.
I'm actually producing now for MindGeek. Being on set with Joanna, and our two cameramen Mike Quasar and David Lord, and Shawn Alff for the work he put in. Bree Mills, Kira Noir — being on set with so many awesome people, it's actually inspired me to look for certain things to incorporate in my movies. Kylie LeBeau— I always joke around about the awards that everybody wants to take home, but I always bring home my own trophy because I think she's probably the best thing that's ever happened to me, and for her to be here at my moment of success, I couldn't have planned it better.
Credit: Adult Time
ADAMS: I appreciate the inside stories about motorcycle clubs.
Kisses: Oh, absolutely. When people see the [motorcycle club] patches, they say, "Oh, there goes an asshole biker." Well, that guy might be on his way to a charity or to support a fallen rider. I know I keep saying it, but I want to keep inspiring others and respect the motorcycle club community to the best of my ability. There has been a lack of acceptance towards trans women, and I really want to put it out there that trans women are fucking badass, too. And if there's any way that I could show respect for the motorcycle world and also put it out there about this group of people that are badass, that are about loyalty and family and friendship — which is what I think motorcycle clubs are about, too — I want to do it.
An R-rated version of "Casey: A True Story" is available for free at CaseyFilm.com.