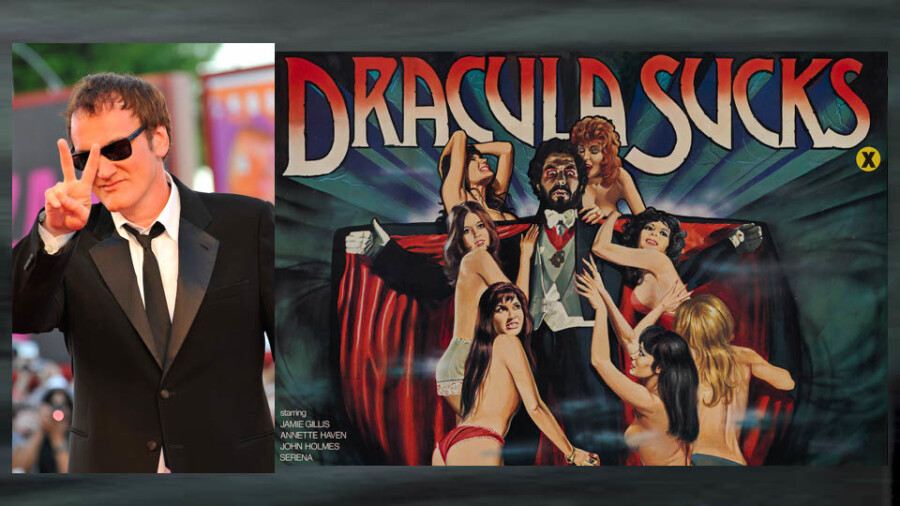 Quentin Tarantino Honors New Beverly's XXX Past With 'Dracula Sucks' Screening
LOS ANGELES — Quentin Tarantino's Los Angeles repertory theater, the New Beverly, will re-introduce XXX programming this month via a midnight screening of the 1979 horror-comedy adult classic "Dracula Sucks."
A 35mm copy of the film will screen — for adults only — on Friday, October 9 at midnight.
"This time the Count is not going for the throat," stated a rep. "Experience one of the most star-studded adult films ever unleashed, an X-rated combo of sex, skin and style that mixes horror, humor and hot 'n heavy hardcore with surprising results."
In "Dracula Sucks," the titular undead Count (Jamie Gillis) moves next door to a sanitarium and uses its patients to satisfy his carnal desires.
"Dracula Sucks," directed by Philip Marshak, also features golden-era marquee name Reggie Nalder (of "Salem's Lot" fame) in non-porn scenes as Dr. Van Helsing.
The screening pays homage to the New Beverly's past as an "art erotica" theater between the legalization of adult screenings in the late 1960s and the late-'70s decision by the owners of the Los Angeles Times to ban adult film advertisements.
To purchase tickets to "Dracula Sucks," visit TheNewBev.com.
For more information, follow the New Beverly on Twitter.