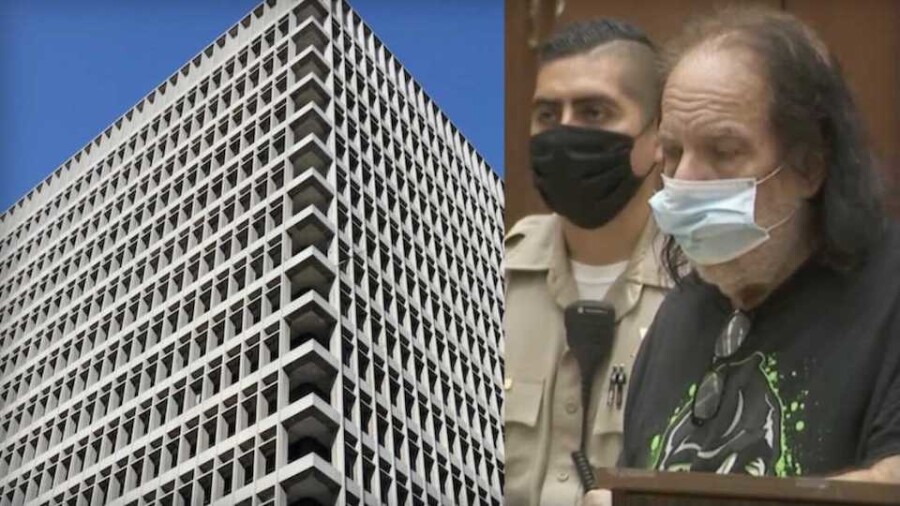 Ron Jeremy Trial to Start Late February at Earliest
LOS ANGELES — A Los Angeles judge today set the earliest date for the beginning of the trial of Ron Jeremy to late February 2022.
At a morning hearing on the heavily guarded 9th floor of the Clara Shortridge Foltz Criminal Justice Center in Downtown Los Angeles, Judge George G. Lomeli set the next "0/60" hearing to January 6, 2022, which pushes the date of the actual trial to 60 days after that hearing.
The reason given by Judge Lomeli for this further delay was the prosecution's filing of an 1108 motion to allow testimony from witnesses who are not part of the list of alleged victims in the case, but nevertheless are willing to testify to similar allegations against Jeremy.
Since the defense was expected to contest the 1108 witnesses, Judge Lomeli said he could not rule on those motions easily and "needed more time," but that he will try to rule by December 1st.
"This sets the trial for the latter part of February, but we may have to tweak that date," Judge Lomeli added.
The Body in the Wheelchair
A wheelchair-bound Jeremy was in attendance, having been wheeled in at 10 a.m. wearing prison browns and sporting long white hair and a full beard.
Minutes before, Los Angeles Assistant D.A. Paul Thompson had asked the deputies in charge of courthouse security, "Is the body here?"
"The bodies" is the peculiarly dehumanizing term that sheriff department personnel in California uses to refer to people in their custody while awaiting trial.
The small courtroom was largely empty, except for the court officers, the defendant, reporters from Rolling Stone and XBIZ, and three friends of Jeremy's, including fellow performer Gary Lee and a woman who has been visiting him in jail.
Before the court adjourned, the woman, who only identified herself as "a friend of Ron's for 10 years" and has a British accent, stood up and told the judge that "it was inhumane for him to stay in jail."
The judge did not reprimand her, but explained that since the charges were "voluminous," Jeremy's attorney Stuart Goldfarb was going to "need a lot of time to prepare this case."
The 1108 Card
Goldfarb spoke to XBIZ after the hearing, explaining that if the DA wants to play the so-called "1108 card," the defense has "hundreds of women and men from Canada to Florida who'd want to testify about what a great guy Ron is, including doctors who have known him over the years."
Opining that calling 1108 witnesses "doesn't make any sense," Goldfarb insisted that none of the allegations even included "threats of violence of force," unlike in the Weinstein case, where "actresses who were not in the DA's case were allowed to testify as 1108 witnesses"
Answering a question from Rolling Stone reporter Nancy Dillon — who told him she had read the grand jury testimony and disagreed with Goldfarb's "no violence" statement — Jeremy's attorney explained that since the D.A. had chosen to avoid a preliminary hearing, "we couldn't question" the allegations.
Jeremy was arrested in June 2020 and has been jailed on $6 million bail since. To give that figure context, the bail amount for a murder charge in California is $2 million. Jeremy's unusually high bail is based on the accumulated charges based on testimony of 21 alleged victims.
On August 25, 2021, after the grand jury return their indictment, Jeremy pled not guilty to "12 counts of forcible rape, seven counts of forcible oral copulation, six counts of sexual battery by restraint, four counts of sexual penetration by a foreign object, two counts of sexual penetration of an unconscious or asleep person and one count each of lewd act upon a child under the age of 14 or 15, sodomy by use of force and assault with intent to commit rape."
For more from XBIZ's coverage of the Ron Jeremy case, click here.