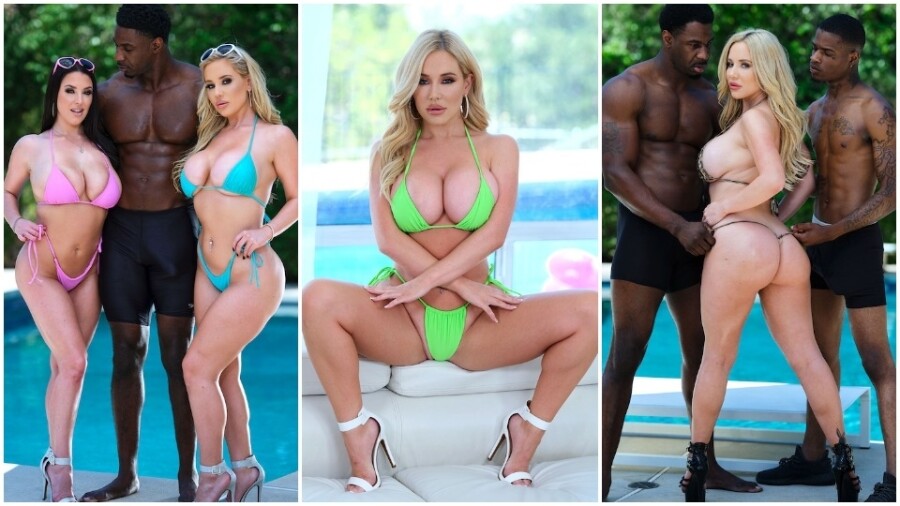 Savannah Bond Is 'Beach Bikini Slut' in Evil Angel Showcase
LOS ANGELES — Savannah Bond is the center of her own Jonni Darkko showcase with "Savannah Bond: Beach Bikini Slut" featuring a trio of "lavish threesomes" and Bond's first-ever blow-bang.
The cast includes "fellow Aussie voluptuary" Angela White, "kinky American sprite" Gia Derza and "a host of aggressive, heavily hung men," noted a rep.
"Savannah is an outstanding performer who really delivers a fire scene," the director said. "I really dig her curves. When I heard she was coming — to the U.S. — all I could think of was a showcase. So we started chatting and coming up with ideas for scenes and concepts, and we both agreed that she looks dynamite in a bikini. Hence the name."
"I'm very pleased with the outcome of all the shoots, and it was really fun to work with Savannah on this project. I know her fans will love it," he added.
The performer noted that "shooting a showcase for a producer and company that represents what I am as a performer was an experience I won't ever forget."
"Darkko has been one of my favorite directors before I started porn. I was so excited that he chose me to be in a showcase, especially early in my career, as it was a goal of mine. I got to work with a cast that I couldn't have chosen better," said Bond.
The action includes poolside and oceanfront tease footage.
"I don't usually get nervous, but I was before my blow-bang," she recalled. "But it all flowed so naturally and was such an amazing experience."
Bond and White paired together in the opening scene for breast worship before Jax Slayer joins them for an anal-centric ménage-à-trois; additional threeways include Slayher and Damion Dayski, and Derza with Alex Jones.
The blow-bang features Jones, Lucas Frost, Alex Mack, Scotty P and Air Thugger.
"When the name's Bond, the action is licensed to thrill," the rep quipped.
Follow the studio and Savannah Bond on Twitter.
"Savannah Bond: Beach Bikini Slut" is now available on all platforms; click here for details. For domestic sales, contact Rick Porras at [email protected]; for international sales and licensing, email Alexandra Kelley at [email protected].