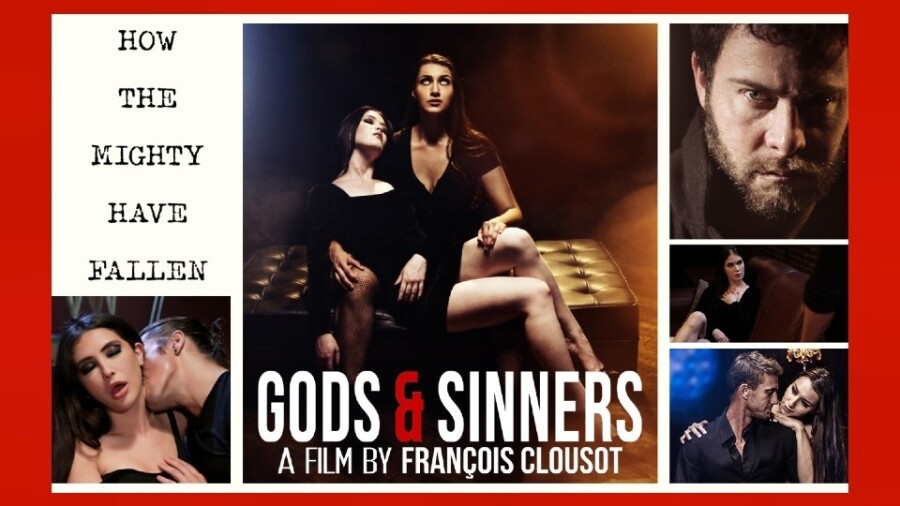 Seth Gamble Tangles With 'Gods & Sinners' for Wicked, Francois Clousot
LOS ANGELES — Director Francois Clousot returns to Wicked Pictures, following a 10-year hiatus, with the dark, stylish feature "Gods & Sinners" headlined by XBIZ-winning actor Seth Gamble as an alcoholic caught in a mystery that mixes up the worlds of fantasy and reality.
"It was a thrill to be back shooting for Wicked," said Clousot, who was under contract with Wicked from 2006 to 2011. "I have a long history with the company; I actually was on the very first Wicked movie in the '90s and always shared [founder] Steve Orenstein's vision and desire for high-end, sex-positive, exciting movies that a viewer could really connect to."
The director described "Gods & Sinners" as "a dark, mysterious story rooted in Greek mythology."
"I had an exceptional cast to direct, lead by the amazing Seth Gamble, who delivered yet another incredible acting performance and even provided some precious acting coaching on set," said Clousot. "Everybody involved loved the material, and the mood on set was very vibrant and organic. It was truly a fantastic experience and I couldn't be happier with the result."
Wicked Head of Production Axel Braun arranged for Clousot's return to the studio.
"Francois is a master at his craft," Braun said. "He's a fantastic storyteller, and he's very passionate about filmmaking, and of course his technical abilities are unquestionable. Having him shoot this project for Wicked was a privilege, and I'm sure the fans will love it."
Gamble described his character, Tiberius, as "a highly unbalanced human being, prisoner of his dark thoughts and broken by his life experiences."
"I had a lot of fun with this role," he added. "I must admit, as a recovering addict, it was definitely a challenge to tap into that part of myself. The play on Greek mythology was very clever and I loved working with such a great cast and crew to bring this project together."
The starry cast includes Evelyn Claire, Ryan Mclane, Bella Rolland, Jay Romero and Jane Wilde.
"Anytime I can costar with Seth, I know the sex scene is going to  be hot, passionate, and memorable," Claire enthused. "In 'Gods & Sinners,' I got to explore my more convoluted slut side, and I think it really elevated the fucking. The sex was all about getting Tiberius to remember who he is — and apparently fucking someone's brains out can do that."
Wilde echoed the excitement of her costars.
"Being on set with Francois was so much fun," she said. "I love the concept of this film, it's very different from anything I've done before in this industry. The cast was absolutely amazing to work with; Jay and I had phenomenal chemistry. They all brought their A-game and I am so excited for everyone to see this superb movie."
Rolland noted "Gods & Monsters" was the first time she had to memorize dialogue for a main role.
"Working on the film was such a fun experience for me," she recalled. "Everybody was so helpful and made me feel comfortable to let go and just become my character. The cast and crew were so incredibly hard-working and easy to work with and they were all so good with me trying to figure out acting for basically the first time. I can't wait to see the finished product, because I just know everyone hit it way out of the park and it's going to look amazing."
The opening scenes for "Gods & Monsters," featuring Gamble and Claire, and Wilde and Romero, are now available on Wicked.com. Follow Wicked and Gamble on Twitter.