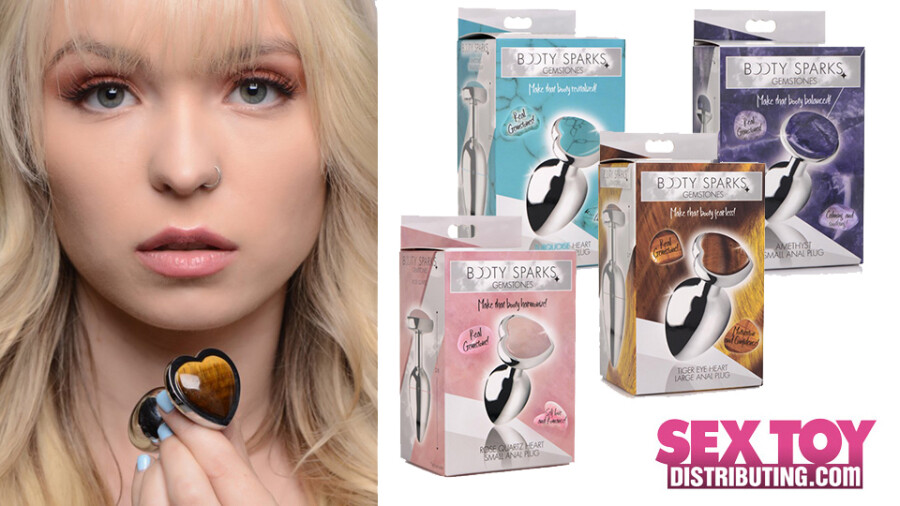 SexToyDistributing Now Shipping Booty Sparks' 'Gemstone' Anal Plugs
HUNTINGTON BEACH, Calif. — SexToyDistributing.com is now shipping the latest addition to its Booty Sparks anal plugs line, the Gemstones collection.
"These alloy plugs are compatible with most lubricants and terrific for temperature play," explained a rep. "What makes this line truly unique is its array of different gemstone bases, each offering its own unique energetic benefits."
Booty Sparks Gemstone plugs, the rep continued, "allow users to explore the mental and spiritual qualities of natural gemstones while enjoying in anal play."
The collection includes a variety of gemstones as well as different base shapes and sizes for a total of 21 different products; available stones include amethyst, rose quartz, turquoise, tiger's eye and red jasper.
SexToyDistributing Wholesale Supervisor Brenda Reynoso said the Gemstone collection is "perfect for users who want to add a little energetic flair to their anal exploration. There are many bejeweled plugs on the market but nothing like these."
"Like all anal plugs in the Booty Sparks collection," Reynoso added, "the new Gemstones assortment is great for beginners and experienced players alike. Each plug is available in three sizes, allowing users to get the stones they want in the shape that fits them best. Plus, they are priced to be accessible for almost every shopper."
To place an order or learn more about Booty Sparks, email [email protected].
For more information, visit SexToyDistributing.com and follow the company on Twitter.