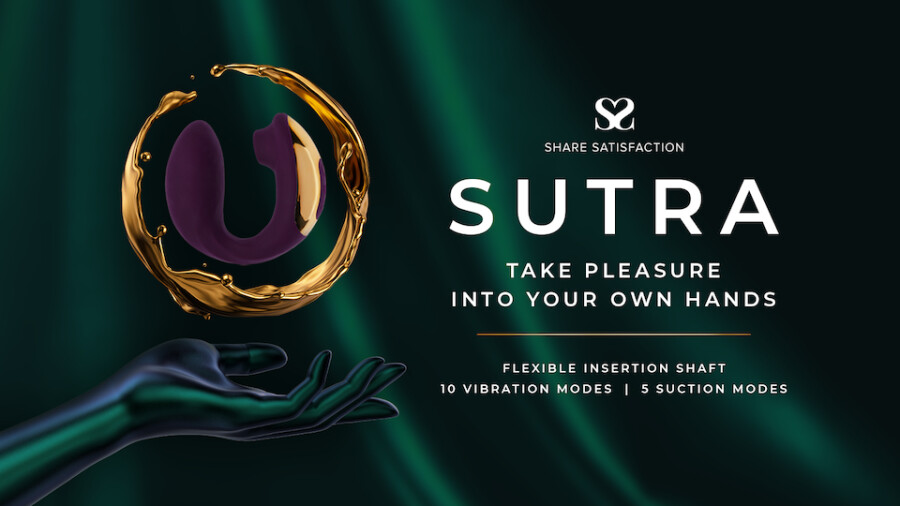 Share Satisfaction Celebrates 1st Birthday With New 'Sutra' Toy
AUCKLAND, New Zealand — New Zealand sex toy brand Share Satisfaction is celebrating its first birthday with a new product, the Sutra.
The Sutra is a dual stimulation G-spot and clitoral suction toy which is now available to retailers internationally.
Distributed exclusively by New Zealand-based Wholesale Solutions, the Sutra, a rep noted, "combines best-in-class G-spot vibration with negative-pressure suction wave technology for the strongest, purest and quietest pin-pointed clitoral stimulation."
"This results in hands-free blended orgasms," explained Share Satisfaction's Product Development Manager Taslim Parsons. "It's like a manual for self-pleasure that enables the wearer to explore what their body is truly capable of — experiencing new levels of pleasure they likely haven't felt before."
"After the phenomenal success of our flagship product Kama," Parsons continued, "we wanted to deliver another product that was different but still provided dual stimulation. We worked with a world-class international manufacturer to bring Sutra to market and we're beyond excited about how the public will react once they try Sutra — we believe it will become New Zealand's new favorite toy and take off internationally."
Sutra is available in two colors, purple with gold or teal with silver detailing, and is part of Share Satisfaction's premium black box range.
For more information, visit Wholesale Solutions.