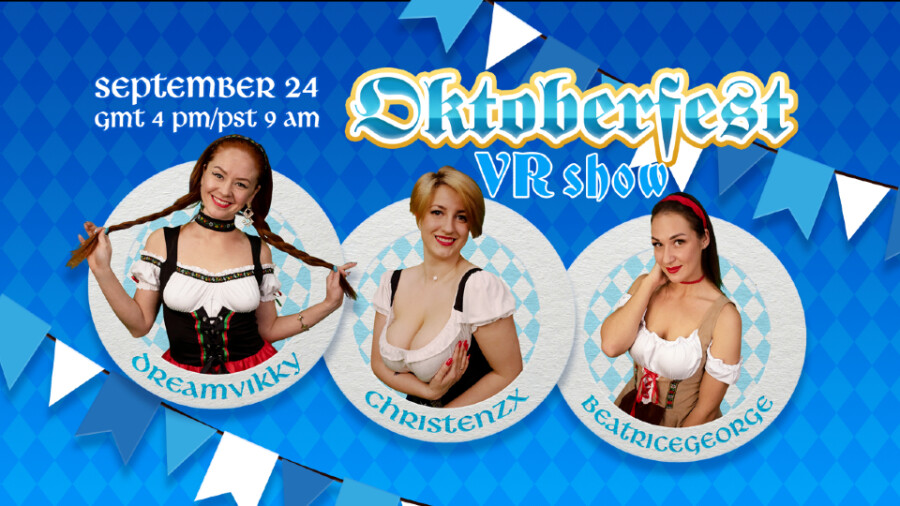 Top Platforms Set Oktoberfest-Themed Live VR Cam Show Today
NEW YORK — VR live cam platform Dreamcam will mark Oktoberfest today with camgirls BeatriceGeorge, ChristenZx and DreamVikky today at 9 a.m. (PDT)/4 p.m. (GMT).
Dreamcam will team with Stripchat, SexLikeReal and BaDoink for today's event, dubbed the "Oktoberfest VR Show."
"While Bavarian Oktoberfest is cancelled due to COVID-19 restrictions, our users will be transported directly to their own adult virtual Oktoberfest with our special guests," Dreamcam Chief Product Officer Nikita Anufriev said. "BeatriceGeorge, ChristenZx and DreamVikky are rising stars in the adult camming industry and boast dedicated fan bases across social media. We are proud that they will take part in the VR show devoted to Oktoberfest. I promise this is something fans won't want to miss."
BeatriceGeorge enthused about the upcoming show, noting she has admired her costars from afar.
"Together we're going to put on one hell of a show for our fans," she said. "Make sure you tune in and check us out. What's an Oktoberfest without hot and tasty sausages?"
Visit Dreamcam, SexLikeReal, Stripchat or BaDoink at the appointed time to join the livestream.
Follow Dreamcam, SexLikeReal, Stripchat and BaDoink on Twitter for updates.