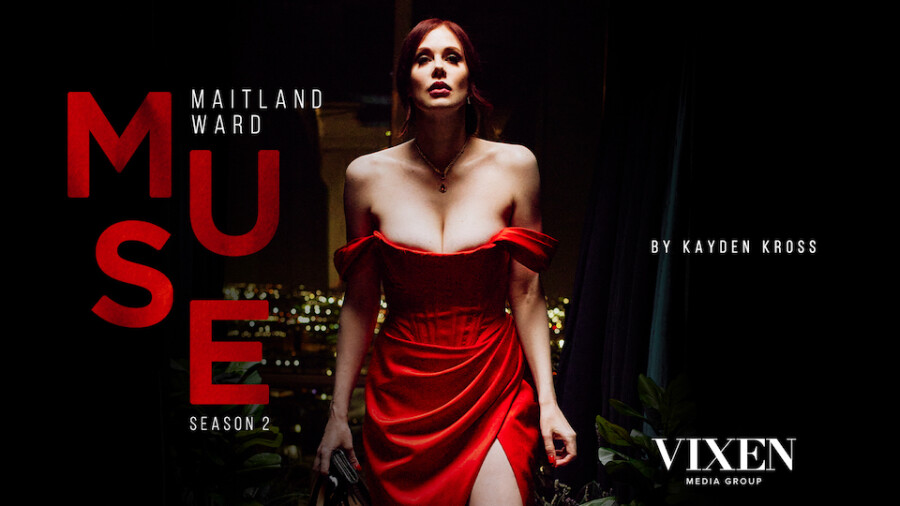 Vixen Media Group Releases 2nd Season of Deeper.com's 'Muse'
LOS ANGELES — Vixen Media Group has announced the official release the second season of "Muse" on Deeper.com.
"Muse" was directed by Kayden Kross and stars 2021 XBIZ Award winner for "Best Leading Actress" Maitland Ward. 
"The visually explosive feature will be released as a five-scene story on Deeper and includes exclusive content such as bonus material, standout erotic and hardcore scenes, appearances from a new starlet, and unparalleled sexual encounters," said a rep.
Kross explained that "Muse" is "a comment on the social situation of this exact moment, its warring ideologies and marginalized groups and competing experiences and the splintering effect of social media and collective discontent of all involved and the domino effect that follows each infraction."
"Muse," the director added is "not only a [continuation of] the first release in 2020. The size, scope, breadth and depth of this project is wholly unique and unlike anything else in the adult entertainment realm, we're thrilled to share this labor of love and five new scenes with Deeper fans."
The second season of "Muse" follows the story of a notorious professor and those around who are forced to grapple with their various roles as both victims and aggressors when a past student comes forward with serious allegations against her.
"Scene after scene, viewers will be met with erotic tension, incredible performances, passionate sex, kinky surprises, marvelous visuals and Deeper's unique aesthetic to excite all senses behind closed doors," said a rep.
"Muse" star Maitland Ward said that "this role has been the most challenging and dramatic I've ever taken on. The script was so beautiful and the emotional depths and heights took me to exciting new places as an actress and as a sexual performer. The sheer amount of dialogue and monologues have never been seen in adult entertainment before and this rivals any mainstream venture with detail and scope. 'Muse 1' was a monumental launch into a whole new genre of filmmaking and we have outdone ourselves here. It proves that Kayden and I make an amazing team."
Kross went on to describe season one of Muse as "boundary-pushing in terms of what we thought the adult audience could appreciate and the talent could deliver. We found in season one that there was still far more room to go. 'Muse Season 2' is a bigger endeavor with more demanding roles and more hotwire topics. Once again, we've found that the talent will meet us there. Maitland filled this role in a way that made the words on the paper better than they were on their own and the rest of the cast supported so well that I'm left once again, wondering where the limit is."
"This project could stand alongside any other drama on a mainstream streaming platform and not appear out of place," Kross said.
Alongside Ward, the second season of "Muse" co-stars Aubrey Kate, Manuel Ferrara, Avery Christy, Lulu Chu, Lena Paul,  Ivy Wolfe, Vanna Bardot and Destiny Cruz.
The rep added that the season will "debut the brand's first transgender scene."
The exclusive content will be available for streaming on Deeper.com.
For more information, follow Deeper.com on Twitter.