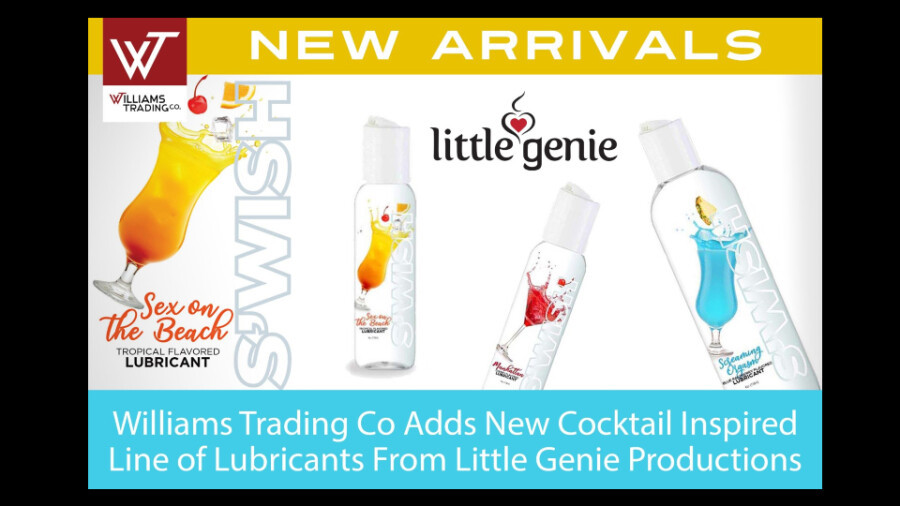 Williams Trading Adds 'Swish' Collection of Cocktail-Inspired Lubes
PENNSAUKEN, N.J. — Williams Trading Co. has announced the addition of Swish, a new collection of cocktail-inspired lubricants from Little Genie Productions.
The debut collection of 10 items include Manhattan, Mojito, Screaming Orgasm, Sex on the Beach and Strawberry Margarita flavors in both 2oz. and 4oz. bottles.
"Free of parabens, mineral oil, petroleum products and animal products, the Swish line of flavored lubricants is pH balanced and formulated with top-shelf ingredients," explained a rep.
"Named for popular cocktails, each lubricant in the Swish line evokes its cocktail with flavors of blue raspberry, cherry, mint, strawberry and tropical fruit," the rep said. "Sleek white bottles feature a simple logo and an image of the cocktail 'flavor' are at once clean and eye-catching."
Director of Sales and Marketing Scott D noted "everyone loves flavored lubes, and the cocktail theme of the Swish line offers consumers a playful addition to their bedroom play."
For additional information, contact a preferred sales representative at (800) 423-8587 or visit Williams Trading online. For drop shipment and e-commerce support, click here.
Follow the company on Twitter and XBIZ.tv.