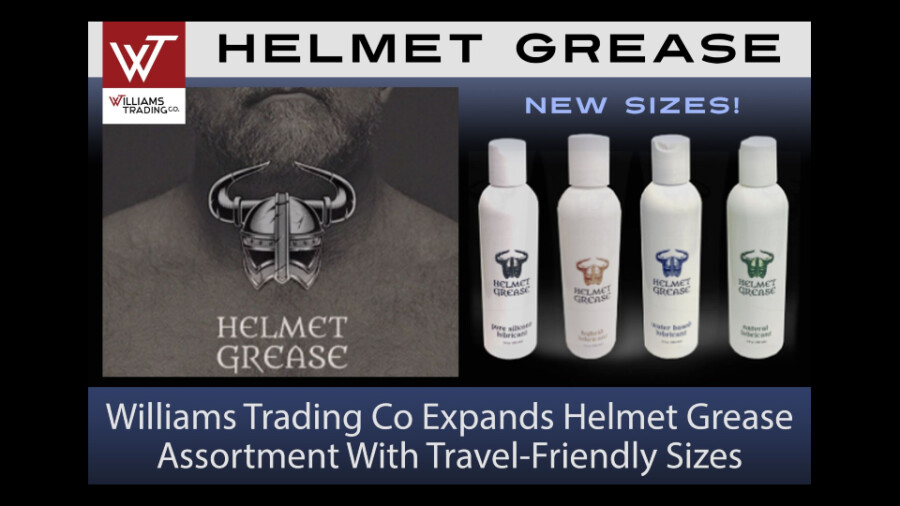 Williams Trading Debuts 'Helmet Grease' Travel-Friendly Sizes
PENNSAUKEN, N.J. — Williams Trading Co. has announced the addition of new travel-friendly sizes from Helmut Grease lubricants for men.
"These new additions to the line offer users a smaller, more portable version of Helmet Grease's popular lubricants, three of which meet TSA size restrictions, allowing for on-the-go fun," noted a rep, including Helmut Grease Hybrid, Natural and Water-Based lubes in 3.4oz bottles.
The new items also include Helmut Grease Pure Silicone in a 3.6oz bottle.
Pure Silicone is "a proprietary blend of four types of silicone, and the glycerin- and paraben-free formula offers users a friction-free playtime, whether alone or with a partner," the rep said.
"The Hybrid lube is a blend of silicone and water-based lubricant that looks and feels like 'spooge.' This proprietary blend is glycerin- and paraben-free, and made in the United States," while Natural lube is designed to serve as both a lubricant and a massage oil.
"Formulated with organic avocado and virgin coconut oils, this lubricant is chemical-free, edible, hypoallergenic and antibacterial. Unlike other lubricants, Helmet Grease Natural lube can be used with polyurethane, nitric polyisoprene and CF2 condoms. As it is oil-based, this lubricant cannot be used with latex condoms," he rep added.
Helmet Grease Water-Based lube is "specially formulated to mimic the slickness of silicone lube, giving users the longevity of a silicone, with the ability to be used on all types of toy materials and doesn't stain. Non-sticky, this formula is safe for oral, and cleans up easily with water."
Williams Trading also carries all four formulas in a 7.2oz tube; the entire line's discrete packaging "allow users to leave it out and ready to use with confidence," the rep said.
For additional information, contact a preferred sales representative at (800) 423-8587 or visit Williams Trading online. For drop shipment and e-commerce support, click here.