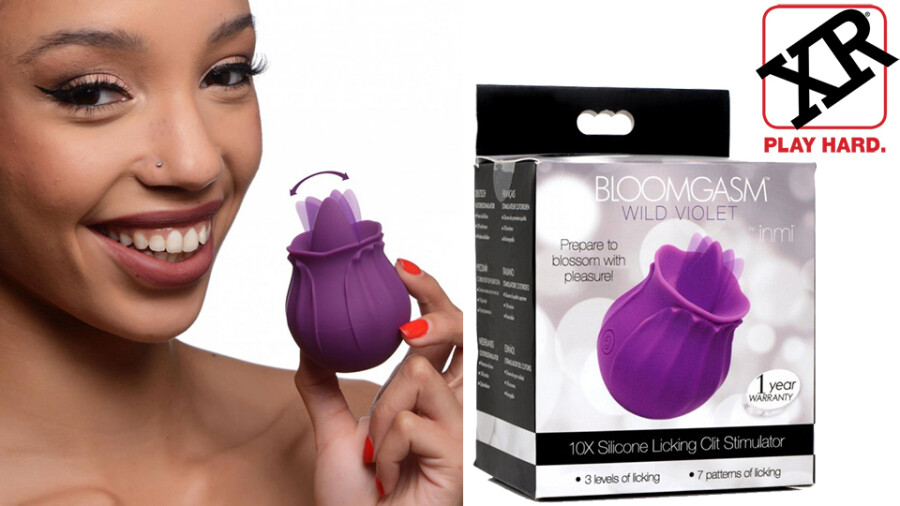 XR Brands Expands 'Bloomgasm' Collection
HUNTINGTON BEACH, Calif. — XR Brands has announced an expansion of the Inmi Bloomgasm line, which now includes several rose-shaped air-powered stimulators.
The original Bloomgasm Wild Rose 10X silicone clit stimulator, a rep explained, "shot to fame as a viral internet sensation earlier this year, and its rave reviews have inspired an entire collection that shoppers ask for by name. In a glowing review that boasts more than 1.3 million views, TikTok user '_queenk_95' said the original Bloomgasm's suction was so powerful, it brought her to an orgasm before she could find a video to masturbate to."
The stimulator will soon be available in two new colors: pastel pink and pastel purple.
The newest shape, shipping now, is the Bloomgasm Wild Violet Licking silicone stimulator, a purple rosebud-shaped toy equipped with a tongue-shaped extension in the center. This petite handheld clitoral stimulator is powered by three levels and seven patterns.
Coming soon to the Bloomgasm series are three new stimulators, each with its own pleasure function:
the Rose Duet, featuring a rose-shaped suction stimulator with five sucking modes and a vibrating rosette with three speeds and seven vibration patterns; the Rose Buzz, offering dual-ended air stimulation and pinpointed vibration in a familiar rose shape; and the Sweetheart Rose.
The Sweetheart Rose, the red added, is "two toys in one. One end features a rose-shaped suction stimulator with five sucking modes while the other end is a sleek, insertable vibrator with three speeds and seven vibration patterns."
XR Brands President Rebecca Weinberg described Bloomgasm as "an absolute sensation and it was a no-brainer to expand with more rose-inspired clitoral suction and vibration toys. These are high-quality toys that offer world class stimulation and look gorgeous while doing it."
"We know TikTok is what got everyone's attention," Weinberg added, "but with these new additions we think Bloomgasm is going to be a hot line for a long time to come."
For more information, visit XRBrands.com, email [email protected] and follow the company on Twitter.