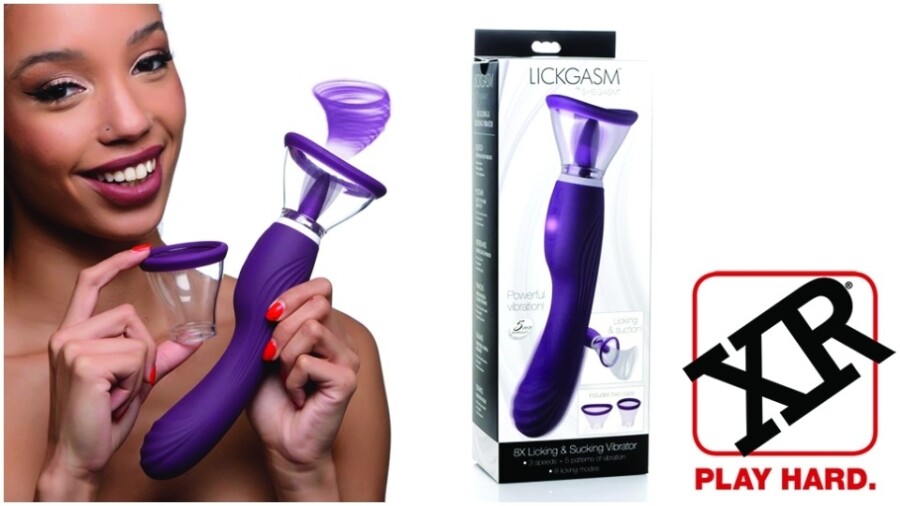 XR Brands Now Shipping New 'Lickgasm' Vibe From Inmi
HUNTINGTON BEACH, Calif. — XR Brands is now shipping the Lickgasm 8X Licking and Sucking Vibrator from the Inmi collection.
"This powerful multifaceted vibrator designed to lick, suck, and vibrate offers retailers a new cunnilingus simulator that's built to please with a standout combination of smart design and on-trend sextech," a rep enthused.
"The waterproof, USB-rechargeable Lickgasm features silicone ringed cups to rhythmically suck on the nipple or clitoris, enhancing the sensations created from the powerful licking tip. The curved, ergonomic shaft features powerful dual motors that stimulate with three speeds and five patterns of intense vibrations while the licking action tip boasts 8 scintillating licking modes."
The Lickgasm, per the rep, is constructed with premium phthalate-free, latex-free silicone and includes a charging cable, two ringed cups — one shaped for the clitoris, the other for nipples — and a five-year warranty.
"Inmi's target shopper has always been the person who's moved beyond the basic and is looking for something that better reflects her sensual style," XR Brands President Rebecca Weinberg said. "The Lickgasm Licking and Sucking Vibrator is designed to stand out in a market full of identical toys; it is like nothing else in the category and is made for consumers who want something well-made, luxe and unique that provides a completely different pleasure experience."
"We expect the Lickgasm to make a strong impression," Weinberg added.
The Lickgasm is available in purple and comes in "a distinctive box adorned with the image of the product, as well as close-ups of its features." The packaging is suitable for shelf or slatwall displays.
For additional details, visit XRBrands.com or contact [email protected] and follow the company on Twitter.