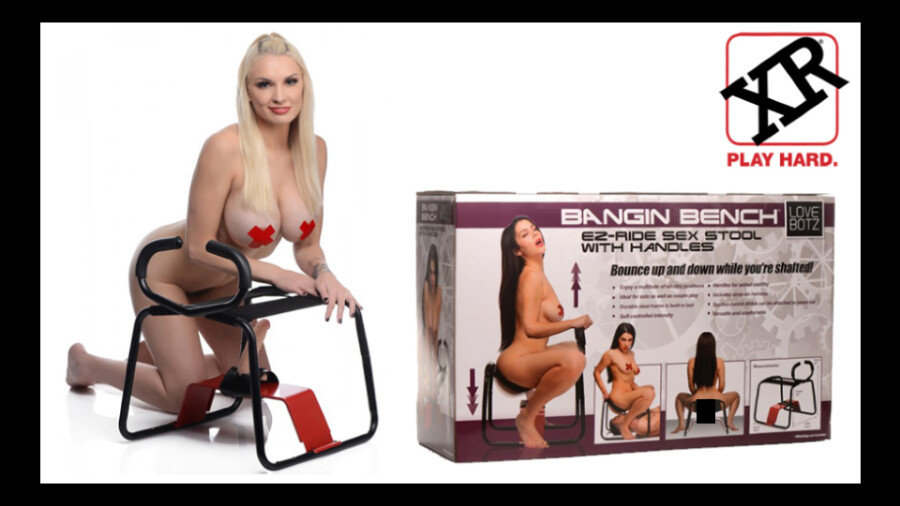 XR Debuts New Lovebotz 'Bangin Bench EZ-Ride'
HUNTINGTON BEACH, Calif. — XR Brands has announced the latest addition to Lovebotz's Bangin Benches line, the EZ-Ride.
"This exciting new sex stool features durable steel construction, flexible support straps and convenient handlebars for extra stability and the most accessible ride from the Lovebotz brand," said a rep.
The EZ-Ride, the rep continued, "represents an accessibility upgrade for Bangin Bench lovers. The handlebars allow for comfort and stability when perched over a partner or favorite dildo, while the durable steel frame and flexible straps allow users to ride with confidence. Whether squatting, hovering or grinding, the EZ-Ride helps keep you from getting worn out when having an amplified sex session."
A included dildo platform can support all kinds of suction-compatible dildos so users can choose their favorite and customize each experience, added the rep. The platform can also be removed to create an open play area where users can position themselves or their partner in myriad positions.
XR Brands President Rebecca Weinberg said that the Bangin Bench collection "features some of the most versatile sex stools on the market and the EZ-Ride takes that to an even more usable level. Consumers take their pleasure seriously and this innovative sex stool is designed to support that. It provides safety, stability and comfort without asking users to sacrifice satisfaction."
The Bangin Bench collection from Lovebotz also includes the Bangin Bench Extreme Sex Stool and the 4-in-1 Banging Bench with Sex Machine.
To place an order or learn more, email [email protected].
Visit XRBrands.com and follow the company on Twitter.