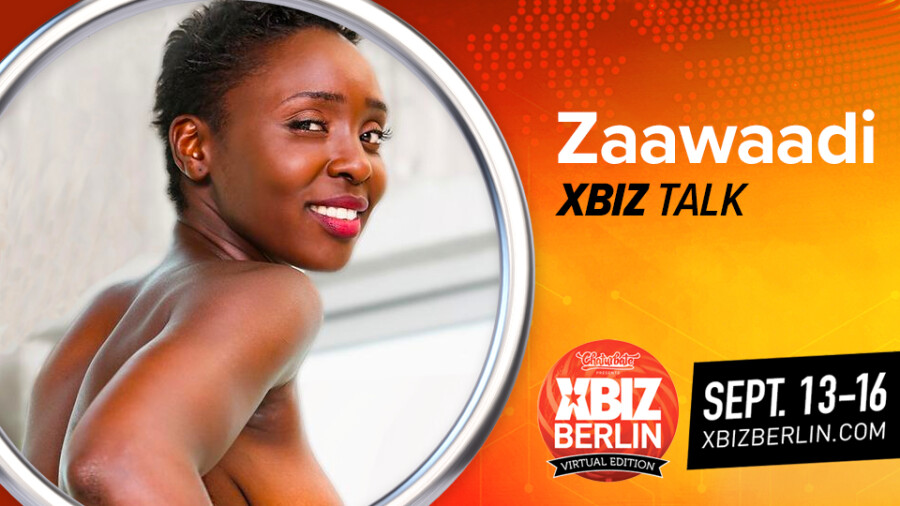 Zaawaadi to Give Revealing XBIZ Talk About Her Eventful Rise
BERLIN — African and European sensation Zaawaadi will be a featured speaker at this week's virtual XBIZ Berlin conference, sharing details of her life and career in an up-close-and-personal solo presentation Tuesday at 2 p.m. (CEST).
The protagonist of Rocco Siffredi's Evil Angel showcase "My Name is Zaawaadi" — a two-time XBIZ award-winner at the 2020 Europas — will offer an intimate look at her eventful rise as one of the top BIPOC performers in the European market.
"I will be discussing several aspects of my work in the adult industry," Zaawaadi told XBIZ. "People will learn about the reasons behind my joining porn, despite my career in nursing."
Zaawaadi added that although it has only been almost two years since she joined the industry, they have been "two years full of fun and challenges — which I will talk all about!"
Other compelling topics on the agenda include her current projects and future plans, and how African content compares to movies produced abroad, especially in Europe.
"People should watch my live talk because I've had a very interesting life — complete with being a wife, mom, working and doing porn at the same time," Zaawaadi said.
"I also love sex with a hot woman or a nice guy —  so let's talk about all of it at XBIZ Berlin!" she added.
For event information, visit XBIZBerlin.com.