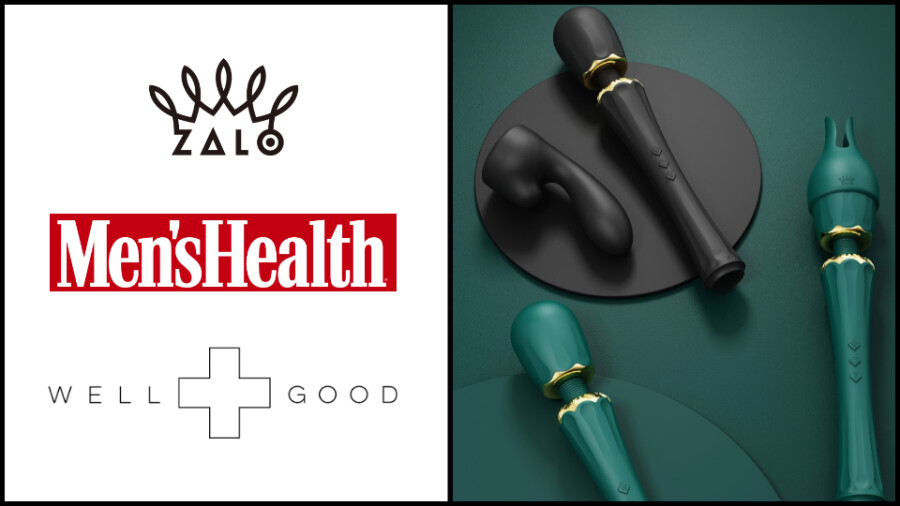 Zalo's 'Kyro' Wand Massager Praised by National Wellness Mags
LOS ANGELES — The new Kyro Wand Massager from ZALO has received laudatory reviews from national wellness magazines Men's Health and Well+Good.
"The two trusted publications recently shared their thoughts on the many ways that the powerful, rechargeable Kyro  — aka 'the Swiss Army Knife of Sex Toys' — can be used to obtain intense stimulation," a rep enthused.
Sex and relationship writer J Baker penned "My Marathon Masturbation Session With ZALO's Kyro Wand Massager" for Men's Health and used its included attachments.
"With the Kyro, I could bend the arms to hit all the right spots, alternating pressure between my G-spot and external clit," Baker said. "As I got closer, I leaned harder into the external stimulation, and that's when I had an amazing blended orgasm."
Baker particularly enjoyed the Kyro's "sexy duck bill"-shaped attachment.
"This, for me, was the highlight of the whole Kyro experience," she said. "Here's why: I really enjoy stimulation coming at my clit from the sides, especially the left side — many vulva owners say their clit is more sensitive on one side than the other. The 'sexy duck bill' attachment essentially feels like two tongues going to town on both sides of your clit at the same time."
"This vibe has multiple functions, but it does all of them well," Baker concluded.
Find the complete article here.
Francesca Krempa reviews the Kyro Wand Massager for Well+Good, noting the pleasure device "will never leave my nightstand."
"Each toy comes with a trove of accessories, including a silk carrying bag and two silicone attachments: one for stimulating sensitive areas, like the nipples and clitoris, and one for the G-spot. That's right: This wand has the capability of giving you dual stimulation," she said.
Krempa also enjoyed the massager's "intense power."
"There are five different pulse options and six speeds to play around with, each dreamier and more luxurious than the next," she noted. "Add the silicone attachments for teasing and tickling? Your body will feel like the sacred temple it is."
Click here for the complete story.
Visit ZALOUSA.com and follow the company on Twitter.